Dubai is a city well-known for its towering skylines; the extravagantly built landmarks; the driverless metro and the wide range of commercial enterprises. When you delve further into its geography, though, you can observe that it is located smack in the middle of the desert itself, a landmass known for its scorching heat. Thus, who would expect a fully operational, 22,500 square meter Ski resort to be built in Dubai? Well, it does exist; and it is aptly called "Ski Dubai."
If you go to the internet and do a quick Google search, you will found out that Ski Dubai from the outside looks straight like something out of science fiction itself. It looks a spaceship, with a zig-zag shape, to mimic the slope of a natural mountain. From the outside, it seems normal to forgo the presence of walls.
Ski Dubai is a fantastic, thrilling, and adrenaline-pumping experience. For experienced skiers and snowboarders as well, it offers a fantastic slope to ride on, stretching long for maximum enjoyment. It also has a chair-lift and a tow bar. For the intermediate skier, it is an enriching experience. For beginners, it can be an introduction to a whole new world.
SKI DUBAI EXPERIENCE
Ski Dubai Experience means enjoying the mountain of the Alps right in the desert. The icy slopes of the Swiss Alps are recreated with occasional snowfall, that, and plus much more! For many, the Ski Dubai experience also means sipping hot coffee or hot chocolate fully covered from tip to toe. Ski Dubai is rated as the top indoor Ski Resort in the world for the years 2016 and 2017. There are many more experiences that you can take home when you visit Ski Dubai. The Ski Dubai snow park gives you a unique experience of making your own snowman or play with snow. You can do sledding, tobogganing, or do a bit more courageous tower climbing. Or, how about entering into an igloo with your family and enjoying the snow cave with intricately designed artwork made from hardened ice.
For more hardened snow gamers, you may enjoy the giant ball run or you may thrill yourself with the Mountain Thriller Ride. There is also a state-of-the-art chairlift that takes you over and above everything so that you can get a nice aerial view of this 4500 square meters giant snow arena.
Ski Dubai maintains a temperature of -4 degrees Celsius, so it is highly recommended that you wear properly insulating material, such as fleece jackets and thermals, with gloves and thick socks for hands and feet. This equipment is available for purchase or can come complimentary with special tickets. It has various shops, restaurants, and rides apart from the main slope itself. The rides range from simple slides to rolling down a slope confined in a large bubble.
Keeping up with the whole cold-snow-ice theme, Ski Dubai also has live penguin shows where they showcase Emperor Penguins to the eager crowd. If your penguin encounters are booked, you can also interact with the penguins themselves.
Feeling hungry! Head to the top of the Ski Dubai Mountain and buy yourself an assortment of goodies including Pizza, coffee, and sandwiches. Aptly names, North 28 Restaurant. And, that rounds up your fantastic experience in Ski Dubai.
TICKETING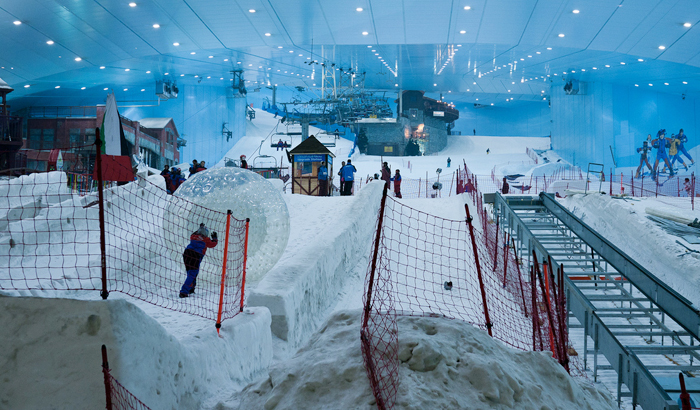 Tickets for experience in Ski Dubai vary from person to person. If you are a beginner and just want to enjoy the view as well as experience an Alpine café then you should buy one package. However, if snow is your scene and you have done some serious sledding abroad or learned the skills of tobogganing then choose a more serious package. Ski Dubai has different options for different people.
SLOPE PACKAGES:- (YOU NEED TO BE INTERMEDIATE LEVEL 2 TO ACCESS SLOPES)
There is the two-hour slope pass and the full-day slope pass. There is also a wildcard entry; the total SKIFLY experience where two hours of slope time is provided and also the first time flyer experience in IFLY Dubai, i.e. two flights.
The SNOW PLUS Package
This is an ideal package for the beginners and this will get you;
·         Unlimited access to all snow rides that include Turbine Run, Snow Plough, Snow Playground, Zorb Ball, Chairlift and Mountain Thriller
You may choose one from the following;
· 2 hours of slop (MUST have relevant expertise, defined by Ski Dubai as "Intermediate Skills") or
· 40 minutes of Penguin encounter or
· Snow Bullet ride OR
· 60 Minutes of Discovery Lesson (either in Skiing or snowboarding)
You will also get a standard locker and a pair of fleece gloves to protect you from extreme cold. A standard locker and a pair of fleece gloves. In case you are thinking that you need to take everything from home then think again, Ski Dubai has these things sorted for you. They will provide you with;
· Snow boots and disposable socks pair
· Standard snow Jacket and warm snow pants (all sizes are available)
· Ski/ Snowboard equipment, if you don't have one
· A pair of fleece gloves
· Helmets for head protection (A MUST for all children below 13 years)
Also, please note that all charges include 5% vat. Do not carry mobiles and Cameras inside the Penguin Encounter Area and for snow bullet rides, children MUST be above 8 years of age, height 125cm, and should weigh more than 30kg.
SKIFLY – SLOPE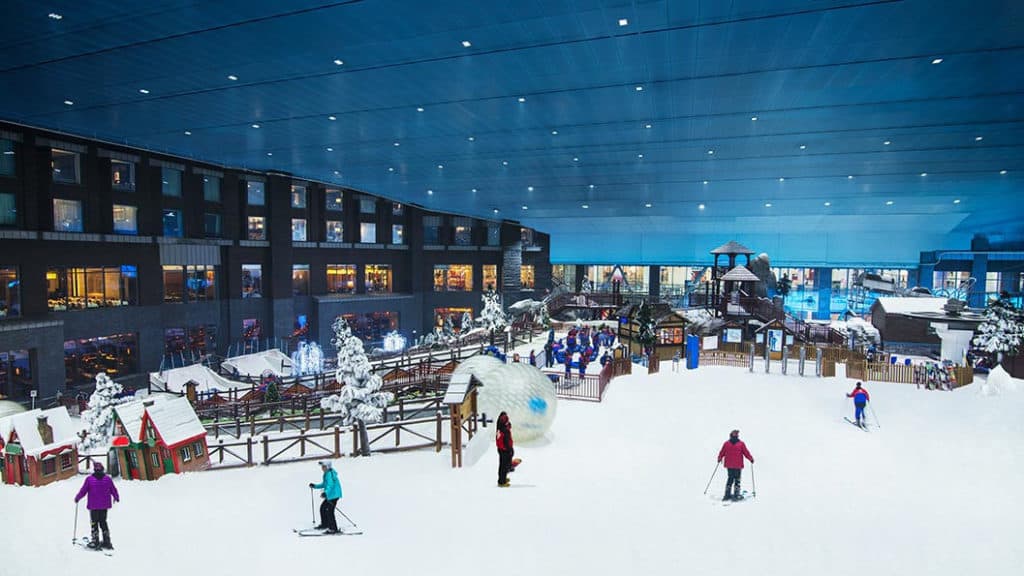 The MAF group has one more indoor adventure destination called "IFLY", which gives a unique free-flying experience defying gravity. For thrill-seekers, they can combine these two into one called Skyfly Slop. Through this package, you will get the complete Alpine slope experience in Ski Dubai of Mall of Emirates and iFLY experience in their City Center, Mirdiff.
This Package Includes:
· Two hours access to the Slope of Ski Dubai, Mall of Emirates (provided you have the required expertise)
·      Two flights at iFLY Dubai, "First Time Flyer Experience " (under the expert's supervision)
This package also includes all gears to be provided by iFLY and Ski Dubai Management. However, if you are more than an ordinary sport then there is a retail shop inside ski Dubai where you can buy your own gear.
SNOW PARK PACKAGES:
There are various packages for this. There is the snow park normal, which guarantees a one-time experience of the snow park with all rides and a Zorb ball ride included. Snow classic is the same but it also includes chairlift and the Mountain Thriller ride. You may also buy the Snow Park Premium and Plus package which would include 40 to 60 minutes of slop access, only if you have intermediate level expertise.
Price Aed 520/= per person
Penguin Experience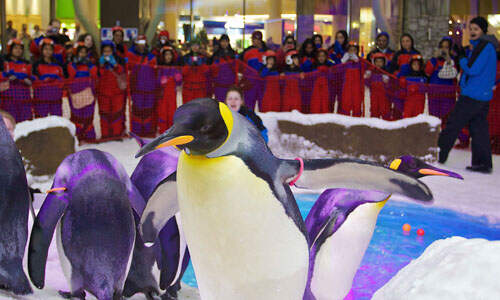 Snow and Penguin are inseparable and if you are going to any snow park, there would be a desire to see these super cute birds. Ski Dubai gives you the ultimate experience to interact with these penguins and get yourself clicked while doing so. You will have all the bragging rights for making penguins your buddy. There are three different packages;
A 40-minute package that includes visiting the Penguin Encounter to see Gentoo and King Penguins. It also includes interaction with these two species, standard locker room as well as snow gear. Children below 2 years are not allowed and children up to 16 years must be accompanied by elders.
Ultimate Peng-Friend
If you are a true Peng-friend and find them irresistible then choose the Ultimate Pen-Friend package that allows you 90 minutes of fun-filled edutainment where you will meet the Penguin Care Team and learn a lot about how they are being taken care. You will get a soft copy image, a souvenir and of course a hot chocolate serving. This also includes unlimited Snow Park entry and all rides. Gears are included.
Price – Aed 830/= per person.
Swimming with Penguin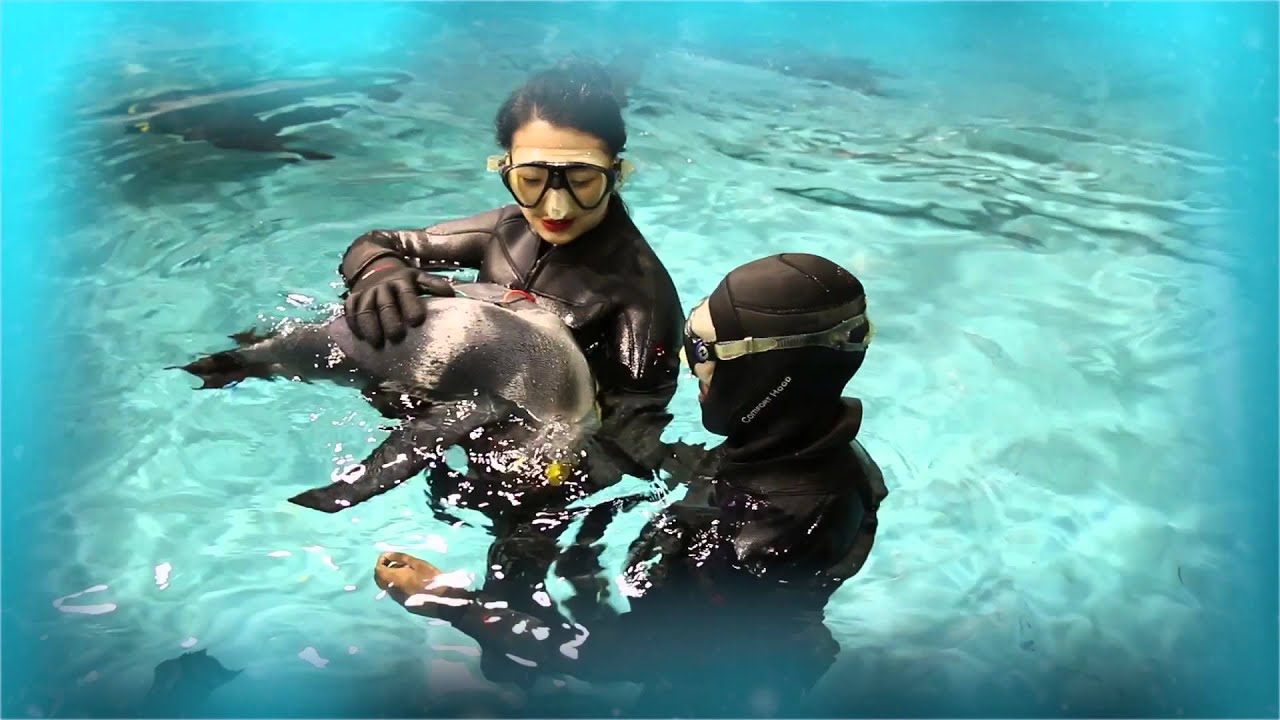 This is for the ultimate penguin lovers. If you are one of them and have seen these majestic birds swimming, in National Geography or Discovery Channel and always wanted to swim along with them then this is your chance. This package includes all the experiences of the Ultimate Peng friend and a 15 minute swimming time with one of the Penguins. You may even hold them, pet them and shower all your love. These are very friendly and well-trained birds. All the swimming and snow gear will be provided by the management of Ski Dubai.
There are many more packages available for you and regularly, Ski Dubai has special promotions during Dubai Shopping Festival and Dubai Summer Surprises. It would be advisable to check the promotions and then book your tickets. If booked online, you will receive the tickets at your doorstep.
Special packages are also available for school children, corporate and tourist groups.
Timings
Sunday to Wednesday Ski Dubai is open from 10 am to 11 pm for all the activities and experiences
On Thursdays, it is open from 11 am to 12 midnight and
On Fridays, it is open from 9 am to 11 pm.
If you want to buy tickets then please remember that the last ticket will be sold from 9.30 am on Sunday to Wednesday and your last ticket for Friday will be available till 10.30 pm.
Ticket for PENGUIN MARCH will be everyday 2:00 pm – 4:00 pm – 6:00 pm – 8:00 pm
Getting to Ski Dubai
The best way to reach Ski Dubai is to take Redline Metro and get down at the Mall of Emirates and take the sky ramp. You will be entering the Ski Dubai Arena.