Man always wanted to defy gravity and soar into the sky like a powerful bird. Our comic books as well as our mythology, our superheroes, all have the unique gift of flying. This fantasy has led many to learn the art of sky diving. First, they take high in the air by an airplane or a chopper and then you jump out of the safety of your plane right into the air. The whole earth lies flat low under you. The powerful forces of gravity that pull you down and the air pressure that tries to throw you upwards create a magical experience. Sky diving is a mastery that very few can be skilled at. It requires you to win your war of heights, you're free of free fall and your fear of death. It is also very expensive and needs expensive resources.
In order to give you that same experience in a safe environment, Majid Al Futtaim has brought in the iFLY concept in Dubai. iFLY is an indoor sky diving experience created by making an air chamber, also called "The Tunnel" which has 2 very powerful fans that generate a monstrous air that speeds upwards at a speed of 200 km per hour, enough to propel any human weighing less than 115 kg into the air and keep him suspended there. The chamber is made out of acrylic and has been constantly inspected and annually certified. There are trained instructors to support you during your indoor diving experience of iFLY, who not only look after your safety but also guide you to fly.
iFLY Experience
As a new diving enthusiast, your experience with iFLY starts when you reach the venue, located in Mirdiff City Center. A beaming hostess welcomes you and guides you to the kiosk, where you buy your ticket and if you have the ticket, you will be given the iFLY gear and taken to the training room. In this room, you will learn everything about the hands, arms, and leg movements. The instructor will check you over to see if your diving gear is safe and secure.
Once your turn comes, you will be escorted inside the tunnel. The sudden blast of air gives you a moment of great adrenalin and shock. In no time, you are up in the air and the instructor is correcting your clumsy moments and flailing hands, giving them the right direction and movements so that you master the air as well as gravity. Your fear of flying, your fear of heights, and your fear of falling, all gone in a matter of seconds. You become the bird that you have ever dreamt of flying smoothly inside the tunnel. The victory over gravity and air gives you ultimate satisfaction.
You will definitely like to treasure the moments of your flying like a free bird, however, please note that taking a camera, mobile including Go-Pros are strictly not allowed inside the tunnel. You may buy your photos and videos from the iFLY kiosk once you are out of the tunnel. You are allowed to choose the photos and videos which are captured by very powerful cameras installed at vantage points. These cameras relay all the videos and photos to a central server. While you are on your way out, the hostess will guide you to choose the best pics and videos on the display kiosk.
iFLY is very inclusive and welcomes all abilities, which is their way of saying that they are capable of giving flying experience to anyone with any kind of physical challenges. All you need to have is the passion to sore high in the sky and gracefully dive and jive.
iFLY VR Experience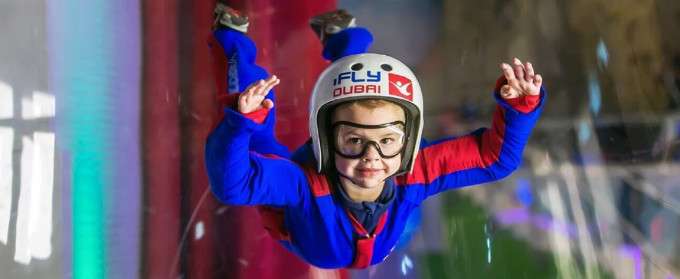 The world is going VR, talking VR, and adopting VR at every given possibility. iFLY has recently introduced a VR experience for you. You wear unique VR equipment on your head with a camera attached to your eyes. You may choose various options of outdoor locations including Burh Khalifa, The Palm, or The Creek, and then let go! You will be transported to the selected geographical location and your sky diving experience becomes "outdoor" rather than indoor. There could be motion sickness during the VR flying experience.
We advise you that you should opt for a VR experience in iFLY
The following are the safety tips for iFLY;
You should reach the venue of iFLY at least 1 hour before and acquaint yourself with the IFLY experience
Please pay full attention to the safety tips and safety briefing as well as participate in the demonstrations. This will make you extra comfortable and confident when you get into the flying tunnel.
Indoor diving in the iFLY tunnel is a low-risk activity. However, make sure that
You have no ailments related to the neck and shoulders. If you suffer from vertigo then you should venture into it
Pregnant ladies should avoid the iFLY experience
If you have a plaster cast then please avoid iFLY
You should not suffer from a shoulder dislocation
You should not have any impairment related to the backbone
You should be at least more than 180cm tall
Your weight should be less than 105 kg
Children above 2 years may enjoy iFLY diving activity. However, the ideal age is 5 years
All kids below 18 years MUST have parental consent through a consent sign off sheet
Flight suit and helmet that are required for diving in iFLY are provided
Please wear well-fitted sneakers and avoid loose loafers, sandals, or high heels.
Wear comfortable clothing like jumpers etc. that would make it easy to wear a sky suit on top of it.
If you are wearing jewelry or watch then it may fall on the floor of the tunnel due to high pressure and a freely floating body. Hence please avoid wearing either a watch or jewelry.
At present, when you enter the wind tunnel of iFLY, then you may feel breathlessness. This is very common. Your instructor would have detailed about this momentary experience. You need not panic. Very soon the breathlessness would give way to exhilaration and confidence.
This is very important. You can be intoxicated or under the influence of any kind of drug which may make your body system unresponsive. Please do not enter into iFLY area after taking alcohol and if you are under some medication that makes your faculties weak and slow, you should inform to your instructor.
iFLY packages and Tickets
Standard Package which lets you have a 2-minute experience in the iFLY tunnel. This is a good package for beginners and helps you in mastering the basic techniques of diving and indoor flying for more fun when you return to fly again. This package includes;
· A training session with the in-house experts
·         2 minute -light or if you opt for 3 minutes package then it shall be split into 2 flights as it is not advisable to fly more than 3 minutes continuously
· Complete flying gear provided
· The one-on-one personal instructor who would fly with you
· A super cool flying certificate
This is priced at Aed 220/=
Return Flier Package – If you have done the training program and have done flying once, you may come back and have one more fun this time. Bring along a friend who also has done flying before and enjoy tune flying in a supervised and super safe environment. Your flying time is can be 2 minutes or 5 minutes (broken down into 2 minutes slots). Please remember that you MUST have a valid flying certificate to avail of this package. Included in this package are;
· A non-mandatory training session with the in-house expert
· Either 2 minutes flying or 2 times flying, two minutes in each time
· You can bring your own flying gear or use the gear provided in house
· You will have a one-on-one instructor in the tunnel
·         You will receive a flying certificate again
· There are two tunnels and each tunnel can take up to 7 people only
Please remember that cameras are not allowed. This is priced at Aed 150/=.
iFLY other packages include birthday packages, corporate packages, and group packages. All these packages have different costing and we recommend team-building activity for the corporate sector. There will be a lot of fun and excitement for everyone.
iFLY also offers various deals and packages for experienced flyers who may book their flying times in the units of 3 minutes and can go up to an hour. Please also note that if you book for 10 minutes, you need to spend all 10 minutes at the same time. The minutes will be credited into your account and you may use them during your multiple visits.
Location and Timings
iFLY is located in Mirdiff City Center, MIRDIF, Dubai
Sunday to Wednesday – it is open between 10 am to 10 pm
Thursday to Saturday – It is open between 10 am to 12 midnight