Have you ever imagined that the ubiquitous containers you see lying around the ports, warehouses, and yards could become a unique shopping complex and a favorite destination for tourists and high street brands? Well, Dubai has just done it! Meraas has developed a unique leisure destination in Dubai that is made exclusively from containers placed, re-decked interior-wise, and juxtaposed with each other to build a quirky new tourist destination on the high living street of Jumeirah 2.

The concept of Boxpark, a high street pop mall, came from London, UK. There are 3 of them, and each of them is highly successful. There was a huge requirement to have a quick-to-build and easy-to-operate informal shopping and activity destination to pull in a young, millennial crowd. The operation has so far been successful. There are many conventional parks in Dubai.

In Dubai, the Boxpark is built and operated by Meraas and is ideally located next to the new Dubai Canal leisure destination. It is almost spread on the two-kilometer stretch of Al Wasl Road. The Boxpark has given the whole area new pizzazz. With some of the best-known brands choosing to come to Boxpark, Dubai signifies their confidence in the next concept.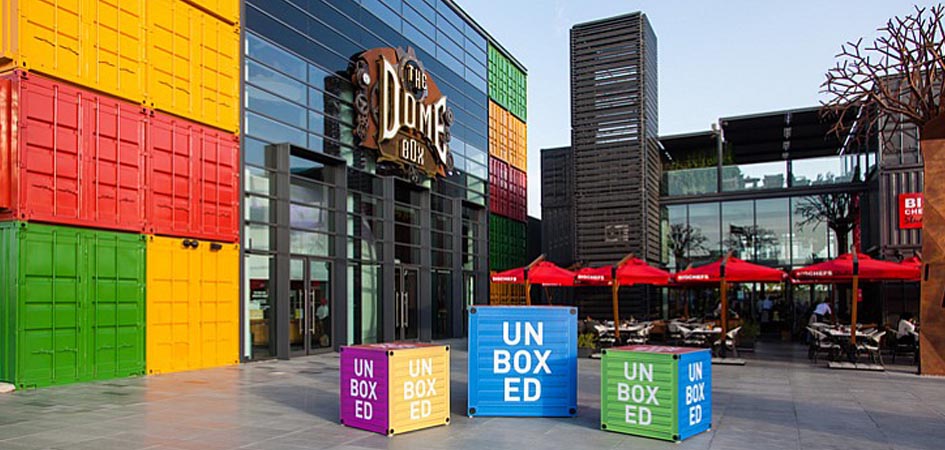 Boxpark Dubai has a significantly added attraction. It is pretty pet-friendly. This location, in particular, has many vet shops to cater to sick dogs, cats, and other animals. Multiple shops are dedicated to selling animals and pets and offering dog food, cat food, etc. Thus, it is a unique destination in Dubai for pet owners, a must-go-to to improve your pet's life. It has many open-sky restaurants, so you can dine while enjoying the many street sights. It has many different props to give it a funky look, and shops here sell something different, such as something trendy and edgy. But still, Love Lake Dubai is the favorite among the residents of the United Arab Emirates.

The interiors of Boxpark Dubai are modern, colorful, and ultra-chic. It is designed explicitly for shopaholics who are done with typical shopping malls, the A/C, and the stuffiness, and these people desperately need a change of scene. The palm-lined street of Boxpark is lit in the night, transforming into a hip-n-happening place, a boulevard of dreams. Boxpark has become a favorite tourist destination due to this. The box park experience is different from conventional parks like Creek Park Dubai.

Dining, Shopping, and Entertainment, all from refitted shipping containers, provide visitors and shoppers with an attractive go-to destination. The look of the place appeals to tourists. It has various brands that sell its goods.

Shopping in Boxpark Dubai

Shopping in Boxpark Dubai is a beautiful, enriching, and unique experience that feels like a breath of fresh air from the typical shopping malls. Like most shopping complexes in Dubai, Boxpark has many brands and independent shops to whet your shopping appetite.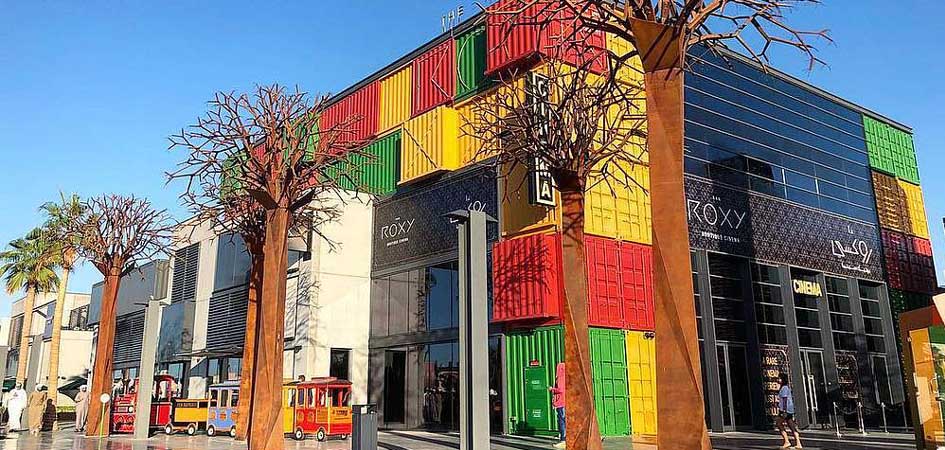 As per the current listing by Meraas, the following shopping attractions are available;

Adidas originals – Sportswear
Nike – Sportswear
QKO Asian Market – Famous Japanese and Korean Food and Nonfood Market that stores stuff directly imported from Japan and Korea. Its tea and gluten-free rice snacks are trendy.
The Orchestra Megastore retailer for musical instruments and pro-audio equipment is committed to giving you a unique in-store experience. If you are a DJ or see music as more than just a hobby, head to Boxpark Dubai.
Delicate Blooms – If you want to say everything through flowers but does not know how, then Fine Bloom at Meraas could help you. It has experts who arrange flowers from all over the globe and express your feelings. Delicate bloom is a florist like no other.
Geant Express – Grocers. You will find almost everything that you need for mundane daily requirements. Well! Almost everything, and for the rest, you should head to Carrefour, just across the street.
Hola Bebe – It is new startup retail for babies and young ones. Age group 0 to 12. Gender – Either and style – chic and beautiful.
House of Prose – Second Hand Bookstore – You must check out this if you have a book bite. Old books, dog-eared books, and books that your father would have read. Just lounge here with a book. They won't mind. If you want to exchange your books, they will oblige happily.
Type – Gifting ideas and items from the UK chain.
Urbanist – Give your home a new twist, courtesy of Urbanist. It has everything, from Furnishing, Home décor to trendy jewelry. A visit will surely give your house a unique vibe.
BinSinai Pharmacy- Sells high-quality medicines.
Ghawane – Arabic tailors that do marriage dresses, trendy Abaya and Sheila, etc.
Scorpion Smoking Requisitions – everything that has to do with smoking.
The art of Optics
Chocoban – 100% organic chocolates that melt in your mouth.

Dining in Boxpark Dubai

Boxpark Dubai offers you plenty of dining options. Most dining cafes and restaurants have inside and outdoor dining facilities. The tastefully decorated dining areas are mostly informal. Boxpark's dining experience can be defined as street food with silver service. The dining options in Boxpark cater to the foodie in all of us. It offers a roller-coaster ride for your taste buds that is unique and enriching, thanks to the courtesy of the following restaurants;
Big Smoke Burger
Unique gourmet burger concept where the burgers are flame-broiled and use traditional Canadian sauce poutine.

McDonald's
Your ever-friendly, classic, omniscient, and efficient burger outlet.
Saddle
Gourmet pastry and sandwich place.
Love Mhshy
It is Middle Eastern Delights, and the menu features skewers and baby bites. There is an array of mini salads, mini sandwiches, and stuffed veggie burgers, which the regulars recommend highly. The food here is primarily gluten-free. The shawarma, shish taouk, kebab, kasat, and Fattah are colossal hits also. The serving dishes and equally beautiful.
Logma
In Arabic, it means mouthful. This Emirati-inspired restaurant serves up delightful dishes and cuisines. Dip into the savories of Logma and enjoy the Khaleeji taste. As their website states, "Logma-لقمة [Arabic for "mouthful"] is a generous invitation to bite into the UAE and Khaleeji delicious culinary treasures in a friendly and authentic ambiance that mirrors Dubai's flair for combining the traditional with the contemporary." It is a highly-visited favorite of customers.
Just Salad
What is unique here? How about if we let out the secret that it has been awarded for its commitment to the UAE environment? Apart from doing its bit for the environment, it also serves a wide variety of salads, wraps, and much more. Its reusable environment-friendly blue bowl is now a legend.
Grom Gelato
This is where your last course of dining at Boxpark should end. It is heavenly to bite into the thick creamy gelato from Italy and, as they say, served in Dubai with love and the best ingredients from all over the world.
Starbucks
The iconic Coffee shop needs no further description further. Just relax in their outdoor chairs with your fav latte.
Gossip the Café
The Emirati-owned-home-grown café is fastidiously organic and serves up delicious desserts. The interior is simple and apt for kicking up gossip with your pals.

Entertainment in Boxpark

Boxpark Dubai has Roxy Cinema, a unique cinema experience with plush seats (the best in Dubai) and boutique services such as meal orders, footstools, blankets, and headrests. It is an arty place for watching art movies and documentaries and is open to events of your choice. You can even order your cinema and watch it with your pals or family. Boxpark is a truly all-in-one tourist destination.

Boxpark also has a fun and activity area for adults. There are various escape rooms located in Boxpark, and each escape room is designed for small groups and is full of adventures. Each adventure room is open for 60 minutes, and it is a fun, new entertainment concept and is the biggest of its kind in the Middle East. Each Escape Room is a real-life adventure game designed for small groups. It is an excellent edutainment for adults and ideal for teamwork and team-building training.

For ladies and girls, there is Nayomi, where you pamper yourself with an exotic beauty treatment.
There are plenty of activities during the winter, like the outdoor Boxpark organizing street art festival Dubai, where any kid from 4 to 12 years can unleash their creative side. It lit up beautiful lights in the night. Shoppers with a minimum of AED 100/= are allowed inside without extra cost.

Boxpark Location

Opened in 2015, Dubai Boxpark is located on Al Wasl Road in Jumeirah. It is located close to another popular tourist destination, the Dubai Canal. It is also close to the famous Jumeriah Beach.

Box Park Dubai Timing
The timings of Dubai Boxpark are as follows;
Friday: 10 AM–12 AM
Saturday: 10 AM–12 AM
Sunday: 10 AM–10 PM
Monday: 10 AM–10 PM
Tuesday: 10 AM–10 PM
Wednesday: 10 AM–10 PM
Thursday: 10 AM–12 AM