Being one of the top tourist destinations in the world, Dubai is keen on adding all flavors to satiate the tastes of passionate travelers. The city has something for everyone, whether it be a holiday for sightseeing, romance, adventure or relaxation. It is also certain that you will get the best of everything.
When it comes to adventure, the city has the best adventure parks and the tall buildings which provide exciting opportunities for the BASE jump. Helicopter tour, hot air balloon, snowboarding, Jet Ski and everything is available. But, the most popular of all of them is the Desert safari Dubai. It is an exciting journey to the deserts, which include adventures, entertainment, and sightseeing.
Highlights of a desert safari
Desert safari ensures a day full of fun. It will take you to the tranquil stretches of sand, provide a plethora of opportunities for adventures, give a peep into the authentic Arabic traditions, and entertain you in every means. Have a look at the perks of the trip:
Dune bashing
This is a crazy ride over the dunes. As you hop onto an SUV, a skilled driver will take you for a roller coaster ride. Dune bashing is all about climbing up and down a dune at high speed. The tires of the vehicles are deflated before the journey to lend them maximum flexible movement on the dunes. It will last for around half an hour with photo stops in between.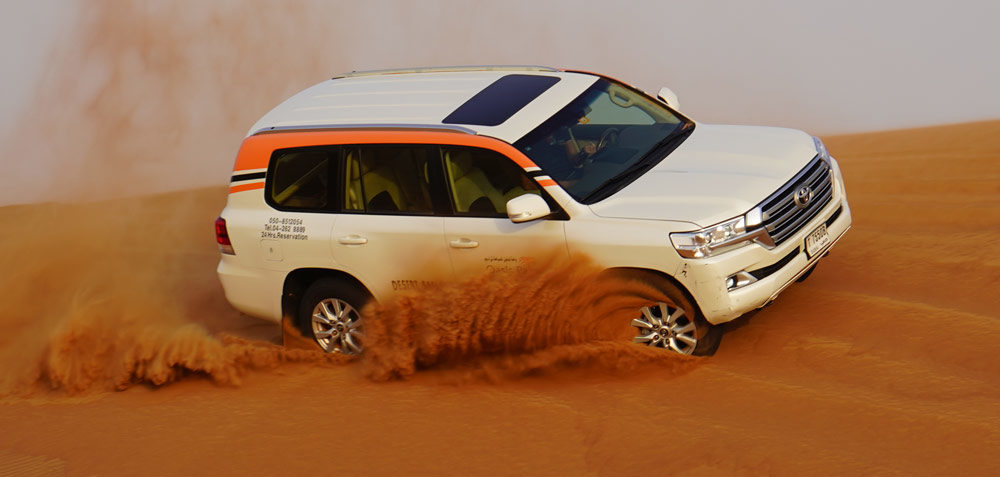 Sandboarding
Thrill-seekers who crave for a solo sport on the sand can try sandboarding. Even newbies can try this in a desert safari as sand is the safest place for adventures. Strap the sandboard onto your feet and glide over the dunes.
Camel ride
A journey to the desert is incomplete without seeing a camel. They were the companions of the Bedouins (the nomadic Arabs) and the important means of transportation back then. Though the swinging movement of camels may scare you in the beginning, you will start to enjoy it.
Belly dance
Dubai is renowned for belly dance. Desert safari gives you the rare opportunity to see a belly dance. A pretty woman will dance mostly with her hip movements. The performance requires excellent flexibility. She will spice up the show with different colorful props like veils, wings, and canes.
Tanoura
This is an Egyptian folk dance performed by a man. He will spin throughout the performance by wearing a multicolored skirt. The skirt with geometrical patterns and LED lights is the key element in Tanoura. The dance form was developed from Sufi dance in Turkey and Egypt.
Desert safaris are offered at two different times of a day-morning and evening. Both are a unique experience, and you can pick one as per your tastes and comfort. Following is a comparison of the two popular desert safari packages which will help you to make a wise decision.
Morning desert safari
It is the ideal way to begin a day. A morning desert safari starts at 9 AM when a driver will pick you from your location and head to the mysterious deserts. Once you reach among the red dunes, the adventures will start to unveil. Dune bashing is the first and most thrilling activity of the day. After that, you can try solo sports like sandboarding, quad biking, and camel ride. This package doesn't include food except for light refreshments like cold drinks.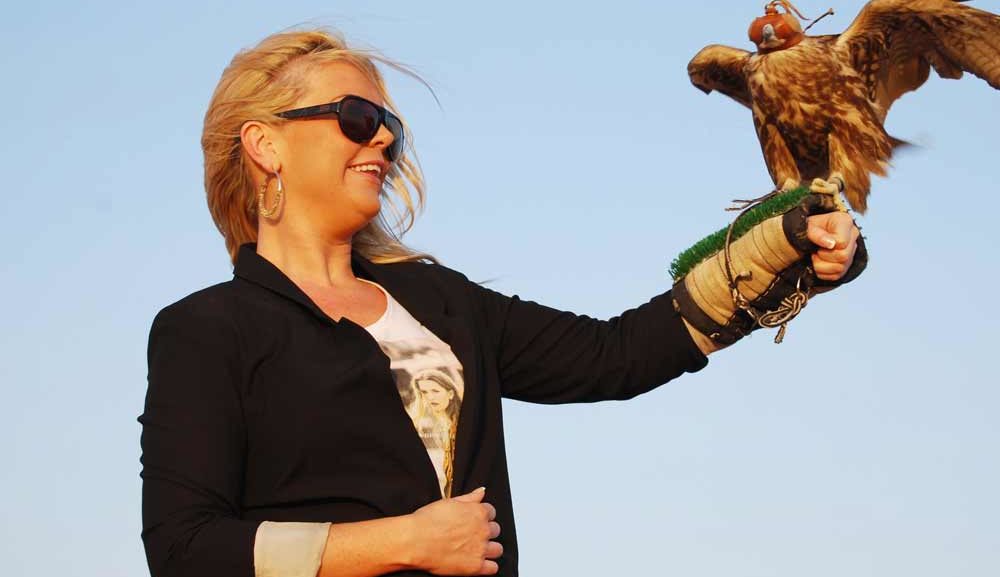 Morning desert safari is a simple no-frills journey which emphasizes more on adventurous activities. You won't be able to see a Bedouin camp or the entertainment programs as in evening safari. It is an exclusive trip which offers utmost privacy. The duration of the trip will also be less when compared to evening desert safari. Another main thing to consider is that it will be unpleasant during summer.
Morning desert safari package
· Pick-up & drop-off at anywhere in Dubai & Sharjah in a 4×4 Land Cruiser
· Dune bashing on the red dunes
· Camel ride
· Sandboarding
· Falcon display
· Quad biking (additional)
· Unlimited packaged water and soft drinks
Evening desert safari
Frolic in the sand at twilight. Evening safari is a fun-filled voyage to the desert in which you will have an adventure, entertainment, and food. It will start with dune bashing and give ample time for solo sports like sandboarding, camel ride, and quad biking. Evening desert safari enables you to witness the incredible sunset in the desert. Capture some amazing pictures as the sun disappears behind the dunes in the backdrop.
After the desert activities, you will be taken to the Bedouin camps where more delight awaits. You can smoke a fruit-flavored shisha, get your hands painted with henna and shop some souvenirs for your loved ones. The entertainment programs, including Tanoura, Belly dance, and fire show provide breathtaking vistas for the eyes. And the best is saved for the last. Enjoy the culinary delights at the dinner buffet with international and traditional cuisines.
Evening desert safari package
· Pick-up & drop-off at anywhere in Dubai & Sharjah in a 4×4 Land Cruiser
· Pick-up timing: between 3.30 PM and 4:00 PM
· Dune bashing in the Lehbab desert on the red dunes
· Camel ride and Sandboarding
· Photo-stops to capture the sunset
· Campsite modeled after Bedouin Arabic traditions
· Traditional Arabic dress-up
· Henna Painting
· Falcon display
· Hubbly Bubbly Shisha at the Shisha corner
· Unlimited Arabic coffee and soft drinks
· Fire show, Tanoura & Belly Dance
· Buffet BBQ (Barbecue) dinner with both vegetarian and non-veg menus
· Drop-off to your location at around 9 PM
Comparing the prices
In morning desert safari, you get an exclusive journey where there will be just your group in a car. It means that you can't go for a solo trip where you will share the car with others. On the contrary, a sharing ride is available in the evening desert safari. The price range of a morning desert safari is somewhere between 500-700/car while the cost is between 100-300/head for evening desert safari.
What to wear
While going for a tour, the clothes that you wear has a main role in determining your comfort. Desert safari is an adventurous trip which means that you need to wear simple clothes. Don't wear anything that makes you reluctant to try thrilling activities or give you discomfort. T-shirts, jeans and shorts are absolutely fine. Sand will get into everything when you try adventures like sandboarding and quad biking. So, take care not to wear your expensive attires as you may ruin them.
Which safari to choose
When it comes to choosing between morning and evening desert safari, it completely depends on your interests and preferences. While morning safari shows desert life in a nutshell, evening desert safari is an extended version with all flavors like adventures, entertainment, and food.
Morning safari is short and focuses mainly on the adventures while the latter is a blend of everything in a desert. In an evening safari, you have to share the tour with other people unless you have opted for a premium package. Both of them have their own distinct features, and the choice is all up to you.