Creek is a name that is deeply rooted in the history of Dubai. This waterway has been flowing through time and contributed to the thriving economy of Dubai. Pearl diving and fishing flourished in Creek, which was the primary source of income in those days.
Wooden boats called Dhows were earlier used for fishing. A visit to Creek is inevitable if you want to learn about the eventful history of Dubai. Apart from the lustrous charm of the city, there is a story of rich traditions and sedulous efforts which helped it become what it is right now.
Creek is divided into two parts- Bur Dubai and Deira. The place is known for Dubai Museum, the souks and heritage village. People who want to see the quaint spell of Old Dubai must visit Creek.
Best way to explore Creek
It is an obvious fact that the best option to explore waterfront developments is through the water itself. When you are going to see the historic part of Dubai, why not do it traditionally? The Dhow is the best choice as it has an irrevocable connection with the city's past.
These wooden boats which were used for trade and fishing in those days have a completely different image now. They demonstrate a beautiful blend between the traditional and the modern amenities which turned a wooden boat to a charming floating restaurant.
A Dhow has two decks- an air-conditioned lower deck and an open-air deck. Those who want to relax in the comfort of the temperature-controlled area can sit on the lower deck. Others who wish to feel the fresh air and enjoy the unobstructed views of Dubai skyline can choose the open-air deck. If you are going in winter, don't miss the open-air deck as it is simply awesome.
What you will get on Dhow cruise Creek
The experience that you will get on a Creek Dhow Cruise is outstanding. Marvel at the enticing sights, enjoy the entertainment programs and have a delicious dinner buffet onboard. Cruising through the tranquil waters of the Creek itself is relaxing and refreshing.
See the main highlights of a dinner cruise in Creek:
Sightseeing
Dhow cruise will sail across Bur Dubai and Deira. You will see the heritage village, which is a collection of antique artifacts and reflects the past lifestyle. Al Seef is also a sight to behold as it is a blend of the contemporary and traditional elements. It has around 500 shops and restaurants which make it a favorite spot to stroll in the evening. You can take an abra from here to cross the Creek.
Abras were an important means of trade and transportation in the past. Now, they ferry people across Creek for just 1 AED. In Deira, you will see the National Bank of Dubai and the Rolex Twin Towers. The fragrance from the spice souk will waft by as you pass through Deira. The prestigious Gold Souk also lies here.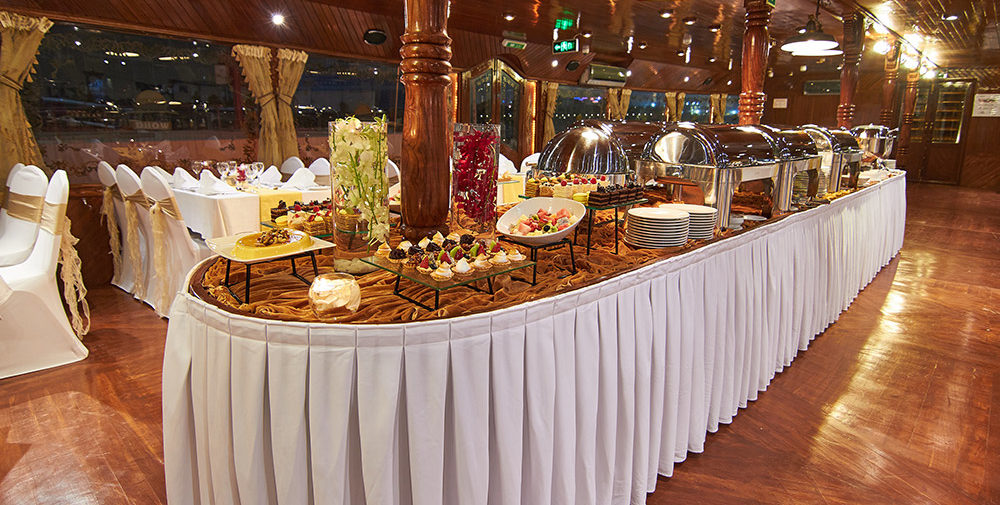 Dinner
While cruising through the lake, a toothsome dinner will be arranged onboard. The food will have several vegetarian and non-vegetarian options from Arabic and Continental cuisine topped off with sweet desserts. Unlimited refreshment drinks are also available. Choose your favorite dishes and have it by admiring the dazzling sights of the city at night.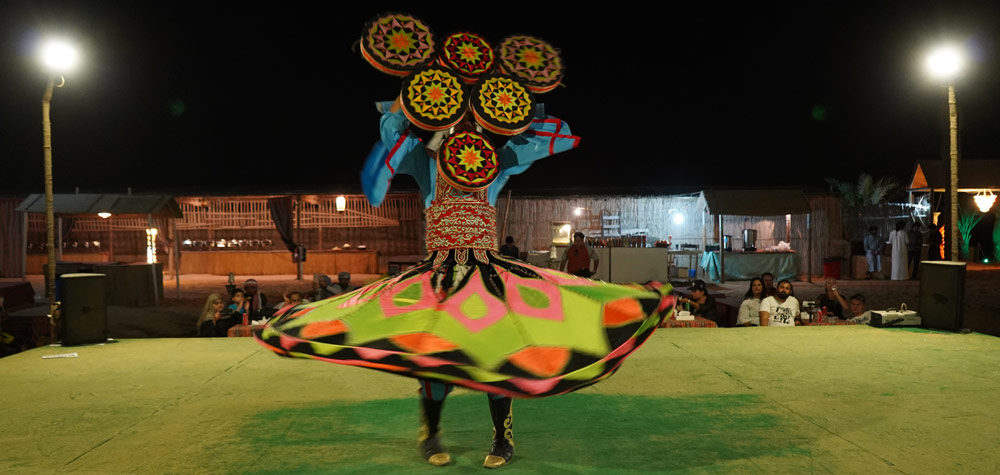 Entertainment
Dhow cruise is a 2-hour pleasure trip in every aspect. Professional dancers will give a treat when you are savoring the dinner. A Tanoura dance is the main attraction in which a male performer will showcase a twirling dance. He will wear a multicolored skirt and spin while doing exciting tricks with colorful props. It is an Egyptian folk dance which has gradually transformed into a fascinating art form for the tourists.
Dhow cruise Creek package
· Pick up and drop off service
· 2-hour cruising in Creek
· Welcome drinks offered upon arrival
· Free unlimited packaged water
· Soft drinks, juices, unlimited Arabic tea, and coffee available onboard
· Lavish international buffet dinner, BBQ with Veg and Non-veg dishes
· Unmatched services through professional trained staff
· Tanoura dance
· Latest background music
· Separate washroom for men and women
· Professional photographer (Optional)
Dhow cruise Marina versus Creek
It is natural for tourists to become confused when there are two equally wonderful options. Dhow cruise in Dubai has two renowned destinations-Marina and Creek. Marina reflects the opulent and innovative side of Dubai, while Creek is all about the nostalgic vibe. In Dhow cruise Marina, you can see Jumeirah Beach Residences (JBR), Marina Mall, Marina Boardwalk and the Bluewaters Island.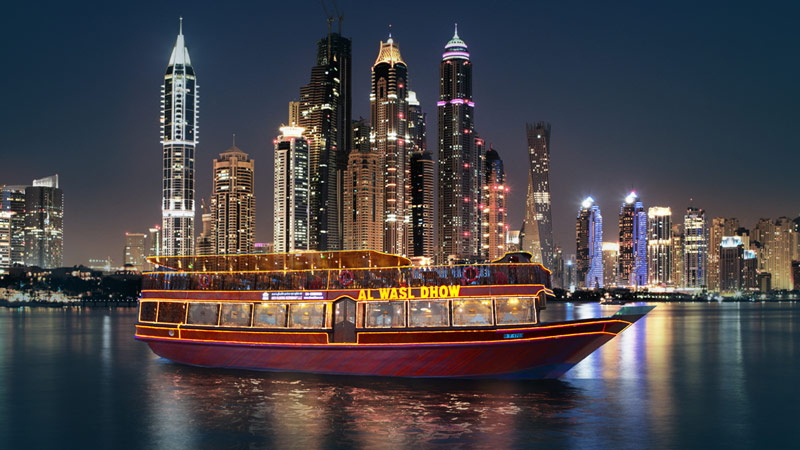 Everything in Marina shows affluence at its best. The ambiance in both the journeys is also a bit different. When Marina has the leisurely feel, Creek has the hustle-bustle of daily routine. Those who love the simplicity and wants to know how Dubai would look like without the skyscrapers should visit Creek. It is necessary to realize that the city has come a long way from its humble beginnings.
How much does it cost?
The cost of Creek Dhow cruise is comparatively lesser than its counterpart in Marina. The price per person will be between 50 and 70 AED. However, you may have to pay double if you want to visit Marina. It is because of the extreme popularity of the artificial canal city and its glitter. Choosing the best cruise is up to you as it solely depends on your likes.
Both of them are great experiences, and the only difference is that one reflects contemporary Dubai, and the latter shows the history of the city. However, those who are visiting Dubai on a budget can choose Dhow cruise Creek without a second thought.