Dubai is the name for luxury, nightlife, and great food. If you want to find all these in one place, sail on a Dhow. Dhow cruise in Dubai offers sightseeing, entertainment, and tasty food. It is the primary choice of tourists and residents who wish to dine out. Night owls who would love to reveal the city under moonlight can choose Dhow cruise Dubai for an exceptional sailing experience.
Sometimes, you may choose a Dhow cruise instead of a classy and expensive restaurant. The answer is straightforward. No restaurant can offer a sumptuous dinner with views that change every minute.
What is Dhow?
The Dhow is a traditional wooden boat used by the Arabs for trade. In Dubai, the local anglers have built these fascinating boats to support fishing and pearl diving. Dhows, which contributed generously to the economy in the past, is now helping to flourish its tourism industry. The old wooden boats are now refurbished to become a magnificent tourist attraction.
A typical Dhow will have two decks — an air-conditioned lower deck and an open-air upper deck. Those who want to enjoy the sights from the comfort of their tables can choose the lower deck, while those who want to feel the cool breeze and fresh air can climb up. The illuminated wooden boat has stylish and cozy interiors.
Highlights of Dhow cruise Dubai
· Delicious welcome drinks
· 2-hour cruising
· Gourmet Buffet dinner with Intercontinental cuisine
· Indian and Arabic BBQs
· Vegetarian and non-vegetarian dishes
· Dessert assortments
· Traditional Kahwa, Tea, & Coffee
· Unlimited soft drinks and bottled water
· Tanoura dance
· English, Arabic, and Indian music
Which destination to choose?
Once you have decided to embark on the most exciting journey, there is the next important step. It would help if you chose a cruising spot from the two destinations. When Marina is loved for bling, Creek is cherished for culture. The choice depends on your tastes and likes. The Creek is for those who admire the quaint setting, and Marina is for those who enjoy the modern vibe.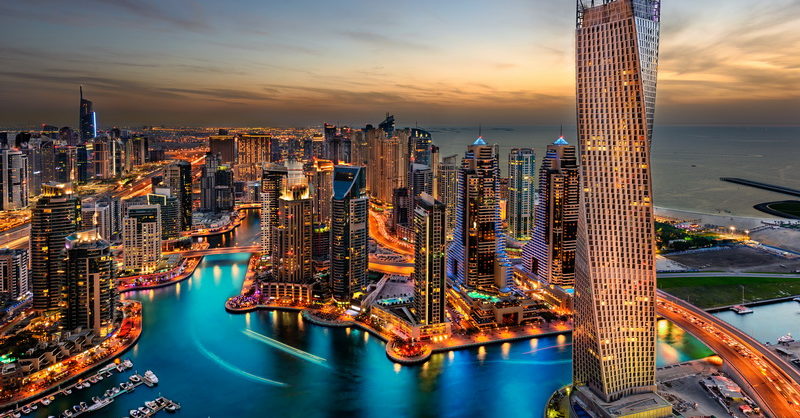 Dhow cruise Marina
Dhow Cruise Dubai Marina is like a place created with a magic wand. The city is always after the impossible and stands tall among other countries with its architectural feat. Just like the beautiful waterfront cities in Venice, Marina is a stunning town built on the shores of an artificial canal. You can cruise along the canal to appreciate the perfection with which Marina was built. It is one of the most expensive and opulent areas in Dubai.
Dubai Marina cruise will begin from the resplendent waterfront residential developments called Jumeirah Beach Residences (JBR). Gaze upon the Marina boardwalk, which lures foodies with innumerable cafes, alfresco restaurants, and patisseries. A fleet of sleek white yachts will be shining under the moonlight near the walkway. It is the favorite spot for exuberant yachters. With too many high rises, you will have to look at the sky to admire them.
Cayan Tower is a famous structure in Marina as it was once the tallest twisted tower in the world. Its architecture will catch your eye. The renowned Marina Mall also stands on the promenade, lit up. It is a favorite shopping destination in Dubai.

Dhow Cruise Creek
Step back in time with the Dubai Creek Dhow cruise. When everyone is obsessed with affluence in Dubai, there is another less-explored side of the city. Its history is rooted in the tranquil water of Creek. The antique charm of Creek will attract simple-hearted travelers. As you pass by Creek Park, you will see the Abras. Haven't you heard the word before? Abra is a traditional boat that ferries people across Creek.
The Creek is called Old Dubai and is divided into Deira and Bur Dubai. The trip will give glimpses of the Heritage Village, Dubai National Bank, and the Dubai Chamber of Commerce. When Marina is all about the abundance in the city, Creek is attached to the nostalgic feel. Most buildings here are from the ancient days, with fewer skyscrapers.
The 5-star dinner in a Dhow
Some would want to know what is so special about dinner in a Dhow. Besides being a destination for sightseeing and entertainment, Dubai dinner cruises are also exceptional floating restaurants. The dinner buffet has Continental, Asian, and Arabic cuisine with a wide variety of vegetarian and non-vegetarian dishes. Traditional Arabic sweets and desserts are served to sweeten your taste buds after dinner.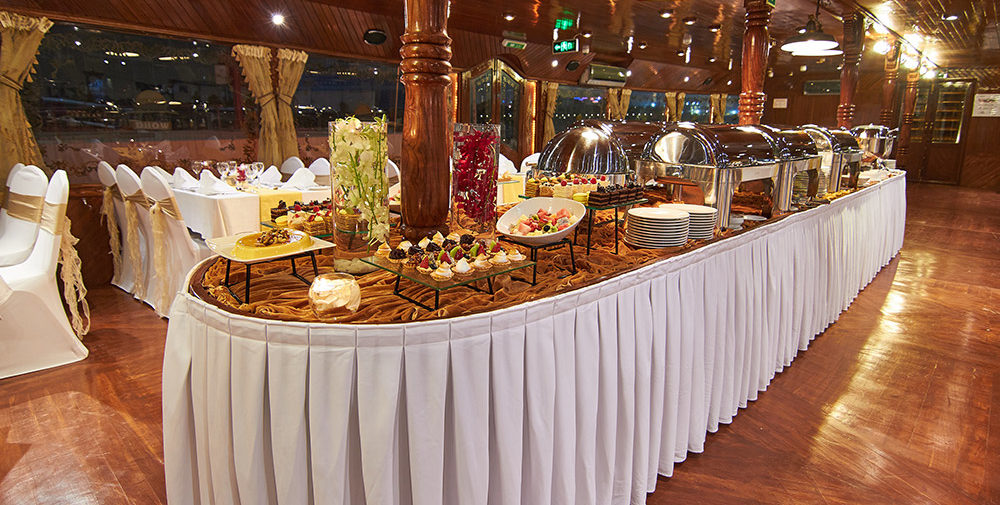 Light refreshments like tea, Arabic Coffee, and cold drinks are offered when you are on board. Have unlimited drinks to refresh yourselves throughout the journey.
Jazz up the night
Professional artists will showcase outstanding performances as you savor every bite of the toothsome treat. The main leisure program popular in a Dhow is Tanoura. It is an Egyptian folk dance performed by a male artist. Like the Sufi dance, the performer will continuously wear a multicolored skirt and spin. The unique dress has geometrical designs which make different patterns as they twirl.
The dancer who spins as if in a magic spell can make you gaze in awe. The skirt also has LED bulbs which will be lit at some point in the dance. Tanoura is an excellent visual treat, and the Dhow cruise provides a rare opportunity to watch the folkloric dance in its real essence.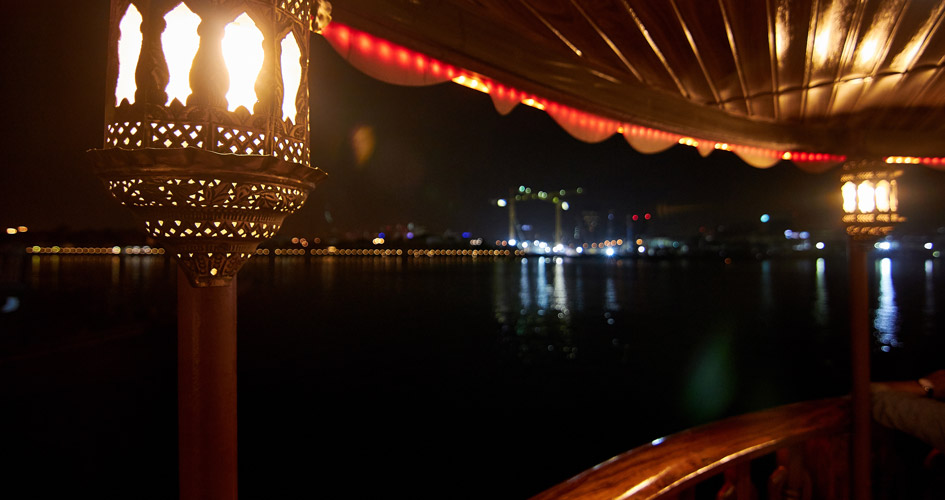 The soulful ambiance
The ambiance in a Dhow is relaxing and soulful. Book a Dhow cruise dinner whenever you want to dine with your beloved or family. Be comfortable at your table, enjoy the sights together, linger on some memorable moments in the past, and delight in the leisure shows. Even when cruising with other people, you can have quality private time. Yet, hire an entire Dhow if you want an intimate experience or throw a party.
Matchless service
The experienced and professional staff will ensure that all your needs are fulfilled. Though the dinner is buffet-style, they will provide the food on the table if you like. And if you want to go the extra mile, book the entire Dhow, and they will work as per your wish. The staff in a Dhow strives to give the best service to the customers and make them leave with a smile and a handful of good memories.
Dhow cruise Dubai's price
Dhow cruises in Dubai are available at varied prices. The usual range is from 60-200 AED. The prices will vary in different seasons. If you are looking for a Dhow cruise at an affordable price, it is better to choose Creek. Dhow cruise Marina is expensive when compared to its counterpart in Creek. Otherwise, cruise over to Marina if you wish to see the luxury in Dubai and are willing to pay for that premium experience.
Choose The Best Dhow Cruise
Choose a reputed provider once you understand a Dhow cruise in Dubai and pick a fantastic destination. You must select the best company in the city to have an unforgettable journey on the water. Nowadays, everything is at your fingertips. Search for the best Dhow cruise in Dubai, and make sure you choose a company with long experience.
When your choice is excellent, there will be a perfect blend of sightseeing, entertainment, and food. Experience and credibility are vital because you are paying money and need a safe cruise.
There are many mesmerizing activities to try in Dubai. Dhow cruise is one of the most enticing ways to spend a relaxing night in the city. Take your favorite people with you for a one-of-a-kind trip—cruise in Dubai on a Dhow to add a memorable night to your life.