Fact: Dubai is home to an enormous manmade butterfly garden where more than 15000 butterflies of 26 various kinds live, breed, and enjoy a protected life!
Dubai Butterfly Garden is part of the world-famous Dubai Miracle Garden. The garden is fully indoor and is housed within ten domes. Many butterfly shapes welcome you to this park, and once you enter, you will find butterflies of various colors. The path to Dubai Butterfly Garden is full of artificial butterflies decked with flowers. The track tells you that you have arrived at the world's most unique home for these fluttery friends. The Butterfly Garden is a natural outcome of the Dubai Miracle Garden, home to millions of wildflowers. Flowers attract bees and butterflies for their nectar and shelter, the most critical factor in abundance.
The Dubai Butterfly Garden – Gallery Cum Museum
Butterflies are the most loved insects. They are beautiful, colorful, and completely harmless. So, when you enter the Butterfly Garden, you will first see a gallery of artwork that the butterflies inspire. There is also a massive collage made from hundreds of butterflies. This collage is personally done and donated by Sheikh Hamdan Bin Mohammed bin Rashid Al Maktoum. Many more beautiful works of art are on display in the gallery. It is highly recommended to visit love lake Dubai for a day out with family and loved ones.
Dr. Ayman Ahmad, project manager of Dubai Butterfly garden, states that Dubai has Miracle Garden, which is well-known worldwide. But the park is only open between November to March as the outdoor Miracle Garden cannot sustain itself when the temperature soars past 35 degrees. The garden is closed to visitors, and yearly maintenance starts. Hence, it needed something else to have visitors come to the park throughout the year. The answer was something exotic, indoor, and still close to nature. That is when the famed Butterfly Garden was conceptualized. The temperature of Dubai also played an important part. The research shows that butterflies survive best in temperatures close to 24 degrees to 28 degrees. That was impossible to achieve outdoors. Hence, inside the domes, the temperature is kept at a comfortable 24 degrees and slow-mo. The wind is also generated through mild blowers. It was essential to mimic the entire indoor and outdoor environment and one of Dubai's unique and best places to visit, so says Mr. Ayman.
The Butterfly Garden Dubai and its Secrets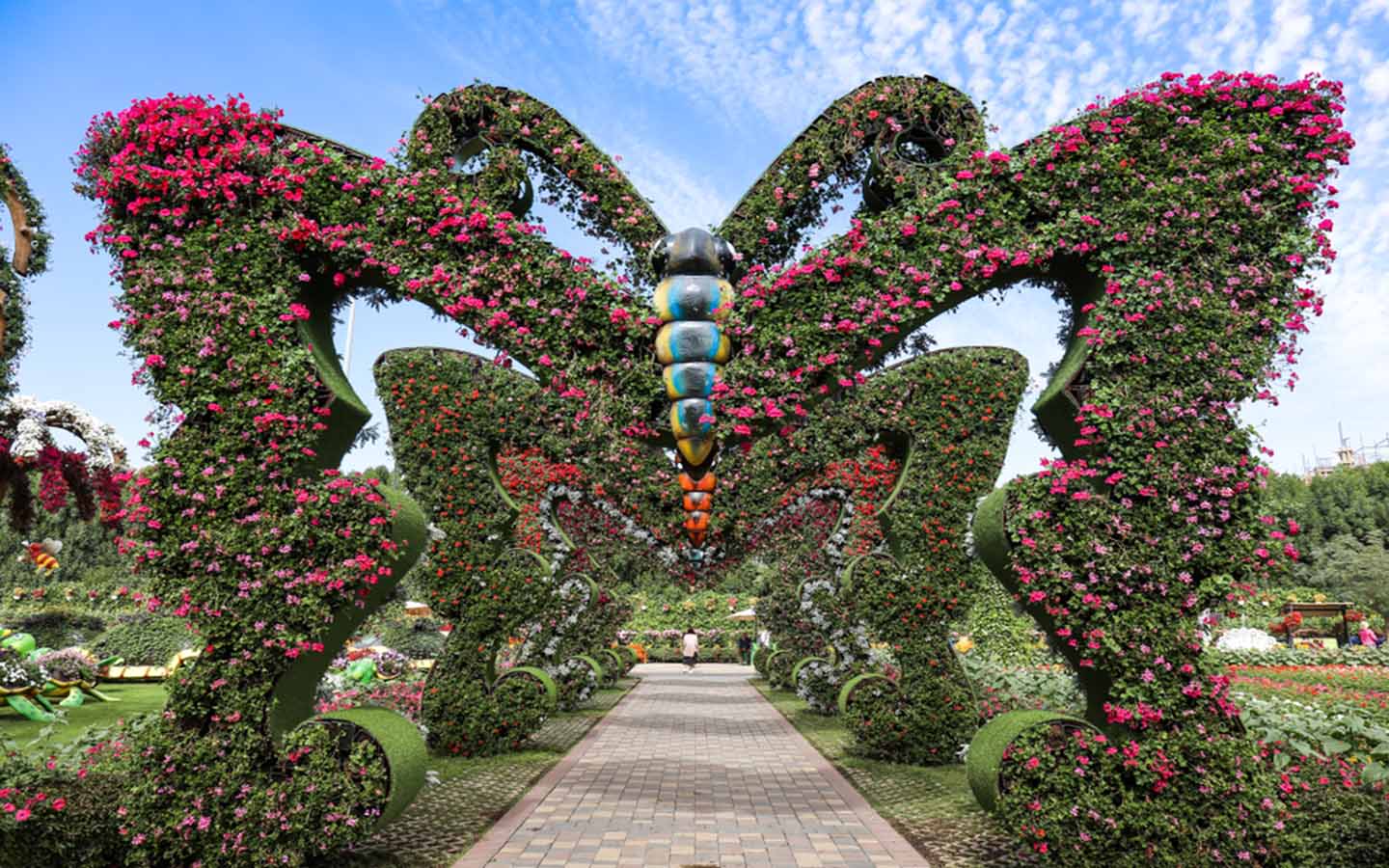 There is a lovely beaded curtain that leads you to the garden of butterflies. At first, you will be very taken in because you won't find any butterflies. You would discover trailing ivy and spiraling floral arrangements from ceiling to floor. You are still looking for the elusive butterflies. Then it happens! You are suddenly transported into a land of butterflies. Everywhere you see, you will only find butterflies. On flowers, on leaves, and all around you.
The experience of finding so many butterflies of different colors and different sizes is exhilarating. But the best is yet to come. The Butterfly Garden wanted to give you an immersive experience with butterflies. So, as you walk past the dome, you will see netted pavilions where you can hold these butterflies and take selfies with them. This experience is again unique as nowhere else will you get the experience of having butterflies and looking at these beautiful insects so closely. They are so utterly harmless and innocent!
The entire Butterfly Garden has a simulation of nature. Hence, sitting on a gazebo with your family, you would find various flower arrangements, birdcalls (of course, no birds here!), and lush green surroundings. It is an excellent family edutainment destination as the staff there will explain to you about the butterflies, their variety, their habitat, and their hatching habitats. You will be amazed to see the fundamental transformation of life, from a larva to a beautiful and colorful butterfly, right in front of you.
The nine domes of Butterfly Garden are created to ensure plenty of sun in the garden. The sun's rays are very healthy for butterflies, and you will find a lot of butterflies right at the top of the domes. You go from one dome to another, and the only constant is the butterflies whizzing past you and inviting you to catch and hold them. The Butterfly Garden designers have tried to create a lot of natural elements, including water bodies, hills, flower gardens, and grassland. All this is to recreate the actual abode of butterflies right in the desert.
While we visited, I saw many people carefully walking and minding their steps not to hurt any butterflies. However, others had let their children run wild behind butterflies. All around the Butterfly Garden, it is written that you should not run, not disturb, and deliberately hold them in a way that would kill them. Butterflies are susceptible and delicate insects, and visitors must observe the rules correctly.
The Butterfly Garden is our chance to appreciate nature. They are an essential part of our biosystem. Butterflies are responsible for taking seeds from flowers and dispersing them to have natural greenery and color in the context of today's world, where we see more minor and less of nature and how it works. Conservation efforts such as this MUST be appreciated.
KOI POND
There is a lovely pond inside Dome 2. This Japanese-style pond has hundreds of KOI fish of all colors and sizes. This is an excellent place to shop and take pictures. KOI fish add a new dimension to the Butterfly Garden. The slowly moving water of the pond soothes your nerves, and many visitors spend time near the KOI fish pond.
Educational Area
There is a vast screen to educate the youth, and when we reached there, we found an animation movie on the life cycle. The animation was very informative and absorbing. The voice-over is in English as well as Arabic. It also showed the characteristics of various butterflies and how to tell them apart.
DINING OPTIONS
The butterfly Garden has covered you well for dining also. It has food kiosks serving delicious candy, chocolates, coffee, and tea. For kids, it has got fresh fruits as well as fruit juices. There is also a Starbucks Coffee shop to soothe your hunger pangs. We highly recommend the Dhow cruise Dubai Marina experience with family and friends.
Butterfly Garden Location and Tickets
The Butterfly Garden is open from 9.00 A.M. to 6.00 P.M.
The ticket to Butterfly Garden is Aed 55 for adults and kids above three years. Young ones below three years enter for free.
It is located inside Miracle Garden Dubai, and the best way to get there is to hire a cab, as we had done. A drive from Karama to Butterfly Garden would cost you Aed 70. Another way is to take Redline Metro, get down at the Mall of the Emirates, and take Bus no. F30 and F36. These are feeder buses hence no tickets.
Rule and Regulations
· You cannot bring your food and beverages
· Pets are not allowed
· Children need to be supervised by the elders always
· Enter into restricted areas is strictly prohibited
· Butterflies are not to be grabbed and hurt in any manner
· You must not throw litter as it is punishable and also harmful to the butterflies