Dubai has gained much higher importance with its beautiful architectural designs, shopping centers, attractions, and that is now framed everywhere. The city never ceases, with something fresh, creative, and never-ending, shocking the world. This time, it's a fascinating lake of passion, composed of two massive, interlocking cores. None of Dubai's attractions equate with this spectacular Dubai heart-shaped pool. For anyone with romantic hearts, it's a great place.
About Al Qudra Lake
Al Qudra Lake has been Dubai's favorite recreational location. This desert oasis offers you a comfortable escape from the city and a range of enjoyable activities that will allow you to rest and relax. If you're an outdoor enthusiast, you shouldn't miss the Al Qudra Lake destination. There are plenty of ways to spend a sunny day in Dubai with idyllic beaches to relax, busy boulevards to cycle, and an array of fresco attractions. However, for those wanting a calmer landscape, Al Qudra Lakes is the true desert oasis, a renowned eco-tourism destination suitable for wildlife watchers who want to get back to nature.
These spreading human-made lakes merge wonderfully into their climate, which is part of the Al Marmoom Desert Protection Reserve in the middle of the rolling dunes of Saih Al Salam Desert. The several avian species that nest in this region provide habitats for many islands, and low bushes and trees provide food for birds and insects, but human beings do not have enough shade. The reservoirs may be artificial, but the immediate area is unspoiled; 4×4 tracks are ad hoc off-road and parking spaces are suggested.
Dubai and Al Qudra Lakes
Al Qudra Lake has been designed to encourage sustainable tourism in Dubai. It is a manmade desert oasis. It has several artificial lakes, and dunes, and fauna surrounding it. In 2015, its authentic desert environment and seclusion made this site more famous. At first, this section of the Al Qudra Desert has just been expanded into a place where travelers can discover the wilderness and everything they have to offer. Al Qudra Lake continues to be popular with campers and is one of the best BBQ spots in Dubai. We would not be disappointed if you were to load up your BBQ equipment for the next weekend and head to this man-made desert oasis.
Location
Al Qudra's man-made lakes provide a welcome escape from Dubai's hustle and bustle. They are popular with locals for picnics, dog walking, and bird watching that are situated in the desert. Less than an hour's drive from Dubai lies right along Al-Qudra Lane. You can easily reach Al Qudra Road via Dubai Al Ain Road or Emirates Road, depending on your direction. On Google Maps, all of Al Qudra sights are clearly labeled, so you can find them quickly. Bear in mind, it will be a little off-road so that a 4-wheel drive is safer just to be on the safe side. More than a hundred bird species can be found in the wetlands. Here can also be seen migratory birds. Any of the lakes have towers for bird watching. These are both ideals for sunrise and sunset viewing. The area has a low level of light pollution and is also famous for stargazers.
Why Visit AlQudra Lake?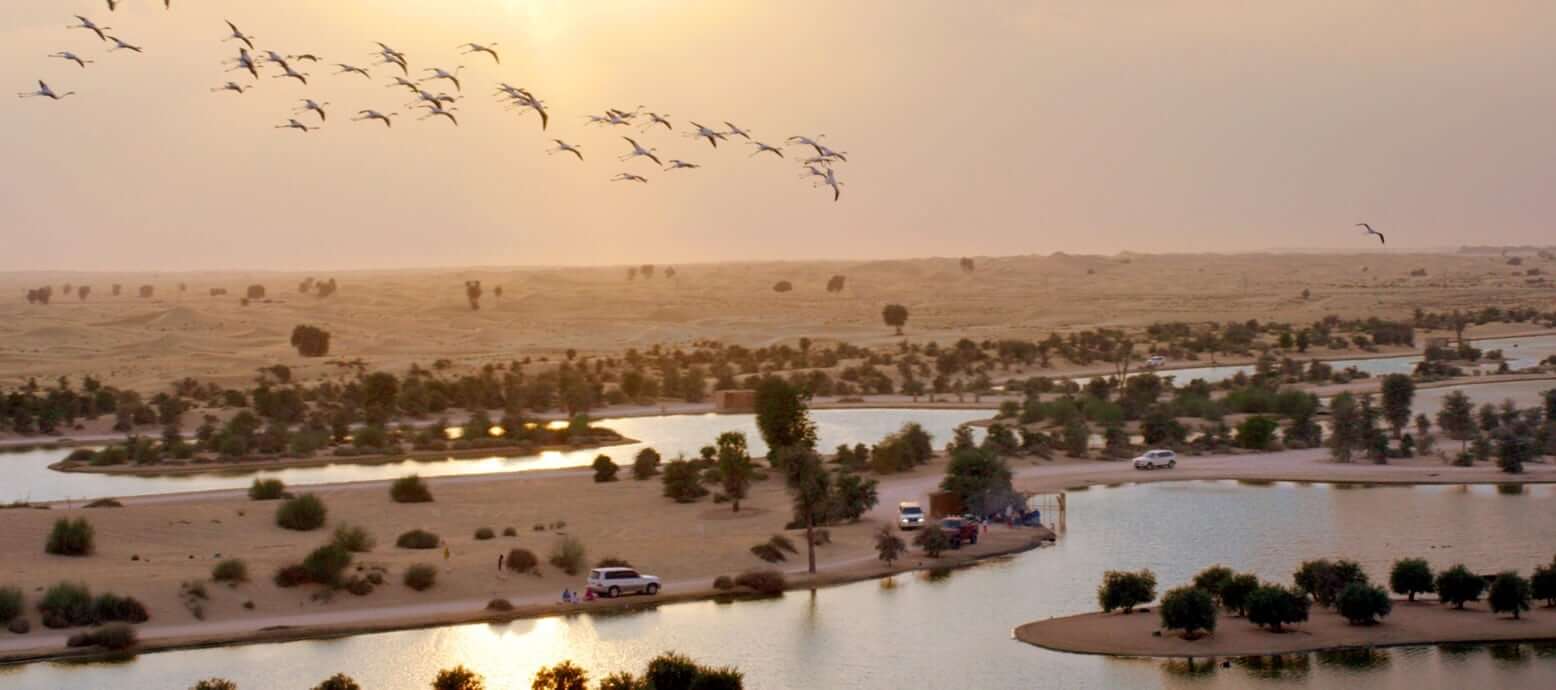 Love Lake is something more than a barbecue area or an evening hike. Surely it's one of Dubai's groundbreaking sights. The area is so calm and serene, far from the city. Love Lake is your choice if you want to spend a night with your loved ones or friends and relax. The most stunning sunset in Dubai can be seen here. The orange light of the sun mixed with golden sand and the greenery is beyond description. So it is an hour before sunset that is the perfect time to explore Love Lake. If the weather is right, you can just look everywhere over you and listen to bird songs for hours in the forest.
BBQs are allowed as long as there is a suitable cooker/stand. These fires on the sand are liable to be prosecuted immediately. Charcoal waste containers are also supplied there. In the desert, some 10 miles east of the International Airport of Al Maktoum are the Al Qudra Reservoirs. The D63 Al Qudra Road is at the end of it. There are no busses by the reservoirs. Besides that, this is a nice jogging park, pet walks, and picnics. You won't see many joggers here and no residential centers are in the vicinity. However, you can see some cyclists who visit the park.
How to Reach Al Qudra Lake?
Al Qudra Lakes is the only realistic way to get by car. Given the conditions of many roads and paths in this remote area, a 4-way 4 is recommended. Because of the lack of street lights, it should be abandoned before the darkness starts. Indeed, you should wet your feet and go into the pool. The lake's deeper parts are marked by signs. A fish pond with Koi Carp and Goldfish is one part of the pool. Koi Carp can frighten you with its huge mouth, but these fish are safe to handle. They do not suck. They do not bite. In Love Lake Park, there are also several Instagrammable spots. They are all in various heart shapes and forms.
You won't see the heart shape, but only a curved pool, as you look on the lake from the beach. You must be at least 50 meters above the ground to get the whole frame. You should fly a drone or helicopter, thus. The latter option is now, however, not probable. The workaround is easy. Only watch on Google maps the lake satellite view.
Al Qudra Lake Timings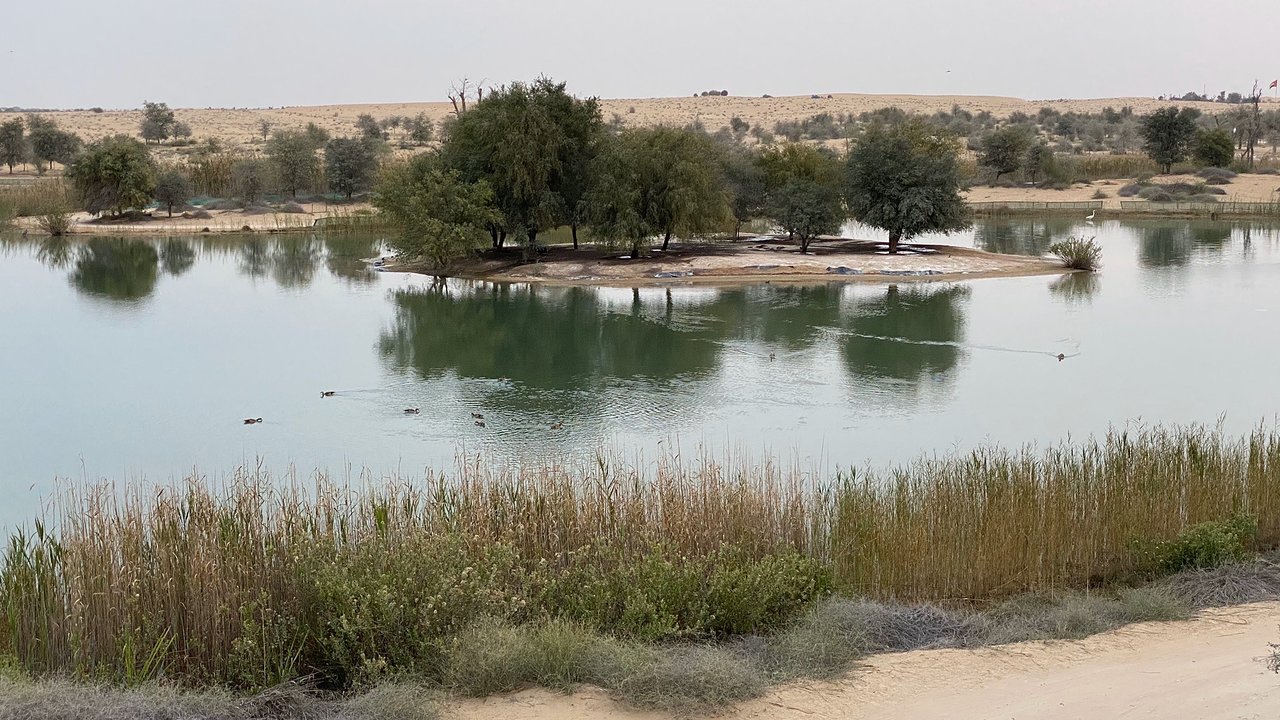 There is no recommended Al Qudra lake visiting timings anywhere, however, it has been confirmed that there is little prohibition after evening or after darkness started everywhere. While there is no currently available entrance fee for Al Qudra, you must be mindful that such things, such as renting motorcycles, are paid at the discretion of the seller.
Love Lakes
Love Lake is situated in Dubai's Al Qudra oasis and is the new addition to Al Qudra. It was opened in 2018 and consists of two main lakes. The perimeter is run by a jogging track. The shaded fields, benches, and sculptures are also numerous. When seen from above, trees planted beside the lake spell the word 'Love.' In Dubai there are plenty of beautiful places to explore. It opens up more and more wonders each year, which delight all of us. There are natural landmarks besides the top towers and biggest malls. What do you think about Dubai's greenest spots? In Dubai, Love Lake is much greener and more romantic.
About Love Lake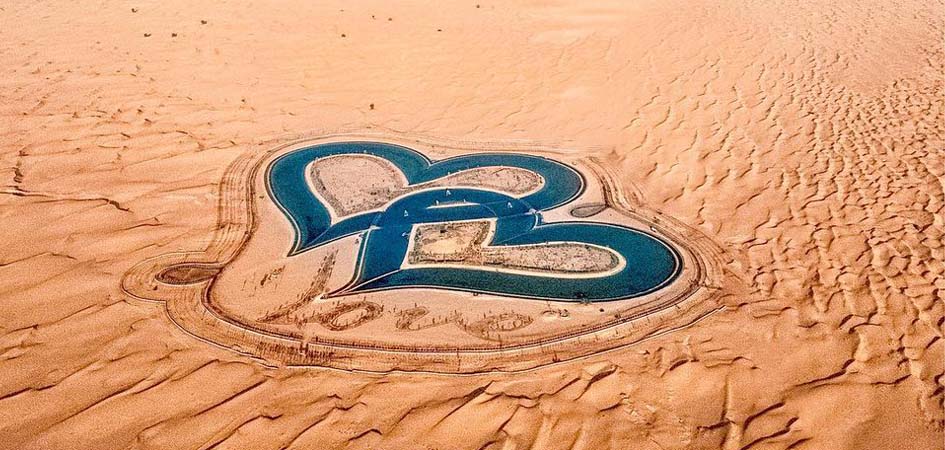 This love lake would be attractive to anyone who has a loving spirit. A big wood carving at the entrance is the first collection of hearts that will welcome you to the park. There's love all around—the air, the trees, the stones and the walls, even the sea. There is an impressive array of flowers and plants to make it much better. The park around Love Lake has over 16,000 trees and plants. The branches and the begonias of the trees and the shrubs and everything are in the form of the heart.
Love Lake Layout
Love Lake bears witness to the green vision of Dubai for the future. Per centimeter of Love Lake is environmentally sustainable. Biodegradable materials form the park benches to the tissue boxes. You can also see bamboo and forest basins. The fenced area called Hadirah is located in the park with picnic facilities, such as a water supply, barbecue stands, washrooms, and benches. In the park, three jogging paths are covering a total of 7 km. The tracks in the park are vivid in the dusk, making the park ideal for sunset. Even the stones marking the distance from the road are heart-shaped.
Facilities at Love Lake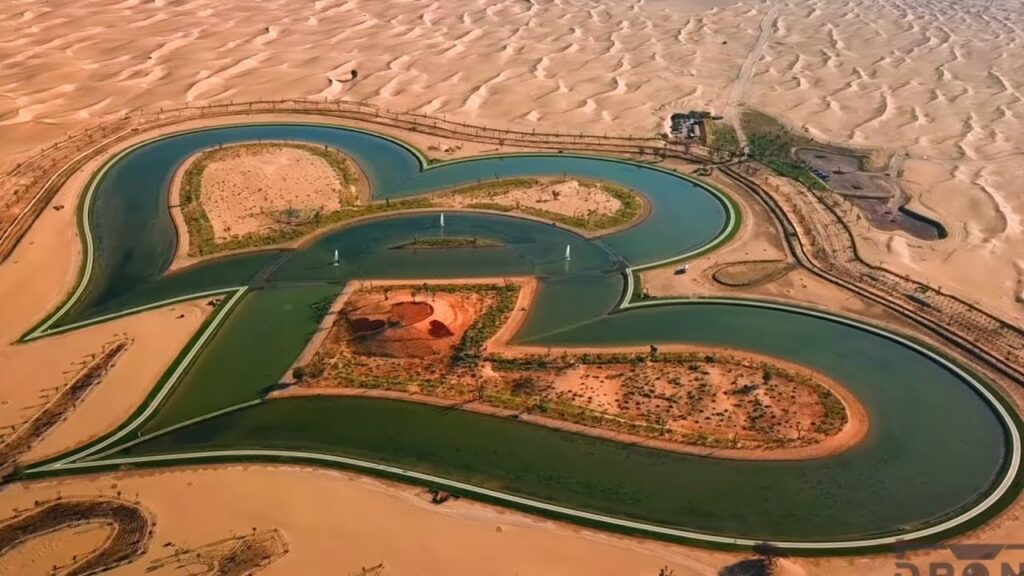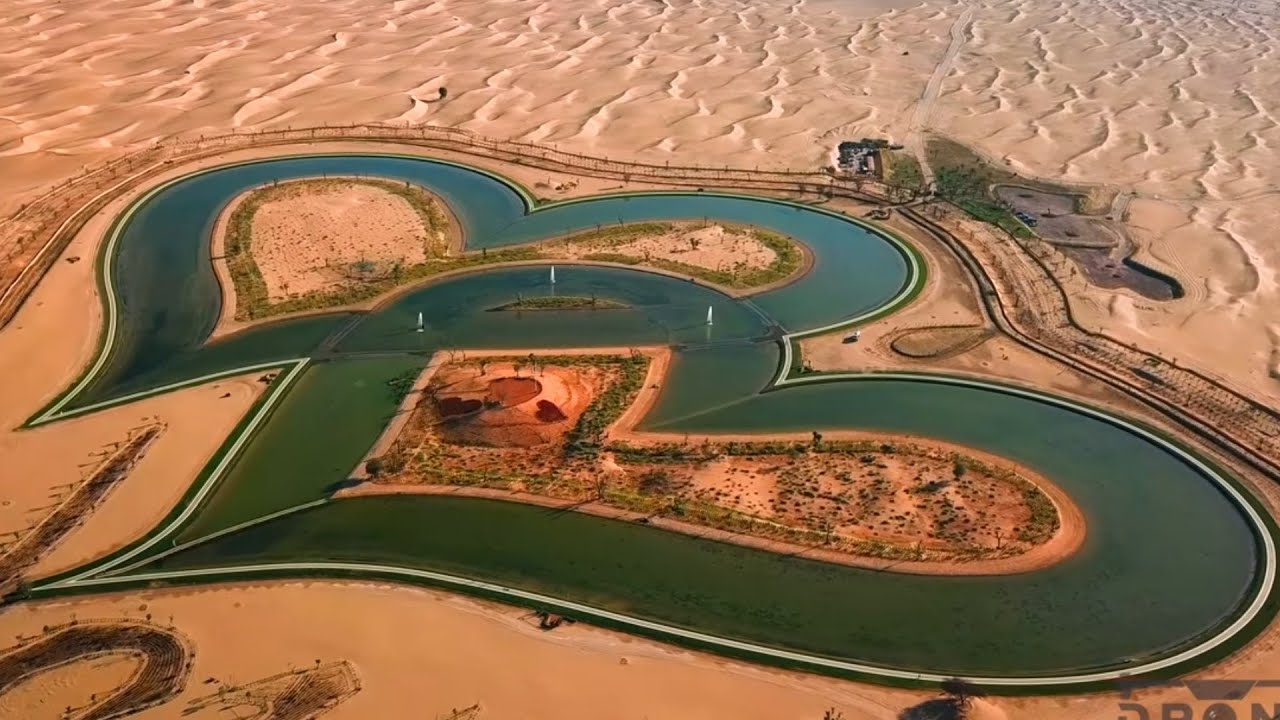 A map of the lake and park, etched on a wooden frame, is placed near the entrance. In something here, you can see the heart. There is a badminton court in the heart that you can't find. It's just for photographing. The giant red heart is the collection of red flowers in the garden. All these aspects make love lake one of Dubai's most photogenic locations. No shops or restaurants are currently located near Love Lake. So mind when you come to get you food and drinks. You will relax and admire the view with several wooden park benches. And if you want some entertainment, there are swings of big tree branches. But for young ones, these aren't appropriate.
Things to do at Love Lake
The rubber path around the lakes helps you to walk and jog around the lovely features around, almost 7km long. You can take the chance to stroll across the low areas of the lakes and tap feet. Besides these, the number of fishes and ducks can also be found. You can get your jokes out while watching birds as you see native and even migratory birds or just relax on the love benches as you sing. You can also light one of the fireplaces and enjoy a barbecue with your family or just spread your picnic on your mountain bike.
Above everything, this spot is the best place to enjoy your favorite sunset. You can get an uninterrupted perspective of the stunning orange sky without high-rise towers to obstruct views as the sun rises over the dunes. When you will stick there until after sunset, you may also find twinkling stars and constellations looking at the sky in the evening.
Things to know before Going Love Lake
The access to the park is free of cost, as there is no entrance fee. Make sure that the authorities get proper licenses if you intend to fly drones in the park. Don't feed the park's fish and birds. Love Lake isn't a nice spot, a wheelchair. Deserts are much colder in winter than in villages. So dress well when you come and wear a sweater. Do not grill in locations other than that for which the barbecue is meant. Burnt charcoal residues are dangerous to the wildlife, especially if they are in the river. In some areas of the park high heels are not permitted. When you go to Love Pool, a four-wheel drive is safer. That said, driving a regular car does not cause any harm.
There are very few toilet facilities which are only accessible in a parking area. Be ensure you are holding garbage bags for waste disposal since no litter is tolerated which can cause environmental damage. It is advisable to get warm clothes if you intend to linger through the evening, as they can get very cold.
Things to do at Al Qudra Lake
Al Qudra is one of the desert camping sites most popular in Dubai, situated just 40 minutes from the Emirates mall. In the past few years, Al Qudra is the ideal weekend spot that has attracted more interest to this area. Al Qudra has 2 places with a desert half and a beautiful oasis. There is a fascinating spot. For these factors, it becomes a must-visit spot in Dubai.
Camping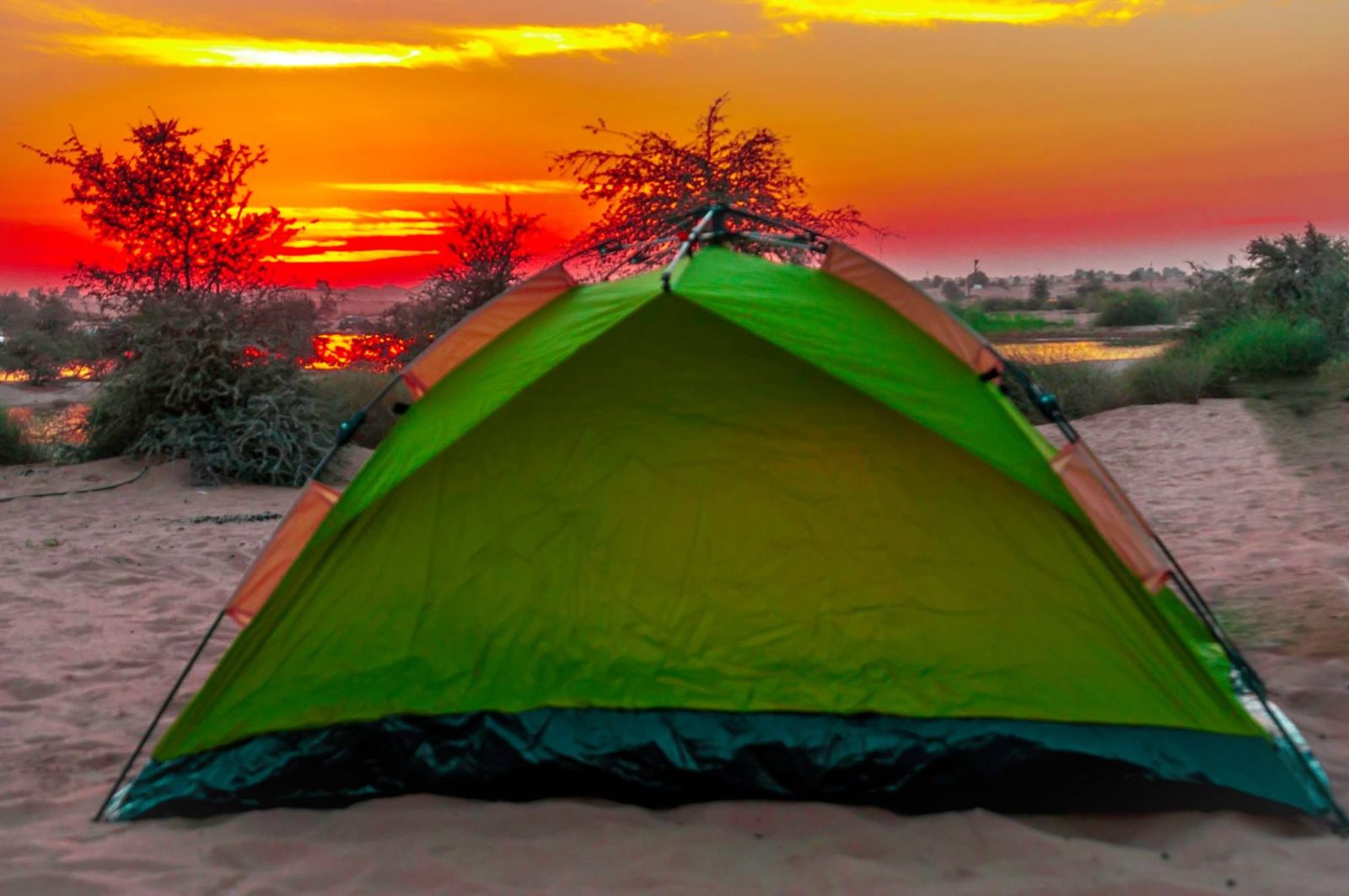 Lake Al Qudra is one of the finest UAE campsites. The artificial reservoirs, with the dunes surrounded by the stunning barbeque atmosphere, starry views, and overnight campground. The place is normally busy during weekends, but in Al Qudra Lake in the East or near Love Lake you can still find a quiet spot to set-up your tent. Free outdoor activities in Dubai are offered at Al Qudra lake camping. You must guarantee, though, that you are equipped for it. Bring with you your camper supplies – tents, packs, torches, etc. All the supplies you need can be found in one of the Dubai camping gear stores. Al Qudra Campsite is situated roughly 30 minutes from Dubai while Al Qudra remains open for the whole day.
The perfect time at Camping and Barbeque in al Qudra can be missed if you don't go there. It's a great campsite alone, with friends and relatives. You should only pick things up and outfit yourself to a great taste of camping and barbecue. The barbecue experience cannot be overlooked, since this is one of Dubai's finest BBQ spots.
Wildlife Admiration
In the Al Qudra Desert, there are more than 170 indigenous birds and wildlife. Although the lakes of Al Qudra are a human-created attraction, they are a natural sanctuary for nature. Although the creatures are a little more mysterious, they appear to search here and there. Often you can see gazelles, foxes, and rabbits running around Al Qudra. Please note, it is prohibited to feed the animals, so it might be necessary to prevent that.
Romantic Place at Al Qadra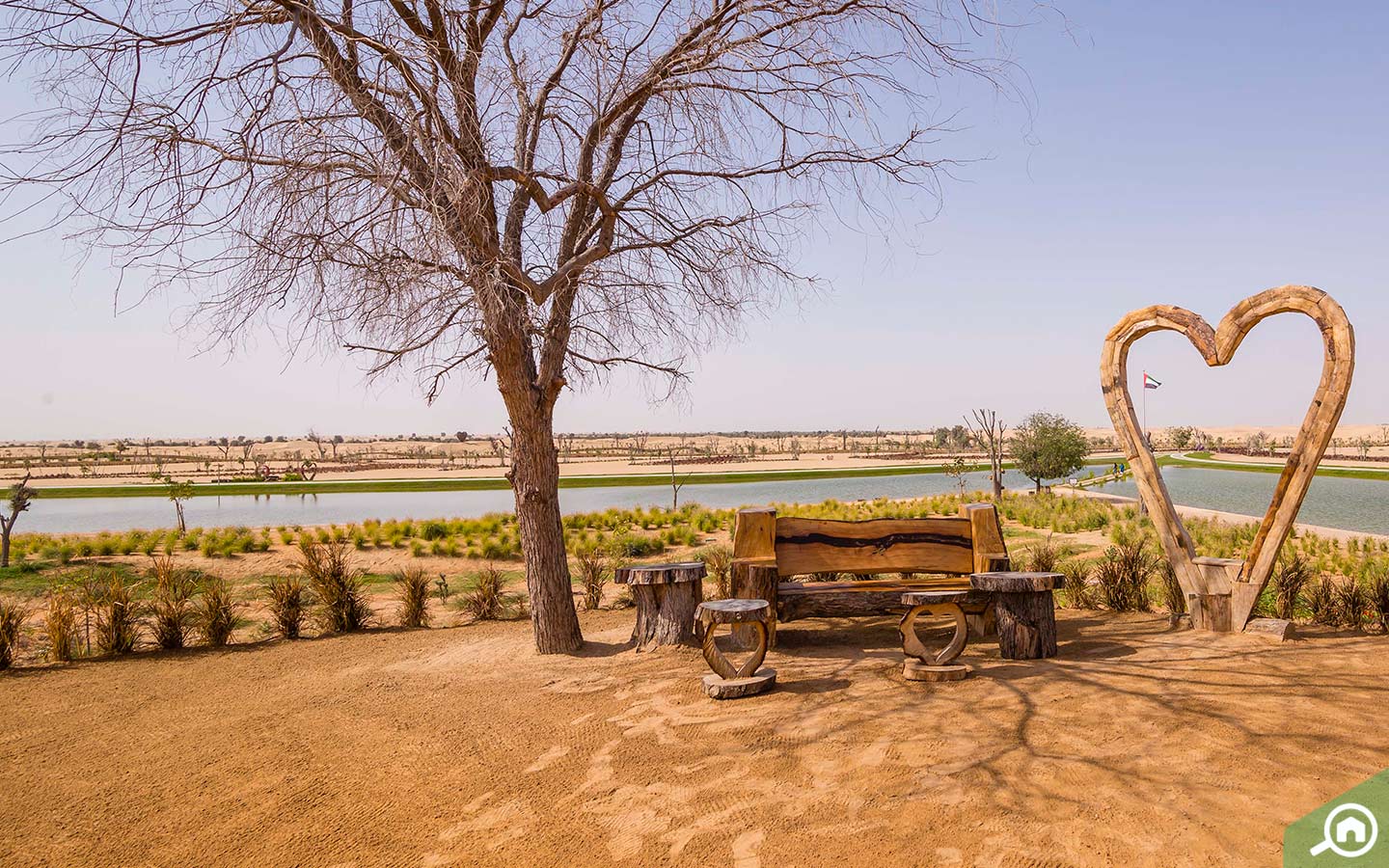 Visiting and enjoying the beauty and elegance of the Love Lake is a must-do experience on Al Qudra's list of things to do. This place is made up of two lakes in two interwoven hearts and fauna which spell "Love." Al Qudra lake Dubai is so huge that you can view them from Google Earth. This place is so massive. Love Lake Al Qudra is full of cardiovascular motifs and signals that mark the right places for yourself. The Al Qudra Love Lake also features a dedicated running tack. This heart-shaped lake in Dubai has shaded areas, a fireplace, and a washroom.
It is free to visit this spot if this is not enough, making it one of the best locations for an inexpensive date night. Love Dubai Lake is about 10 minutes from Al Qudra Lake and can be checked for "Love Lake Dubai" on the charts.
Sunsets Over Desert Oasis
This place is an escape from the busy life and daily routine. Here you can see a beautiful sunset and enjoy a quiet moment. One of the best locations in Al Qudre to appreciate nature's beauty and make sure your family enjoys a nice day. Yeah, sure, get prepared for those spectacular shots from the sunset from your camera. This place is situated off the high-rise building and busy highways, and the gradual orange sky, as the sun sets over the dune, gives you uninterrupted and stunning views. You have a chance to take incredible images if you are a photographer. As for you who love to appreciate the beauty of nature, collect picnic stalls, songs, and snacks to enjoy a calming view of Lake Qudra. In the night Al Qudra Lake is magnificent – the sky above it, once dark, glows and gives it an outstanding star-looking location.
Al Qudra Last Exit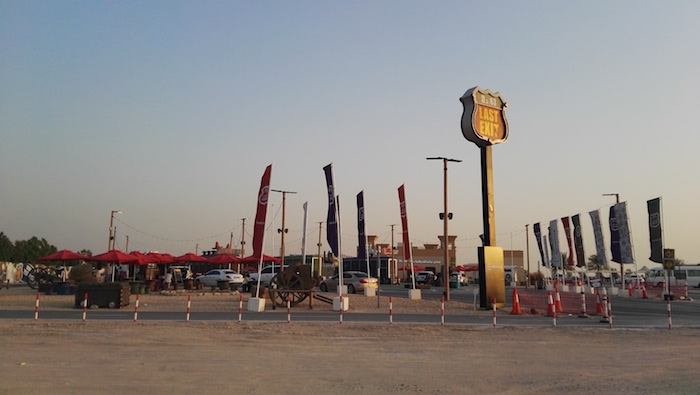 A comprehensive day of adventure will certainly grow joy in all the new experiences at Al Qudra. So, if you want a fast refueling snack, just go to Al Qudra's Last Exit. At the entrance to Al Qudra, regarded as one of Dubai's most popular places for finding food trucks, this place provides a variety of dining choices to suit your food requirements. You still have washrooms here, so you can use that if you want to get a chance to clean yourself. It is situated at the end of Al Qudra Road at the edge of the Saih Al Salam Desert. The hours are, however, available every day from 10 a.m. to noon.
. At the entrance to Al Qudra, regarded as one of Dubai's most popular places for finding food trucks, this place provides a variety of dining choices to suit your food requirements. You still have washrooms here, so you can use that if you want to get a chance to clean yourself. It is situated at the end of Al Qudra Road at the edge of the Saih Al Salam Desert. The hours are, however, available every day from 10 a.m. to noon.
Cycling Track at Al Qudra
Cycling is one of Al Qudra's most popular activities due to the big 86km route. The cycle trail is considered to be one of the best bike paths in Dubai and is the ideal place to take you in an outdoor environment. In the dunes of the desert where you can find a combination of beginner and experienced cyclists.
You can launch your trip at Al Qudra lake horse riding by 2 starting points: the first is from the Al Qudra Cycling Car Park in the Mira Oasis near the villas and the second is from the Seih Al Salam Teck Bicycle Shop. These two locations have designated car parking spots. If you are searching for hire or cycling workshops for Al Qudra Lake, you can go to the Teck Bicycle Store – you have a wide range of rental bike rentals and riding equipment, toilets, and showers. Open times are open for everyone 24 hours, and the Al Qudra Shop Timing Teck Bike Store is open from 6:00 am until 10:00 pm.
Resturants at Al Qudra
Many questions are there about Al Qudra like, is BBQ allowed at al Qudra lake, and Is bonfire allowed in Al Qudra lake. Al Qudra has no restaurants or cafés to eat, which could not deter travelers from dining at the coast, and this will spoil its remote atmosphere. You'll find local tourists gathered around barbecues most of the days, grilling their lunches, as long as the barbecues are up and not lying on the sand directly. Alternatively, pick up a picnic and a blanket and find a place to rest while drinking in the countryside and enjoying a nice afternoon away.
Things to Know before Going Al Qudra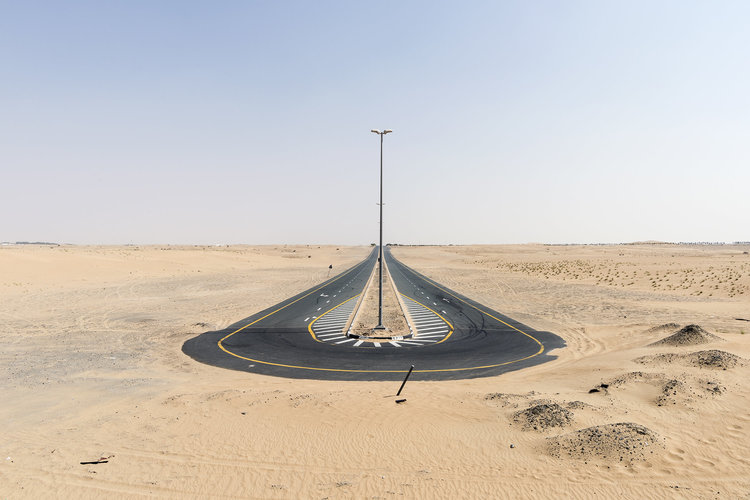 Al Qudra is a wilderness location; if you plan to get deep into the area, you should go on a four-wheel drive. Sedan cars can quickly drive through if your visit is restricted to the entrance and cycling area. There are restricted facilities at Al Qudra Lake, so you can get ready for it first. The temperature in Al Qudra Lake is quite the same as in Dubai. However, the evenings are colder somewhat. Many animal species are contained in Al Qudra and waste disposal will cause them to damage improperly. So ensure that you carry garbage bags for waste management.
If you want to go to Al Qudra, dress comfortably and make sure you wear warm clothing in the evenings as you can get pretty cold. It would be explicitly forbidden to barbeque and light the campfire on desert sand, which can endanger the animals there. If you want to have a barbecue or a campfire in Al Qudra, take it on a grill or pot, not on sand.