In the bygone era, the iconic highway between Dubai and Abu Dhabi, the Sheikh Zayed Road, had a few mundane restaurants/cafes scattered across the 150 kilometers stretch. These would sell traditional food items, grocery items, and non-alcoholic beverages. Drivers would stop by for refreshments and cool off their flail nerves with refreshing and chilled colas or for prayers. But, the food outlets at last Exit Dubai remain very "regular" and "boring." But still considered one of the best places to visit in Dubai.
In 2017, Meraas changed it all. It introduced a new, edgy, quirky, and exotic dining concept that combined Hollywood movies and the iconic American food truck concept. It realized the need for upper-crust families to dine out in the cool environs of their vehicles. The first Last Exit Dubai was set up on Sheikh Zayed Road from Abu Dhabi. This was called E11-Last Exit. E11's Last Exit is located on E11 (Sheikh Zayed Road), just entering Dubai Border. It was set on the very successful movie, "Cars." While entering Dubai, you will find four huge cars vertically on a billboard. That is when you know that you and your family can have a delicious dining experience.
The basic idea of the Last Exit is to bring US dining habits to their doorstep. The food, the menu, the taste, and the serving style are styled on the American Food Trucks business. The value adds here is that the food trucks are well-designed, follow the best hygiene standards, and are entirely safe. The cleanliness is impressive. Also, you will get fantastic seating areas both indoors and outdoors. There is a clean toilet area, a parking area, and a grocery. Now, Meraas has added a "Dual Fuel Concept," i.e., fuel to your car and power to your body. Fuel to the vehicle is through a partnership with Adnoc, and for your body, you have more than seven food trucks, and there is ample scope to add more.
There are 4 Last Exit Dubai Dining and Entertainment Destinations as of now.
E11 – Last Exit Abu Dhabi Bound
The edgy and apocalyptic theme, a Mad Max movie-based setting, and a delightful man popping out from a rustic food truck; sum up the E11- Last Exit Dubai (Abu Dhabi Bound). Stop here to look at the detailing of this themed dining destination. Getting down from your car to order a coffee from Starbucks is optional, but experiencing the whole area and taking selfies with one of the giant cranes in "breakdown" condition is priceless.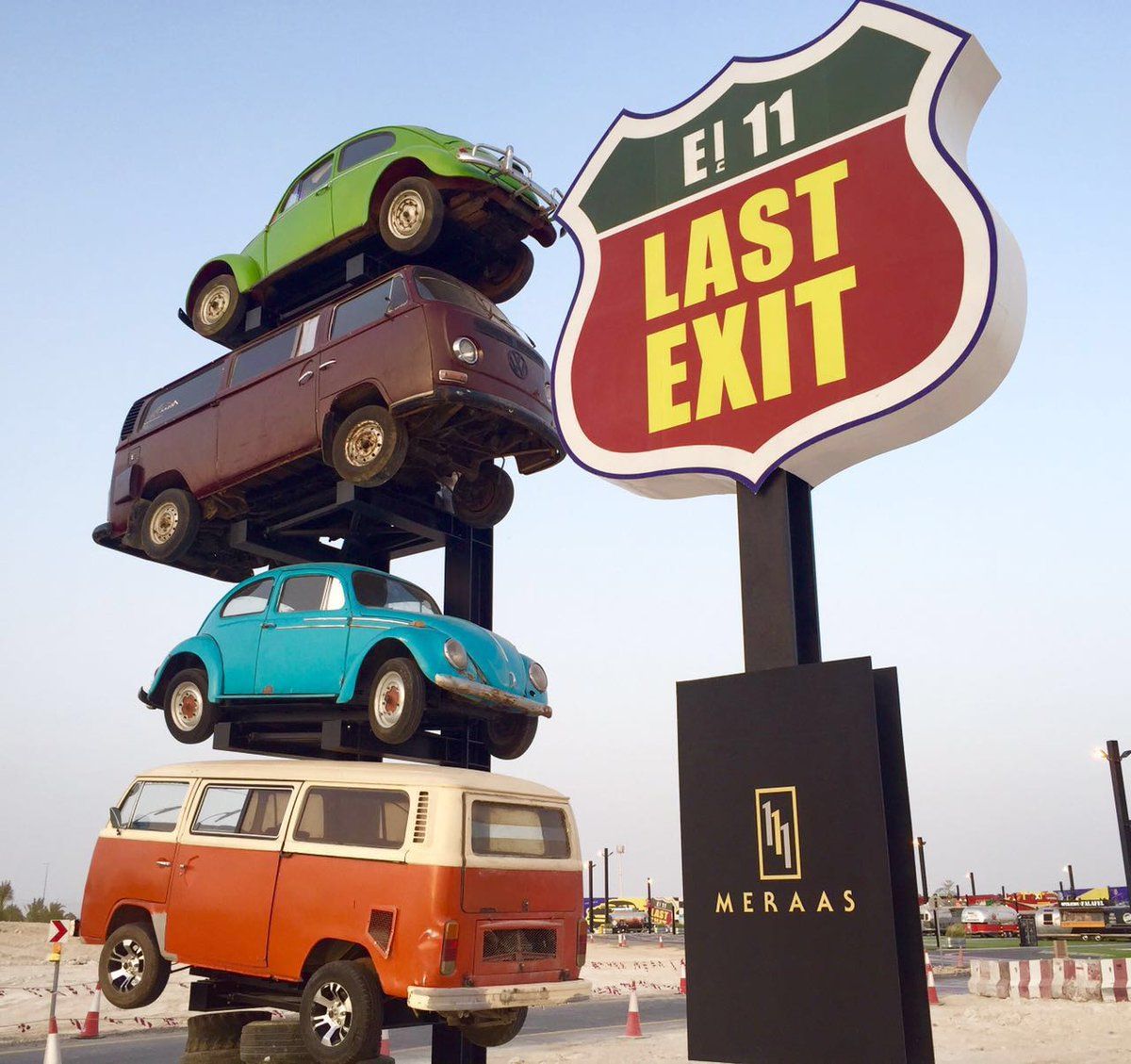 Some restaurants offer you a nice seat and delicious food. The food options are varied and could include a steaming "Karak Chai," which means "strong tea." This tea will have cardamom and ginger to give the tea a spicy edge. One Karak chai, and you will be in Abu Dhabi without a wink of sleep.
There would be plenty of parking if you came here with your pals or family for an outing in the sun. Wintertime is perfect for a night trip to Last Exit Dubai – E11 to enjoy the cool breeze, wonderful edgy setting, and great food. Sit down and have a conversation backed by music played in the background. You may experience it during the city tour to Abu Dhabi from Dubai.
Last Exit also has some recreational areas like table tennis and chess boards. You may bring your own Janga and pals to spend one good day out of here, as Americans say!
The Last Exit Dubai – The Pit Shop
This is where it all started. While this place was ready and inaugurated, many tried to figure it out. Rumors had it that it was some Hollywood movie set. Some said that it is an extension of close-by Dubai Parks. Very soon, the eight colorful cars mounted on the vast billboard announced the arrival of the food truck dining experience in Dubai. Many visitors who had earlier experience with a food truck in the USA could not help gushing over the place, the menu, and the food. Meraas, the developer, ensured that the food served in the Last Exit-E11 (Dubai Bound) was unique but hygienic. The rules were to be broken; hence, you would see dining chairs that mock-up car seats, car parts, etc.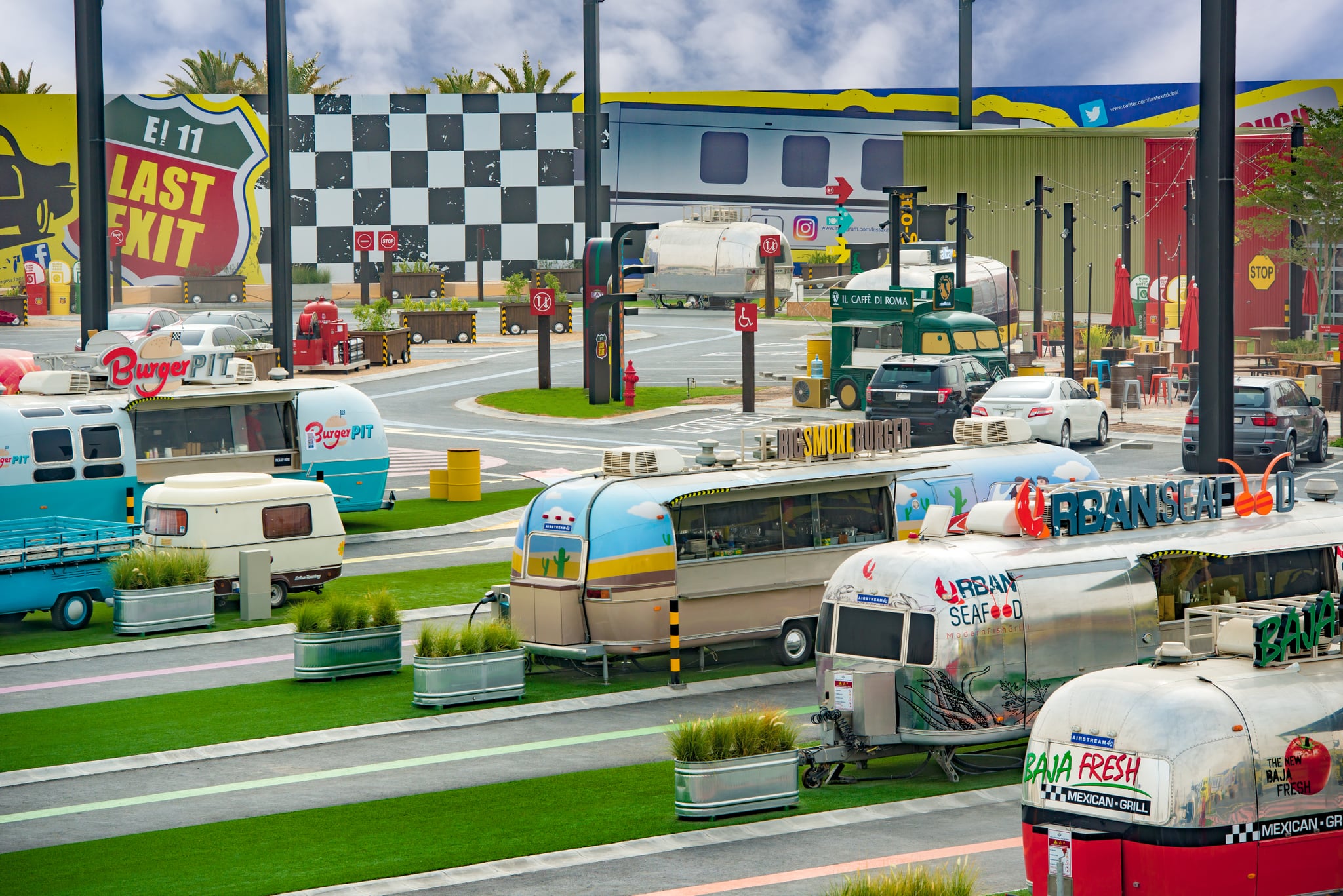 If it is fast food, then it has to be a burger. The burger is the main menu here. There are all kinds of burgers here. There is Stuffed Burger, Burger and Chips, Burger from Burger Pit, and Burger from Johnny Rockets. Take your freshly made coffee from Starbucks or the Café De Roma for a wink-free drive. The place looks green due to manicured artificial grass. There are five bays, and each bay has a street.
Last Exit Dubai – D63
While going to the famous Al Qudra Lake on Al Qudra Street, you will find a buzz of activities. Many cyclists would get their gear while pet lovers would get the leash and harness ready for a walk with their beloved pets. The atmosphere is electric. However, the American-style hoarding's unmissable "Last Exit" is mounted on a tall pole. This place is a destination in itself, and Al Qudra is becoming a beehive of leisure activities like cycling, swimming, open sky camping, and much more. The Last Exit here is central to all.
The wooden tables and benches are designed rusticly on artificial grass turf. They are laid out between the food trucks, acting as a drive-through. Village props also feature in the area, providing soothing vibes to the customers. One can enjoy a peaceful meal and watch the many cars go by at the Last Exit, D63. The various food outlets in the Last Exit have multiple restaurants and coffee shops. Burger Pit, as the name suggests, serves delicious burgers and fries. Café Peloton boasts a menu of classic café food as well as coffee. Hot Chix, one of the premier stops for tasty fast foods, serves burgers and barbecued chicken. Last Exit, D69 is the one-stop shop for customers with an empty stomach and a craving for chicken. My Karak takes a twist and surprises you with Paratha items such as Paratha with Egg and Cheese, sending your taste buds for a wild, fascinating but most importantly, tasty ride. It also serves the classic Karak tea. The saddle is the only pastry and bakery shop which serves croissants and crepes, with various coffees to top it off. It is a popular destination for desserts. The Brass is an excellent coffee shop serving high-quality coffee in the area.
The Zad Food Store also sells authentic Arabic foodstuff and other food items besides the various food outlets. Trek Bicycles Shop and First Ride are shops catered to cyclists in the US. Trek sells Bicycles and Roller Skates, even safety-of-sale items. The first ride can help fix bicycles and cater to them.
Last Exit, D63, does not compromise on its parking or customer service, both of which are satisfactory and outstanding. The parking is quite spacious and large, and it even houses an intelligent station to charge electric vehicles, an initiative SMART Dubai took, supporting a greener, cleaner future. Located in the confines of the Last Exit is another restaurant Spicy Village, which serves spicy delicacies, and the ADNOC Petrol Station. Apart from selling petrol also houses a grocery store, where thirsty customers can buy a bottle of water or a packet of chewing gum for the return trip. The store also sells ready-made food such as puffs and rolls.
The ambiance of the Last Exit-D63 is exemplary. The employees of the food trucks are calm and courteous and are generally very helpful to the customers. It is very pet-friendly, and you can amuse yourself by watching the many dogs that visit the area. It is also a spotless and well-maintained place, and it is highly recommended that you take your dog out for walks there. The village mentioned above props and the artificial grass turf provides a rustic and village atmosphere to relax, forget about the world, and focus on your comfort. In summary, the Last Exit can be your ultimate stress killer. Just a decent meal and a cup of coffee can make your day.
Last Exit Al Khawaneej
It is a hidden piece of gem. Al Khawaneej is seeing a lot of development in recent years. The newly established University City and the International City offer the Al Khawaneej area the crown of new development. Nestled among rolling green meadows, you will find Last Exit Al Khawaneej. This is the gateway to Oman and offers the driver an ideal dining experience before getting out of Oman. A ranch-inspired destination, you will find plenty of shacks and saddles here with hays and horses. All are giving you a look and feel of an American Ranch home. Stop here for a tall, dark, delicious Coffee from Cupagahwa, add yummy pastry from the Saddle café and treat your kids to a meaty burger from the Dirty Dog.