When you visit Dubai, the top things that would come to your mind might be the skyscrapers, remarkable architecture, and luxury living. These factors are undeniably adding to the charm of the city. However, the real fun in Dubai is concealed in its most invaluable treasures. As you know, treasure hunting is never easy.
Get into a car and prepare for an off-road drive. As you drive past the high-rises, busy roads, and shopping malls, you can see a long golden stretch of land beckoning you from afar. Yes, it is the desert, the real treasure of Dubai.
When the city offers everything from shopping malls, luxury restaurants, theme parks to tranquil beaches, its most exciting things await its natural landscape. Desert safari is a popular tourist activity in Dubai.
You can choose an interesting desert safari deal from a reputed tour company. It will include pick up and drop, adventures like dune bashing, quad biking, camel riding, sandboarding, entertainment programs, and a barbecue dinner.
If you are a passionate driver, choose a self-drive safari in which you can drive to the deserts. This option doesn't include pick up or drop, and you should reach the destination by yourself. After that, professional drivers will take you forward in the desert.
Desert safari Dubai is a rare opportunity to see some of the traditional dance forms you cannot see elsewhere.
Belly Dance And Tanoura Dance Show

Belly dance is a name that is closely connected to the Arabic culture. Being originated in Egypt, it became a famous dance form in Arabian countries. It is performed by a woman who demonstrates complex movements with her hips. The skilled dancers add more color to it by using some amazing props.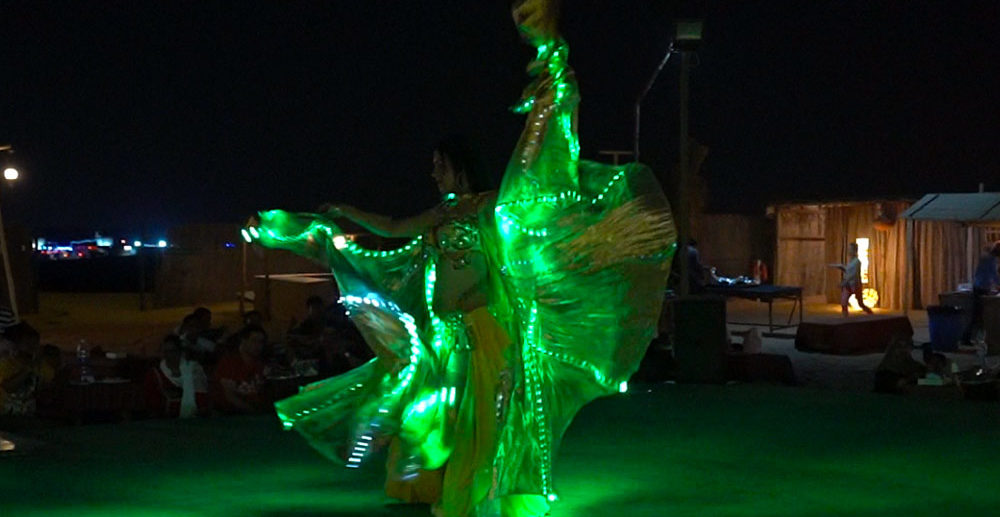 You will admire the talent of these elegant women who skillfully balances a sword or a candelabrum while dancing. Belly dance is a blend of beauty and sensuality.

Props used for Belly Dance
Belly dancers use several props to amuse the audience. See the most commonly found things:
· Candelabrum
Candelabrum is a decorated holder of many candles. A belly dancer uses it to demonstrate her skill in balancing her body as she dances with a Candelabrum on her head. It is an astonishing sight when a woman dances with so many lit candles on her head. Props for balancing can be anything like a basket or a pot.
· Isis wings
Isis wings add dramatic color to the belly dance. The dancer will seem like a butterfly when she dances with two wings. She will spread the Isis wings attached to her costume at a fast pace. It is a great way to captivate the audience with attractive pinions.
· Canes
When a belly dancer uses a cane as her prop, the sensuous emphasis will slightly give way to resilience. It is somewhat similar to cane dance performed by man.
· Fan veils
Some belly dancers will make a stylish entry with a veil. Dancers will wrap the veil according to their individual taste, but usually, they wrap by covering the torso. She would finally remove the veil by revealing the real magnificence of her attire. She will demonstrate some simple and graceful movements by swaying the veil. It will be a slow number in which she makes spectacular patterns with the veil.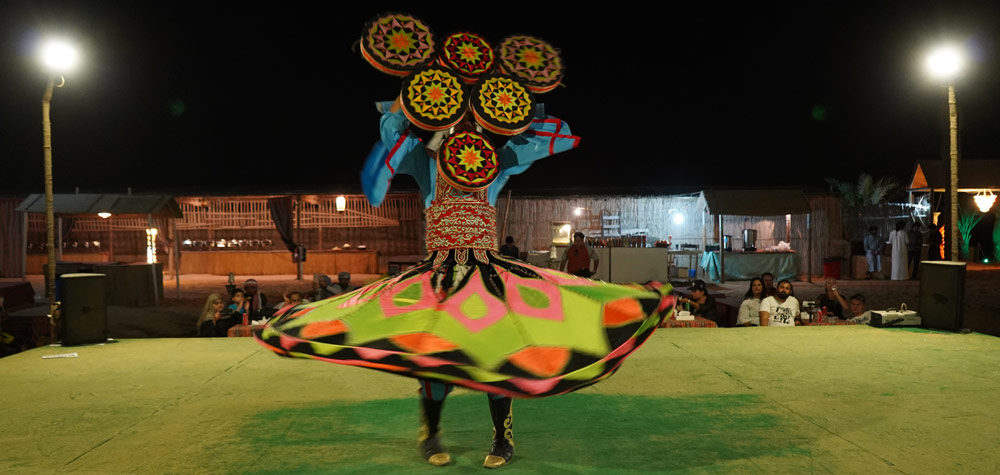 Tanoura Dance Show
Tanoura is an Egyptian folk dance performed by a male dancer. It originated among the Sufis and has become one of the most-loved tourist attractions in Dubai. The word 'Tanoura' refers to the weighted skirt that the dancer wears. The performer will spin throughout the dance. It is said that the circular motion represents the planet revolving around the sun.
Their endless whirling movements with the colorful skirts spinning above their head will steal your attention. The skirts feature bright geometrical designs and consist of different layers. He will also wear a turban on his head. Each color in the skirt represents a Sufi order. The dancer will not feel dizzy at all despite whirling continuously.
The dancer will turn on the lights on his skirt at some point in time. This will be a visual treat for the audience with a variety of hues.
Fire show
The fire show is an exquisite combination of dance and juggling with flames. The performer will create fiery imagery with stylish movements. It usually consists of different techniques like fire breathing, fire eating, and fire twirling.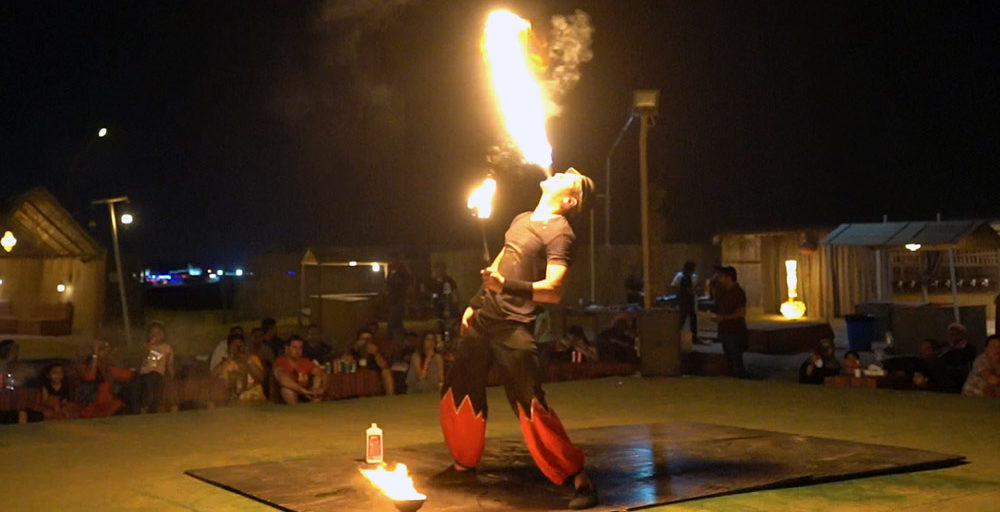 In fire breathing, the dancer will make a fire stream by creating a mist of fuel from the mouth over an open flame. Fire eating is a metaphorical expression in which the performer will extinguish flames in his mouth.
Fire twirling is an art form that involves making patterns with a flame around their body. The dancer showcases some tricky moves amid the fire. They will spin continuously at a steady pace and with fewer body movements. The fire show is an intriguing piece of art that you will remember forever.
Dubai Desert safari ensures a day full of entertainment. Besides these leisure programs, you can also try smoking shisha and henna tattoos. Whenever you visit Dubai, make sure that you plan a trip to the deserts and watch the Tanoura Dance show, a rare art form.