The United Arab Emirates has seen rapid development in the last 50 years, and it can rival any city in Europe in terms of its buildings, roads, and parks. The growth is so rapid, deep, and comprehensive that many people forget the lifestyle of the tribes that inhabited this place. These tribes, called Bedouins, basically involved camel and sheep raising, pearl harvesting, deep-sea fishing, and trading. They would often go camping near an oasis with their entire caravan and move once trading was over. They are still known as excellent hosts who would receive guests with open arms and provide all possible amenities, including food. Most tour guides brief you during the Dubai city tour about attractions in Dubai.
Al Maha Resort has tried to capture the fundamental essence of the Bedouin Lifestyle. Al Maha Luxury Collection Desert Resort and Spa is one of Dubai's best places to visit. As it is known, Al Maha Resort is located deep inside the UAE desert, within an oasis. The total area is known as Al Maha Conservation Reserve. Al Maha is the Arabic word for the desert Oryx. Desert Oryx conservation is the central theme of this beautiful resort. The resort comprises 52 luxury suites, private swimming pools, and arts and artifacts reflecting the Bedouin lifestyle. Run currently by Marriott, and this resort is not somewhere everyone goes. It would help if you had a refined taste, a spirit of adventure, and an appreciation for different lifestyles.
Al Maha Resort is among beautiful and limitless desert dunes, ubiquitous palm trees, and Hajar mountain massif. When you wake up here, you will not hear the car honks or other sounds that we are so familiar with. Instead, you would find absolute silence broken occasionally by the call of Oryx or birds. Your activities would not include corporate meetings but meeting with various herds of animals that form the habitat of the reserves. Al Maha Resort will give you a peek-a-boo of actual desert living, albeit a stylized one. Al Qudra lake is another option for camping and outdoor BBQ.
Al Maha Resort takes pride in playing a very proactive role in the conservation efforts of the Al Maha desert. As An eco-resort, it studies the human impact on the biosystem. It has taken many steps to reduce the carbon footprint of human activities. One major step is not allowing petrol/ diesel vehicles to be driven around the resort. It actively encourages electric cars and has two charging stations near the reception area of the hotel resort. Further, researchers and conservationists are developing further steps to increase the natural biosystem. So when you go there next, you are most welcome to understand these steps and contribute to them.
Al Maha Resort Experience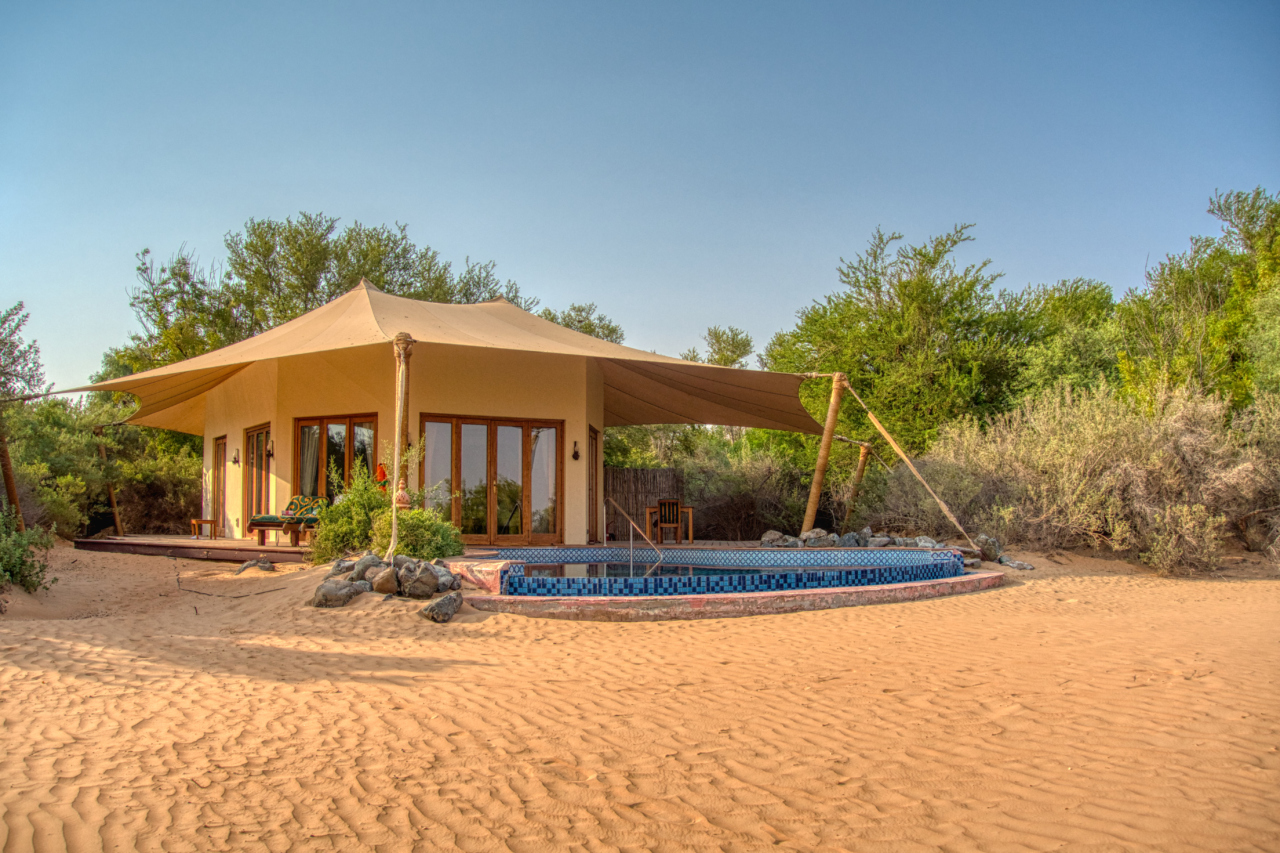 Al Maha Resort is exclusive, so you need to book your room in advance. When you reach the Al Maha Desert Wild Life Conservation, as if you have arrived by car, that is where you will leave your vehicle. From there, the team of Al Maha resort shall pick you up and take you to the alternative. The luxury collection resort is 5 kilometers away, and you will see many desert animals comfortably loitering around. You will be received in truly Arabic style with Arabic Coffee called "Kawa" and dates. The rooms are aptly styled as Bedouin Suites, Emirates Suites, and Royal Suites. Each suite has an on-suite private swimming pool, fantastic décor, and water bodies. The rooms are big and airy, and each room gives you a view of verdant dunes that starts from where the greenery ends. You may find gazelles and Oryx just outside your room. You have the option to dine inside or outside by your pool. The night at Al Maha Resort is an entirely different feel. The sky above is carpeted with stars you would not have seen in a very long time. The silence of the night invites you to a night of perfect sleep.
During the daytime, you have various activities;
Falconry — Falconry is the oldest sport in the Arab peninsula. It involves such activities as "Birds of Prey," in which falcons catch various prey at the command of these masters. The falcons' vigor, strength, and loyalty and the mastery of Bedouins in controlling them will be shown to you during Falconry.
Desert drive: Well! No desert experience is complete without a desert dune bashing on mighty 4 x 4 cruisers. You can go on a Dubai desert safari with a driver from Al Maha Resort. He would take your car on the dunes, side of the dunes, and down the dunes. A lot of sand would splash on your windshield, but do not worry; it is part of the show. After 2 hours, you would return to the resort for evening tea.
Nature walk — If you thought that desert was only about the rolling dunes, you are in for a shock. Desert has a lot of life and very many hidden secrets. Ask for a guide, get your binoculars (each room has been given a pair of binoculars), and enjoy a good acquaintance with Dubai Desert secrets.
Ghaf tree-walk — Ghaf trees have been chosen as the emblem for the year of tolerance by the UAE government, and there is a reason behind it. This is one of few trees that can survive the arid desert conditions of a desert as they bury their roots deep inside the earth for their water requirements. You may call for a guide to take you to a ghaf tree grove and have a relaxing cup of tea amidst the greenery. These ghaf trees are also part of conservation efforts.
Horse riding If you are a keen rider and know how to control them, you may opt for a day out among the dunes on the back of a majestic Arabian Horse. These are built for endurance racing, and you will not have any problem riding on them. They are also trained to get you back safely to the resort.
Wildlife drive: If nature is your call, take an Al Maha Resort guide and chase desert oryx in your air-conditioned 4 x 4. The driver cum guide is also a true nature expert and would explain everything happening in this conservatory. It is a good edutainment for all your family members.
Camel trek — A sundowner on a camel safari. That is only possible in Al Maha Resort. all for a camel and a 20 minutes camel safari. The camels are well trained, and the safari will take you to dunes just the sunset time, and you can toast the sunset with sundowner champagne. You may also go for a sundowner trip into the dunes on 4 x 4 of Al Maha Resort, though we recommend you take a camel as it is more fun and eco-friendly.
Archery — Archery was one of the critical strengths of Arabs when they were out conquering the world. You may practice your archery skills under a trained archer until you gain mastery or at least have enough muscle stretch.
Experience – Dining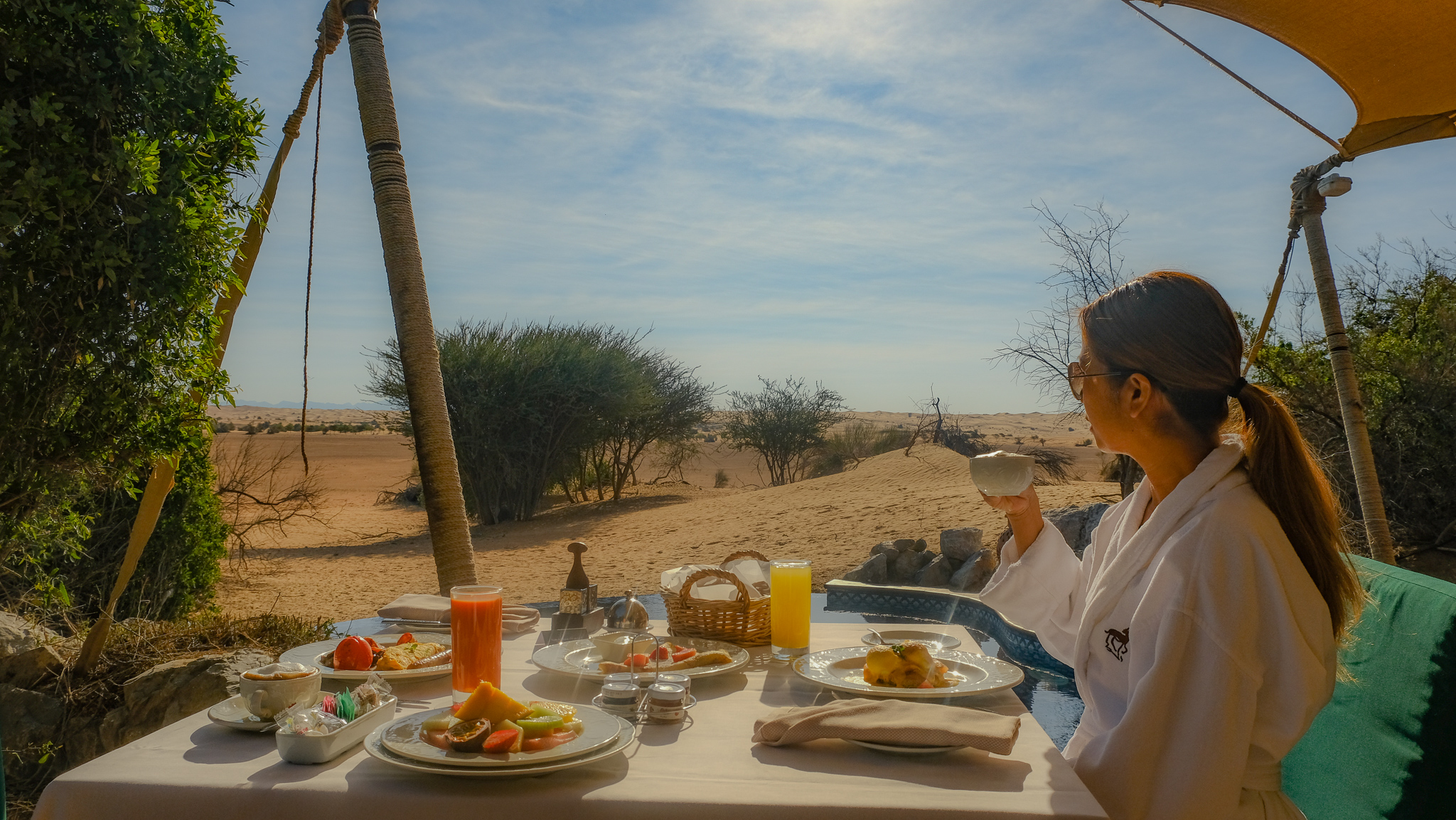 The centerpiece of the AL Maha dining experience is Al Dewan. It is fine dining at its best. It's a fresco dining experience giving a panoramic view of the desert with its unique animal flora and fauna. There is also a telescope if you get itchier to see what lies far into the wild. The sophisticated dining experience comes with an upper deck where you get exciting cocktails, mocktails, and other beverages. The fine dining of Al Dewan serves up international and indigenous delicacies for breakfast, lunch, and dinner. The dress code is prescribed in Al Dewan as smart and casual, and no loafers and shorts, etc., are allowed.
You can also opt for various options, including the deck, dune, and in-suite. Or dune dining, the Al Maha resort will create a romantic dining experience by setting up tables, candles, and drapes.
Al Hajar Terrace Bar – On the terrace of Al Maha Resort, there is a quaint bar that overlooks Haja Mountain Massif. You will be served chilled beer and a variety of other beverages on this beautiful terrace, and for every drink you buy, one more comes free.
Spa Experience
When you go to a resort, you always have fitness in your mind. l Maha Resort has a Timeless Spa for your rejuvenation needs. It has massage and skincare experts from all over the world who would take care of your holistic treatment with the signature products of the Timeless Spa in a holistic setting. The Spa caters to both men and women. The products are world-class and made from only natural herbs. One day in the Spa will make you rejuvenated and energized to take on your next corporate challenge.
There is a fitness center and trainers for you to use its state-of-the-art fitness equipment.
Location
Al Maha Luxury Collection Desert Resort is located on Dubai Al-Ain Road, around 65 kilometers from Dubai International Airport. You will go up to the desert conservatory by your vehicle, and from there, the resort team will pick you up in their car. However, if you have driven in your electric vehicle, you can go to the resort and get free parking.