Hatta Dam is a beautiful jewel of glistening water surrounded by the imposing Hajjar mountains. Built in the 1990s, this dam's primary purpose is to supply Hatta town's water and electricity requirements. But, more than this, it is now earning valuable tourism currency. Thousands visit Hatta Dam to do various outdoor activities in and around it. In winter, it becomes jam-packed with visitors who seek more outdoor sports activities. The dam is misdescribed on many websites as a natural dam. It is, however, an artificial dam built for specific purposes. As Hatta is almost 300 meters above sea level and its main topography includes the Hajjar mountains, it receives more rainfall than other parts of Dubai. However, most rainwater would flow into the sea by forming small streams. To harness this water, the Hatta dam Dubai was constructed.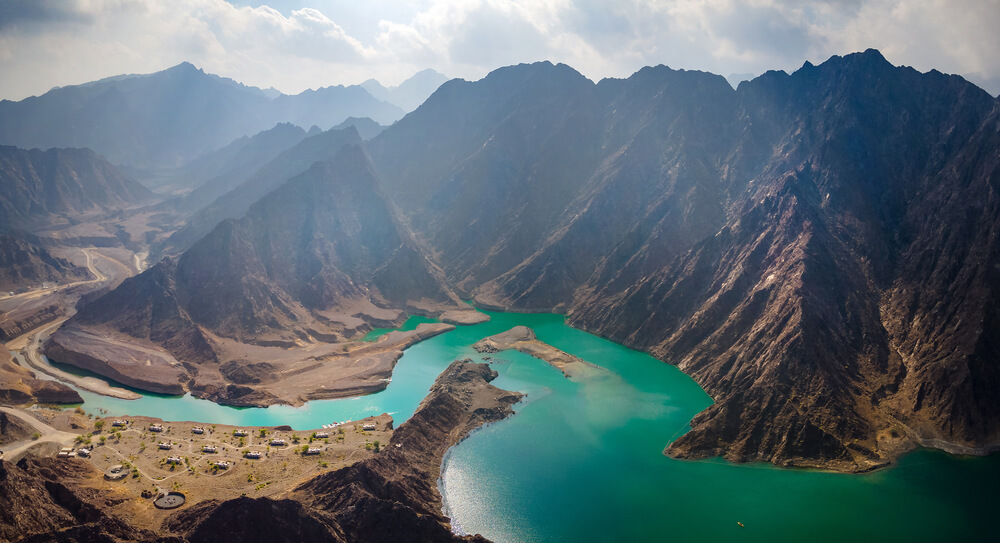 Today, it supplies water for irrigation making Hatta farmers grow various vegetables and dates. DEWA plans to use this dam's gallons of water to generate hydroelectricity. The dam is at the center of a multipurpose project.
Hatta Dam Location
The dam is located at Hatta's foothill of the Hajjar mountain range. It is hardly 12 minutes away from AJ Hatta Fort Hotel and 15 minutes from Wadi Activity Hub. It can be reached easily by car and has plenty of parking around it. It takes around 4 hours by bus from Dubai and almost the same time from Abu Dhabi's Sabka Bus depot. However, by your car, it takes approximately 90 minutes from Dubai and 150 minutes from Abu Dhabi.
Being an exclave, Hatta does not share a direct border with Dubai. It was handed over to Dubai by Oman in the 1700s, and at that time, it was under constant attack from the Naim tribes of Buraimi. Sheik Hasher Maktoum was able to keep Hatta well protected and built Hatta fort, which is still standing along with watch towers all over the mountains, 4 of which are still in good condition, and one can visit them and complete a history tour of Hatta.
Hatta Dam Dubai Kayaking
For kayaking lovers, it is an ideal place. The dam, which is almost 10 to 15 meters deep, provides an excellent opportunity for kayaking. As the water flows with great speed, it is more like a leisure activity than an adventure activity. There is a counter where you pay to get a kayak. It would cost AED 40/= for a kayak for 40 minutes and AED 65/= for 2 people in one kayak. Although there are many kayaks, it is advisable to go early in the morning to get your turn ASAP.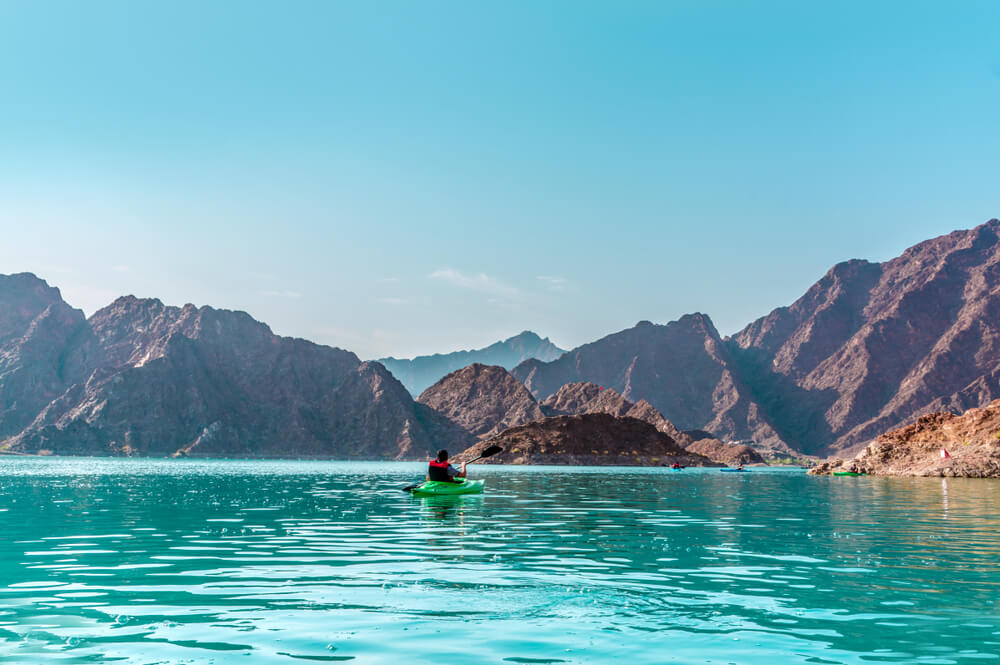 The kayaking cost is Aed 60 for 1 person and Aed 120 for two persons in one kayak. There is a 3-person kayak also available. Apart from kayaks, there are yellow boats that are fully shaded boats. There are also motorboats for 1, 2, and 3 people. Peddle boats are also available. Once you reach Hatta dam Dubai, you choose what you want to do and pay the fees. You will have an assistant who will give you the required safety gear and brief you on the safety aspects. He would also tell you dos and don'ts. After that, all fun is yours. Enjoy the adventure, take selfies against the stunning backdrops, and watch fish but never catch one. Fishing, bathing, and swimming are prohibited. Kayaking is not allowed for those less than 16 years.
Hatta Dam Hiking
Hiking a dam is a misnomer. You can hike the mountains around the lake that formed due to the Hatta dam. A hiking trail is almost 32 km long, winding around the mountains. The track is well-defined, and you will never be alone. There are a lot of directions as well. The municipality has also provided sufficient washrooms along the way. While kayaking, you may be lucky to spot birds and fish. It would be best to keep the camera ready for plenty of photo-op. We assure you that there won't be a dull moment.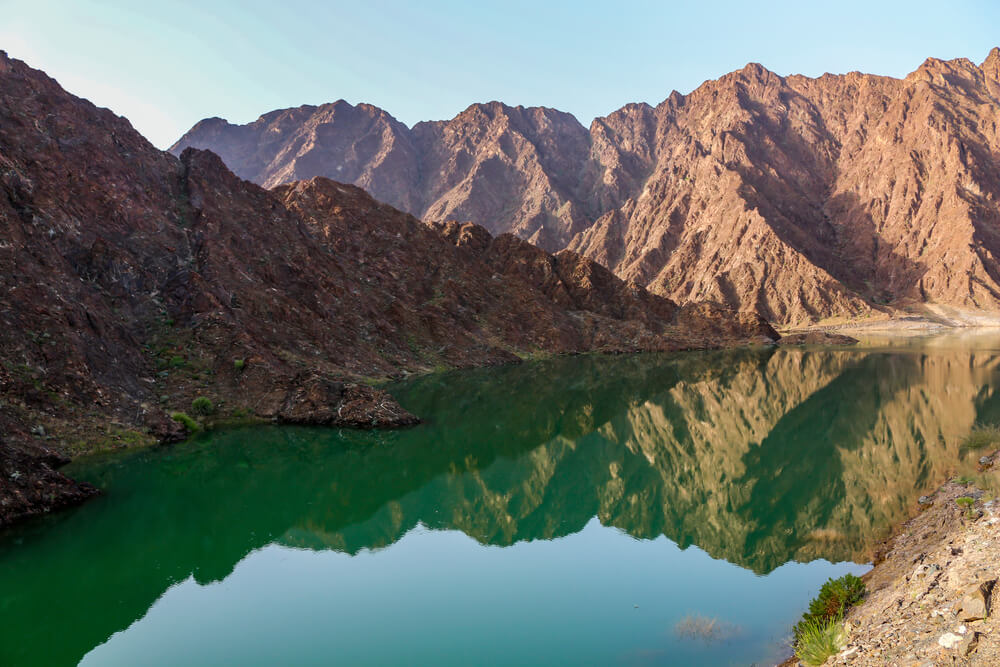 When going hiking, please remember the following.
Keep plenty of water and some snacks with you
Always join or follow a group of hikers
Wear hiking gear that includes gloves, sunglasses, hiking shoes, and a cap/hat
Wear plenty of sunscreen on your body to avoid harmful UV rays
Only use washrooms that are made available
Keep the hiking trail clean by keeping the waste with you until you see a dustbin
Be respectful to your fellow hikers
Take plenty of selfies but ask permission before including others in your selfie
Do not take risks in the mountains, as a fall could be fatal
If you have kids, do monitor them closely
Inform someone in your family about the trail
Keep your mobile fully charged
When going hiking here, the early sunrise is the best time. You would see mountains and the dam below in different shades, and as the sun starts growing in size, things could change very quickly. If you are not fully accustomed to hiking, you should get back or relax more. The idea is to have fun and not to compete.
Instead of hiking, you may also go cycling. You might cover more distance, pass through more varied landscapes, and physically do more exercise. However, we suggest that the Hatta dam is something that you would visit only once. To enjoy it, you may require multiple visits.
Hatta Dam Dubai
Many residents look forward to going to Hata Dam on the weekend and enjoying kayaking, peddle boating, or dual kayaking and ending it all with refreshing juices and mouthwatering food. You must start early if you reside in Dubai or Abu Dhabi. When you go to Hatta Dam, remember to dress for handling the kayak and doing some more activities. Kayaking is only 50 minutes. You will have a full day in your hand to do plenty of other things, like visiting the Activity Hub, etc. This place is so charming that you would feel like going back again and again.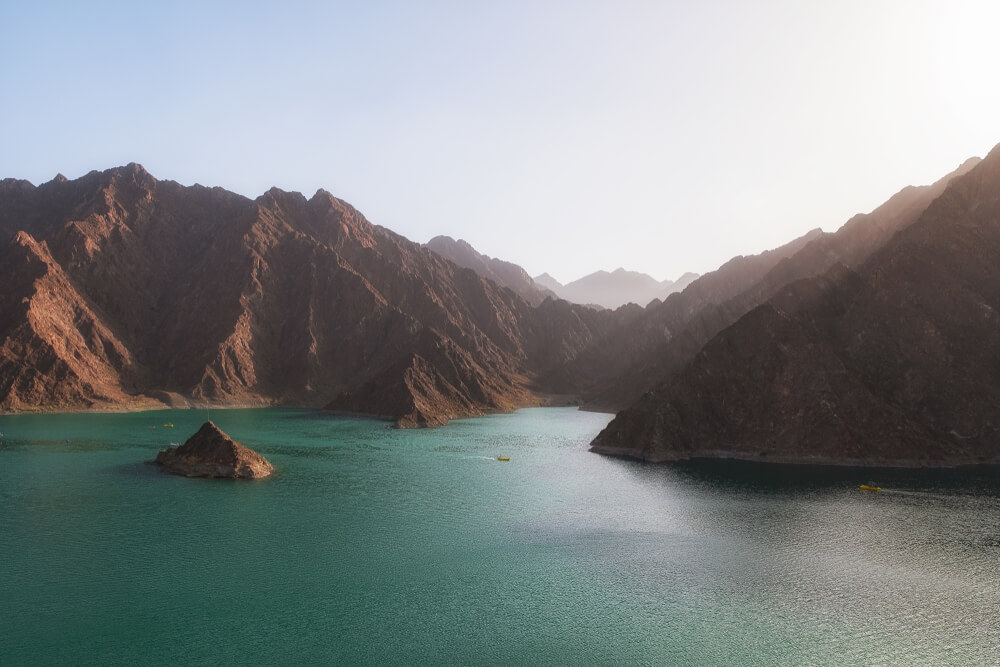 FAQ
Where is Hatta Dam?
Hatta Dam is amongst the craggy mountains of Hajjar. The dam forms a large lake by stopping the rainwater that flows down from the mountains. The dam water is used for irrigation, drinking, and electricity generation.
Is hiking allowed at Hatta dam?
Hiking Hajjar mountains on a fixed trail is an exciting physical endurance sport. You can also go hiking on your own, but that is generally risky, and every year reports of hikers losing their trail appear in various local newspapers. Join other hikers in exploring the mountains and their biodiversity. Come home with plenty of pictures and selfies.
How deep is the Hatta dam?
It is almost 11 meters deep, holding a large amount of water. The depth also allows various water adventure activities. However, swimming and fishing are banned here.
How to go to Hatta dam from Dubai?
The easiest way is to go to Maliha and then go to Hatta. You can take E012 and When you reach Maliha, then take E44. However, there are many other routes to go to Hatta. You may go through a roundabout yet an incredible mountainous trip to Hatta through E44. Please remember that you may encounter roadblocks on some routes due to roadworks. Your best option is to follow the Google or RTA map. They are reliable and predict any slowdown, accidents, and road deviations for you.
Conclusion
If you are looking for one full day of adventure, fun, learning, and relaxation, we suggest you pack your weekend bag, set your weekend mood, and head out to Hatta. Your weekend bag should include camping gear, barbeque gear, a backpack, and a book to read. Get to Hatta dam first, start with your adventure activities and end with a relaxed barbeque in Hatta Park, and read a book under the calm sky. You would be positively recharged.
Additional Suggestions
Hatta Water Dam is located far away from Dubai at 135 Km. However, due to super smooth and well-laid-out roads, Hatta Dam Dubai does not look that far. It means 90 minutes to 120 minutes of driving. The most popular and well-detailed activity is kayaking. Kayaking in Hatta dam is popular because of the stunning views around it. There are hundreds of kayaks of various sizes available here. Since you have traveled so far, you should do all Hatta Dam activities, like, Hatta mountain hiking, cycling, rock climbing, or simply relaxing. There are two famous hotels in Hatta. The AJ Hatta Fort hotel in the most famous Hatta Da hotel serves bet buffet throughout the day and has many activities of its own.
Remember that Hata means heritage, it means kayaking, it means hub of activities, and it means adrenaline-filled weekend.