For many, the United Arab Emirates is not just a country but also an El Dorado for good fortunes and great wealth. Dubai is home to ex-pats worldwide, more than its very own citizens. A country that bestows upon everyone who calls it home equality of living is unparalleled. It is due to the benevolence of its rulers who consider tolerance, universal brotherhood, and happiness as the fundamental ethos of good governance.
Hence when the hardworking community of Sikhs led by Mr. S.S. Khandhari approached the government of Dubai for a proper place for worship, its ruler, Sheikh Rashid Al Maktoum, gladly obliged and donated a massive plot of land, 24,500 square feet, for building a Gurudwara. His only request was that it be a top-notch place in terms of its construction, design, and interiors. There are many other religious places to visit in Dubai for tourists and residents of the United Arab Emirates.
Mr. Khandhari obliged, with the help of many friends, to make the dream of every Sikh a reality. The Gurudwara was named Gurudwara Nanak Durbar and was inaugurated on the 17th of January, 2010. It took almost six years for the construction and interiors to finish. The world-renowned Holford Associates and Paul Bishop Design Associates led the design and project management project. Richard Adams, another expert in Gurudwara design, was also called upon to help give the final design. Paul Bishop and Arafeh Bashir visited Gurudwaras in India, particularly the Harminder Sahib, to study the paintings and frescos.
Mr. S.S.Khadhari, the visionary and Chairman of Al Dobowi Group in Dubai, reminisces in his book, "The Temple of My Dreams," that he wanted a Gurudwara in Dubai that reflects the ethos of Sikhism as well as the rulers of UAE and that is, tolerance and universal brotherhood. So, the Gurudwara's design in Dubai focused on ensuring that people from all religions could come here and have delicious food daily during its operations.
Gurudwara Dubai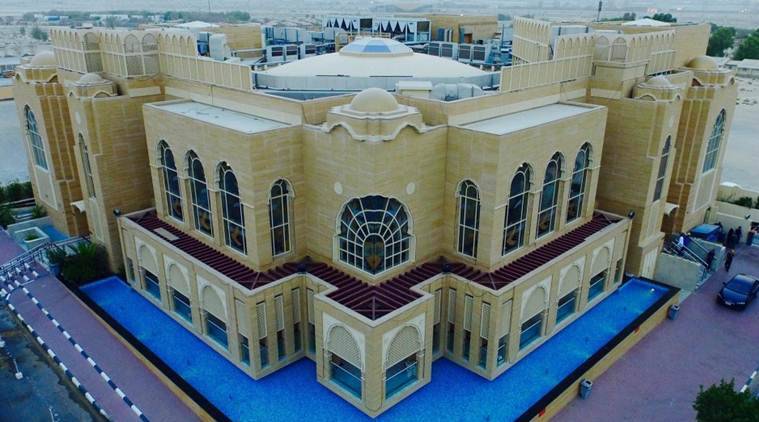 The Gurudwara Nanak Durbar is a vast structure with three basement levels for free car parking. The ground-level construction begins with imposing teak wood doors. The ground level contains the "Langar" area where the food is served. Attached is a world-class kitchen with automated "Chapattis (Indian Wheat bread)" making machines. These machines can churn out 1000 chapattis every hour. There is also a dough mixing machine. The most important thing, however, is that the Gurudwara Nanak Durbar, Dubai is the first Gurudwara in the world to be certified with ISO22000. ISO22000 is given to food safety management. This also shows that the management team of Gurudwara is fully committed to the safety of the food being served. The highest hygiene and safety practices are followed inside the kitchen, raw material storage, and serving. The Langar Hall, the main dining area, is on the same level. Although it is traditional to sit down and eat as most "Sangat (people who visit the temple)" do, there are many chairs and tables for old people and people with challenges.
As the food is continually served, the dining area is always cleaned. The Sikh Gurudwara in Dubai has deployed a separate company for only cleaning. The Sikh religion believes in free service to the Sikh temple called "Karseva." Owing to this belief, many visitors also see cleaning, cutting vegetables, and serving food.
Gurudwara Dubai Prayer Hall
The next floor has the prayer hall. The pillarless prayer hall is worth visiting, and serenity exudes from it. More than 5000 worshippers can sit at a time and pray here. The Gurudwara Nanak Durbar is designed so that the first ray of the morning falls directly on the Holy Book, which adorns the prayer hall. The Gurudwara prayer hall's floor is covered with a vast carpet for the devotees to sit comfortably and meditate. There is a meditation room in the corner of the prayer hall where any person from any religion can come and read their holy book or sit and meditate undisturbed. There is also a library where one can read books.
The Gurudwara is very environmentally conscious and responsible. The lighting system has been fully converted to LED recently. Its toilets use chemical cartridges to avoid flushing and wasting water. People are encouraged to eat well but not waste. Another initiative is to replace all thermos cups with paper glasses for water and tea. The Gurudwara Nanak Darbar also uses plenty of sunlight to reduce electricity waste. Around the Gurudwara, there is a water promenade covering almost one-fourth of its perimeter with small fountains. The water body also keeps the temperature cool.
Digital Museum, Guru Nanak Darbar Dubai
The Gurudwara Dubai also has a digital museum in the basement where the devotees can go and learn about Sikhism, its ethos, and how it came to become a religion aligned with every other religion. The digital museum is again the brainchild of Mr. S.S. Khandhari. Visit the Coffee Museum free of cost.
Activities of Guru Nanak Darbar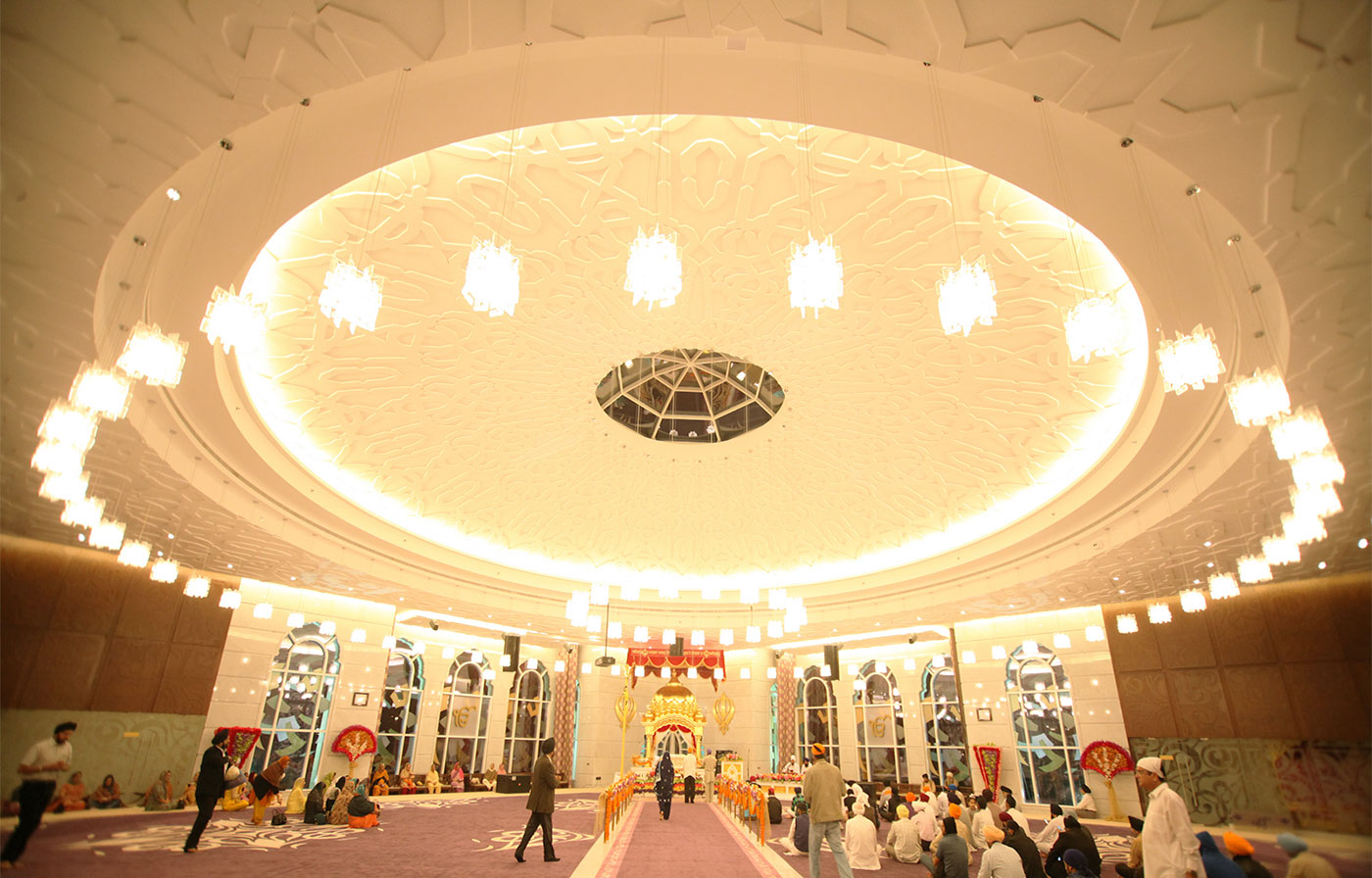 The Gurudwara Dubai is engaged in a lot of philanthropic activities. Mrs. Bubbles Khandhari, vice chairman of Guru Nanak Darbar, is leading activities of Gurudwara through "Young Hearts," an initiative to bring respect for living to old people. Then there is an initiative to bring awareness of Sikhism among kids and teach them music to spend their time wisely. The Gurudwara Dubai also donates food packages (dry, long-lasting materials like rice/ sugar/ wheat dough, etc.) to labor camps. There is also an initiative to get sound advice to laborers with the help of the Indian Consulate Dubai. It also serves as a venue for marriages and many religious functions. It undertakes matchmaking and marriage as per federal and local laws.
The Gurudwara in Dubai opens its doors as early as 4 am, and since then, it has had a series of religious activities. There are smaller halls on the 1st floor for believers to conduct religious activities like "Akhand Path." One can also have a birthday party at the Langar and request exceptional food for which a little extra is to be paid. The only condition is that once the particular food is made, it is open for every person to dine in the Langar hall. No exceptional occasion food can be served separately to select visitors.
Gurudwara Dubai Awards
Every year, the Gurudwara Nanak Darbar feeds more than 3 million people from every religion, social stratum, corner of the UAE, and the world. The food is free, No questions asked. It is located in the "Religious Zone," where many churches are located, so every Sunday, it welcomes churchgoers. Taxi drivers and the nearby construction workers stop by to have a delicious lunch. Some consider it a divine offering, and many enjoy the tasty spread of an entire three-course meal, including salad, Rice, Chapatti, Veg curry, Lentils, and sweets. People coming in such large numbers and eating is the most significant honor, according to Mrs. Bubbles Khandhari, the vice-chairperson of Gurudwara.
The Gurudwara Nanak Darbar Dubai has also won certification for Quality Management and Health and Safety Management (ISO9001 and ISO45001), again the only Gurudwara with four accreditations.
It has been awarded Guinness World Record for hosting complimentary breakfast for the most significant number of nationalities (105 of them) and Distributing the most considerable number of plant saplings to encourage the green initiative of UAE. Holding these events is to respond to society's current ills. In an increasing strife world, the message of brotherhood and tolerance can be spread only when people from different belief systems can sit and enjoy delicious food. The Gurudwara Nanak Darbar also ensures hosting Ifthar for all days of Ramadan so that believers can come and have a tasty vegetarian meal and break their fast with their brothers and sisters from other religions.
Reaching Gurudwara Nanak Durbar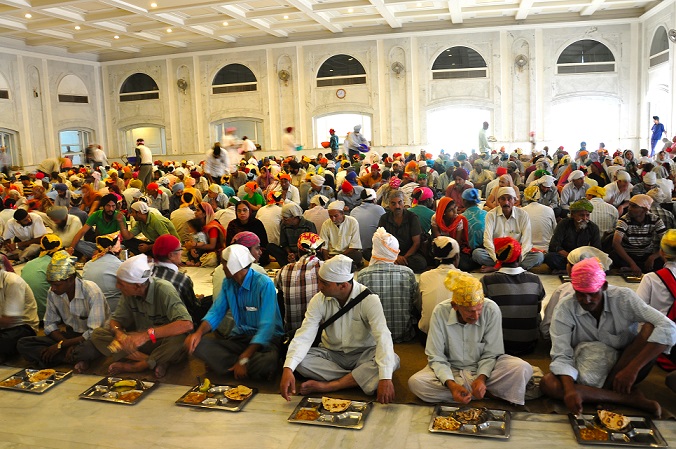 There are many ways to reach Gurudwara. You may take the red line metro and get down at either Ibn Battuta Mall station or take a bus to the Gurudwara. You may also get down at Muntaza station in Jabel Ali and take the F44 bus to the doorstep of Dubai Guru Nanak Darbar. There are a lot of tourist buses that take tourists to the Gurudwara en route to the Abu Dhabi city tour. Tripadvisor, an online consolidator, has ranked Gurudwara Nanak Darbar as the 8th most popular destination in Dubai. You may also take a taxi from anywhere in Dubai and reach without much problem.
It is located in the Jabel Area and close to Jabel Ali village, behind the Lifeline Hospital. The Dubai Government has provided five churches, which are frequented by many visitors also.
Guru Nanak Darbar, Dubai, Timing
Doors of Gurudwara Nanak Darbar open at 4.30 am, and devotees start visiting from early morning to 9.30 pm. The dinner is served until 9 pm. However, the Langar is open until 10 pm.