Dubai has some of the most talked-about and opulent landmarks in the world. Be it the towering Burj Khalifa or the 7-star luxury and the Burj Al Arab, all of them are counted among the world's most recognizable artificial creations in the world. People from all over the world make a beeline to come and enjoy these landmarks and take precious memories back home. The government of Dubai has been striving harder and harder to make tourism the cornerstone of its economy. Every year new destinations are being opened to create one more reason to come and enjoy this virtual paradise.
It adds to the long list of tourist attractions in the mighty ship liner, Queen Elizabeth 2 or QE2, as it is known. QE2 is currently moored at Port Rashid (Mena Rashid) Dubai. It has undergone massive internal refurbishment to cover the entire ship into one huge leisure destination. It was purchased by the investment arm of the Dubai Government, Isthitmar, and Nakheel had taken the responsibility to refurbish and manage this mighty ship as one of the centerpieces of Dubai's already known ultra-cool dining options.
The QE2 Dubai – History and Facts
QE2 is an ocean liner that was built for Cunard Line. It came to operations in 1969, and Cunard Line operated it as a transatlantic liner and a cruise ship for almost 40 years until the company replaced it with RMS Queen Mary in 2008. In its 40 years of sailing, QE2 has passed many landmarks and records. It was the most visible cruise ship ever. Some interesting facts about QE2;
· At the time of retirement, it was 924 feet long
· It carried more than 2.5 million passengers in its 40 years of cruising
·         In 1971, it saved 500 passengers of the burning French line Antilles
· QE2 was once disabled from sailing when jellyfish were sucked into and blocked seawater intake
· QE2 participated in the famed Falkland war as a British troop carrier
· At the time of retirement, it has sailed more than 5.6 million miles and 806 transatlantic crossings
· QE2 has gone around the globe at least 25 times
·         QE2 also boasted the world's largest cinema in the sea that could seat 531 guests at a time
· QE2's shopping arcade has over 11 boutiques, including a branch of Harrods.
The plan is to convert this majestic beauty into a 600 room 5 stars floating hotel with restaurants, a shopping mall, and an aqua park.
QE2 Heritage Tour – Experience
The Heritage tour of QE2 means touring the ocean liner and learning about its chequered past. The visitors assemble first on the deck of QE2, where they are given a briefing. The heritage tour takes you to the ship's essential features, including the Queen's Room, the Bridge, and the cabin. There is also an audiovisual presentation on QE2's history as well as its travails. QE2 was also known to have the only ocean liner to have its museum. This has been converted into a more interactive museum where you will find many old arts, artifacts, numerous paintings of British Royal. There is also a silver plaque of President Nelson Mandela.
If you urge to shop for a souvenir, then Dubai Duty-Free won't disappoint you. It has a big souvenir shop aboard QE2, located on the boat deck. You can buy anything here, from chocolates to electronics, watches to the best liquors. Dubai Duty-Free shop is open from 12 noon to 10.00 PM-midnight.
The Timing and tour tickets of Heritage Tour of QE2
The tickets are priced at Aed 185/= per person, and the tour timings are 1:00 P.M., 3.00 P.M., 5.00 P.M., and 7.00 P.M.
QE2 Dubai Spa, Theater, and Restaurants
The Spa in QE2 is located on deck1. It overlooks the expansive sea and Dubai's iconic skyline. Managed by Dreamwork Spa is open to both men and women. You will have a relaxed revitalizing facial, and massages including the famed Balinese Massage.
The Spa in QE2 Dubai is open Daily between 10.00 A.M. to 10.00 P.M.
QE2 also plays host to Dubai's only theater show. The theater can accommodate around 310 viewers and has a variety of world-class entertainment, including international and local acts. The theater offers the audience to watch great shows over drinks and snacks. As the shows keep n changing, you need to call them for theater timings.
There are nine restaurants currently fully operational in QE2. These restaurants offer a world-class culinary experience with mouthwatering dishes and a unique ambiance that is hard to forget. These restaurants are a delight even just to visit and take in luxury. The best thing to do is end your heritage tour with lunch or dinner in one of these iconic restaurants.
Lido
QE2 quarter deck has a beautiful restaurant that is open throughout the day for breakfast, lunch, and dinner. It serves a variety of continental spreads. Its setting has been mildly changed by adding ceiling to floor windows, marble flooring, and soft green furnishings. Lido is transformed into Culinary World Cruise Series offering Asiatic, Indian, Arabic, and the Mediterranean themed nights on Sunday, Wednesday, Thursday, and Friday.
Lido is open Daily
Breakfast starts at 6.30 A.M, to 10.30 A.M., Price Aed 99
Lunch from 12.30 noon to 3.00 P.M. Aed 135
Dinner 7.00 P.M. to 11 P.M. Aed 105
50% off for children below 12 years and complimentary for children below four years.
The Queen's Grill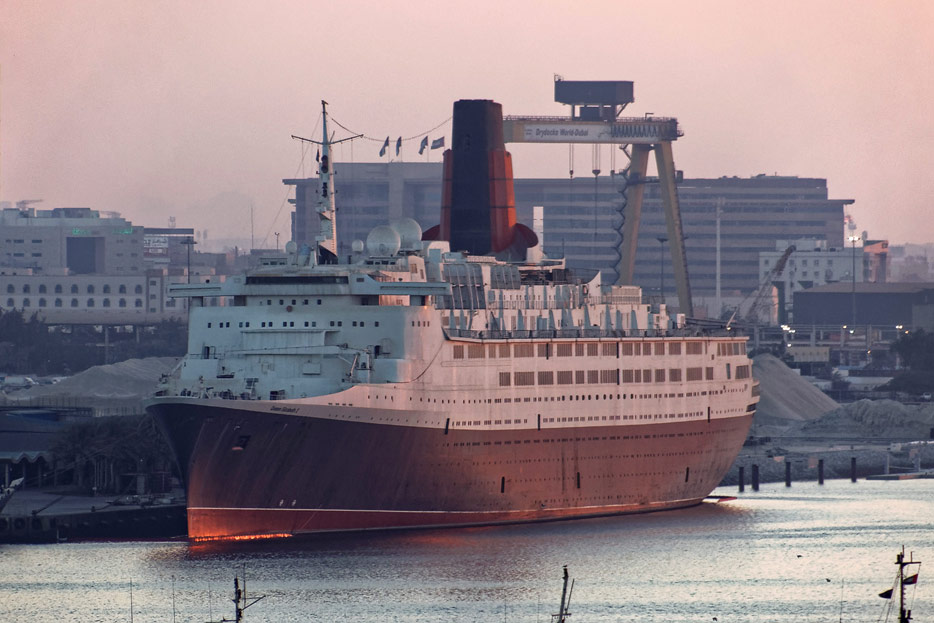 If ever you dreamt of dining like royalty, this is your best chance. Queen's Grill in QE2 has played host to many royals before. It is a fine dining restaurant with opulence and décor that redefines luxury dining. This elegant dining is led by Chef Rama, who has been its chief since its sailing days. He serves up the exquisite British fares butter confit lobster, and braised lamb. The beautiful azure blue sea adds up to your dining experience. You can see their menu on the QE2 website and book your table now.
The Yacht Club
The famed Yacht Club of QE2 has been restored to its original best, with the entire woodwork brought back, bringing the old memories with it. The yacht club opens to a terrace from where you can see the impressive skyline of modern Dubai. In the summer months, the patio is closed, but the deck becomes the hub of activities come winter.
It is open Sunday to Wednesday from 4.00 P.M. to morning at 1.00 A.M.
Thursday – 4.00 P.M. to early morning at 3.00 A.M.
Friday and Saturday – 12.300 noon to early morning at 3.00 A.M.
Guests above 21 years are only allowed.
Dress code – Smart casual and no flip flops, shorts, 2/3rds allowed
The Golden Lion
This is a sports bar with a twist. It is the oldest pub in Dubai and is known for its draught beers, pool tables, and authentic British dining. There are screens around the Golden Lion bars for you to watch your favorite sport live over pints of beer. There are darts and boards to enliven your throwback time.
Open all days between 12 .00 noon to 12.00 midnight
Only 21 years and above are allowed
Happy hours are between 4.00 P.M. to 8.00 P.M.
Many cafés give you options of lounging on QE2. These serve a selection of tea, coffees, salads, sandwiches, and homemade cakes. These cafes are open for all ages and may serve alcohol. Some of these are
Q Café – Located next to the main lobby of QE2
Casino Coffee Lounge – Located next to the famous casino museum, Casino Lounge café offers a selection of hot and cold beverages.
Chartroom Bar – Sit back, relax and invite over your friend to catch up for a chat. This is how things happen in Chartroom Bar. You get absolutely the best selection of wines and craft beers. It retains its old-world charm from its sailing years.
Sunday to Thursday – 3.00 P.M. to 12.00 midnight
Friday and Saturday – 12.00 noon to 12.00 midnight
The Pavilion
It is an alfresco dining room located at the lower aft deck of QE2. It offers a true family dining experience. It is open every day between 12.00 noon to 1.00 A.M. early morning.
Location of QE2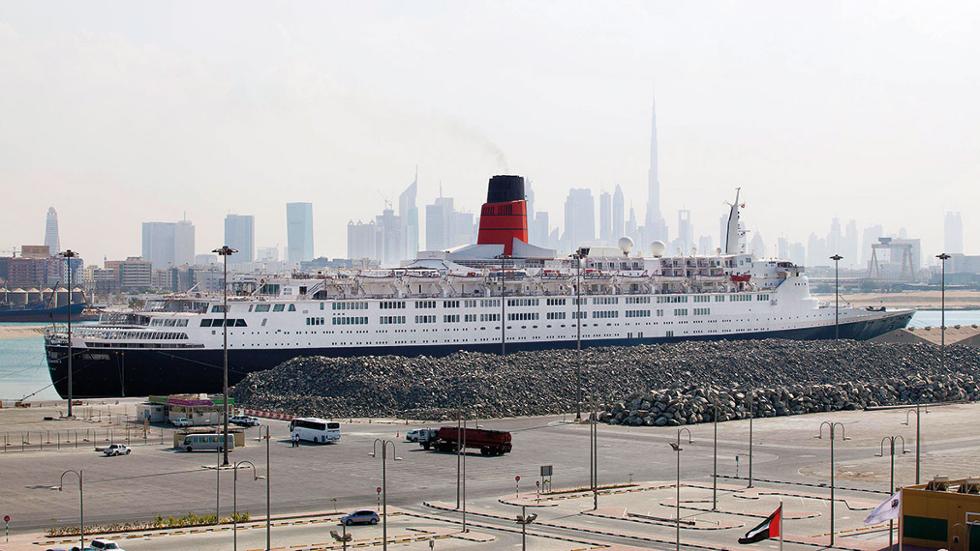 QE2 is located in Port Mena Rashid. It is currently moored there, and you can reach it either by cab or a shuttle bus service. Port Mena Rashid is 6 kilometers from Dubai International Airport and 3 kilometers from the Bur Dubai area of Dubai. Taxis are readily available to and from QE2. If you have a private car, there is plenty of parking.
To reach by Metro, you should take Greenline Metro and get down at Al Ghubaiba metro station and then hire a cab to reach QE2. If you are going to dine or want to enjoy the grand theater, it is better to call them and check the timings and any promotions. Many residents may be seeing QE2 while driving from the Al Shindaga tunnel to Jumeirah. It stands tall and majestic!