Among the most popular tourist attractions in Dubai is the Jumeirah Mosque. The mosque is a stunning sight, and its architecture is unique and beautiful. Non-Muslims can also admire it from the outside or take a guided tour. So, this place is not only for Muslims.
If you plan to visit the mosque during your stay in Dubai, this guide will tell you everything you need to know.
Jumeirah Mosque Dubai Overview
The Jumeirah Mosque Dubai is among the iconic landmarks in Dubai. The mosque was built in the late 1970s by Sheikh Rashid bin Saeed Al Maktoum, the ruler at that time. It is an excellent example of traditional Islamic architecture and can accommodate up to 1,200 worshippers.
The mosque is built in the traditional Moorish style and is made entirely of white marble. It has six minarets and two 45-meter-high or 148 feet domes. The interior of the mosque is decorated with intricate Islamic calligraphy and motifs.
Visitors will find a spacious interior with a large central praying area. The main hall is flanked by two smaller halls used for ablutions before prayers. The walls and ceilings are adorned with beautiful Islamic art, and natural light floods through the large windows lining the walls.
The mosque is open to non-Muslims for guided tours, which allow visitors to learn about the Islamic faith and appreciate the mosque's beautiful interior. The Jumeirah Mosque is a cherished part of Dubai's heritage and a must-see for anyone visiting the city.
Jumeirah Mosque Location
The grand Jumeirah Mosque is in Dubai, United Arab Emirates. More specifically, it is situated on Jumeirah Beach Road in the heart of Dubai's shopping and tourist district. The mosque is one of the most popular tourist attractions in Dubai, and its intricate architecture and beautiful location make it a must-see for anyone visiting the city.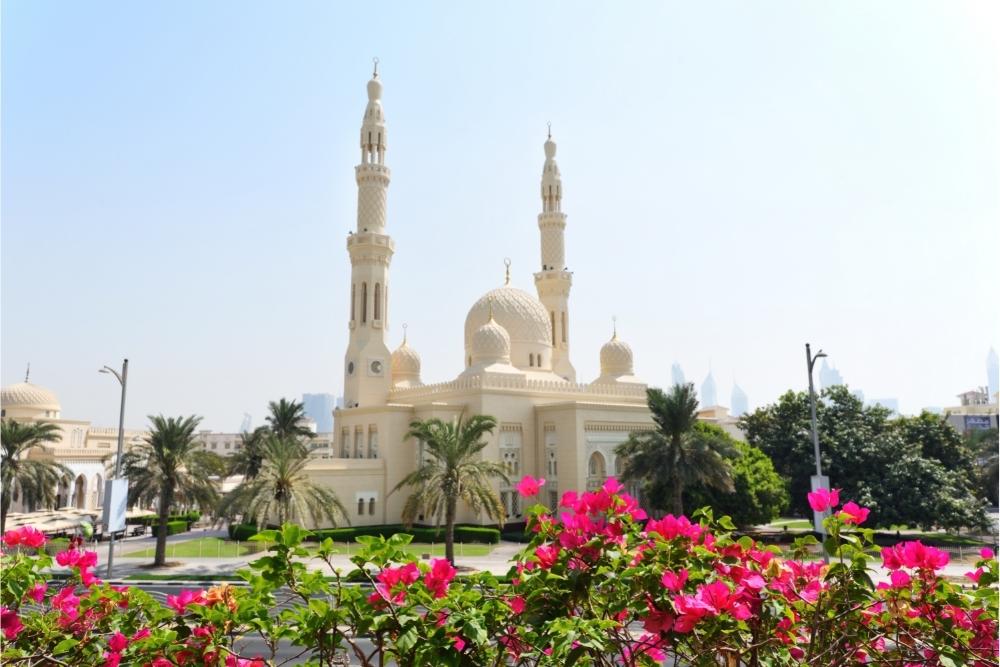 Whether you want to soak up some history or enjoy a beautiful building, this is well worth visiting.
How To Reach Jumeirah Mosque?
The Jumeirah Mosque is easily accessible by several means of transportation. And that's what makes it one of the most visited tourist destinations.
Here are the different transportation means you can consider to reach Jumeirah Mosque:
By Car
The Mosque is a mere 20 minutes from Dubai International Airport by car. Taxi and Uber are both widely available and relatively affordable options for getting around Dubai.
If you are driving your car, follow signs to "Jumeirah Beach Road" until you reach the mosque. And don't worry about parking; plenty of parking options are available near the mosque.
By Bus
The Mosque is also easily accessible by public bus. Take the E201 bus from Burjuman Metro Station and get off at the "Jumeirah Mosque" stop. Alternatively, take the starting from Al Ghubaiba Bus Station and get off at the same stop. Once you exit the bus, you will see the mosque just a few steps away.
By Metro
There are a couple of options for those who prefer to travel by metro.
Firstly, take the red line to Union Metro station and change to the green line towards Al Jadaf station. Get off at BurJuman station and follow signs to Jumeirah Beach Road until you reach the mosque. Alternatively, you can directly take the green line from Al Jadaf station to the BurJuman station.
These are some of the best ways to reach the iconic Jumeirah Mosque.
Jumeirah Mosque Tickets
The price for a guided tour of the Jumeirah Mosque is 25 AED per person (the price may vary with time). Tours are conducted daily, and they last approximately 30 to 45 minutes.
Jumeirah Mosque Opening Hours
The mosque is open for public visits from 8:00 am to 4:00 pm, with tours running every half hour. These guided tours are the only way for non-Muslims to enter the mosque, so be sure to plan your visit accordingly.
What To Wear To Jumeirah Mosque?
Visitors are advised to dress modestly by following the Jumeirah Mosque dress code, with shoulders and knees covered. Women are also required to wear a headscarf. Additionally, they must wear a loose-fitting abaya or long dress.
The dress code for men is more flexible, but it is still advisable to wear long pants and a long-sleeved shirt. Shorts and tank tops are not allowed. If you are unsure what to wear, you can always ask the mosque staff for guidance. Following the dress code will help create a positive and respectful atmosphere at the Jumeirah Mosque.
As we said earlier, the mosque is open to non-Muslims; visitors are asked to dress modestly and remove their shoes before entering. There are designated areas for men and women to leave their shoes, so follow the signs.
Once you have removed your shoes, you can enter the main prayer hall. You will find a beautiful marble floor and an exquisitely decorated ceiling here.
Is Jumeirah Mosque Open At Night?
The mosque is especially popular at night when spotlights illuminate it. Tourists are welcome to visit the mosque at night, and many people take advantage of the opportunity to take photos of the stunning building. However, the best time is during sunset when the mosque is aglow with the golden light of the setting sun.
Is Jumeirah Mosque Open During Ramadan?
The mosque is open to the public all year round, but during Ramadan, it is only open for special tours. Ramadan is a time of spiritual reflection and fasting, and many Muslims spend more time at the mosque during this holy month. 
If you are visiting Dubai during Ramadan, you can still tour the Jumeirah Mosque, but you will need to book a tour in advance. The tours are conducted by knowledgeable guides who can answer any questions about the mosque or Islam.
This is a beautiful example of Islamic architecture, and its size and grandeur are sure to impress. However, the mosque is more than just a tourist attraction; it is also an active place of worship, and visitors are asked to respect this fact.
Tips For Visiting Jumeirah Mosque
Here are some tips to help you make the most of your visit:
Wear Modest Clothing
As mentioned above, dressing up appropriately when visiting the mosque is essential. Modest dressing means covering your shoulders and knees and wearing a headscarf if you are a woman.
Remove Your Shoes
Before entering the mosque, be sure to remove your shoes. You can leave them at the entrance or carry them with you. There are designated places where you can leave your shoes when entering the house.
Be Respectful
The Jumeirah Mosque is an active place of worship, and visitors are expected to behave respectfully. It means being quiet and not taking photos during prayer times.
Plan Your Visit Properly
You have to plan your visit to get a fantastic trip experience. 
The best time to visit the Mosque is during the guided tours, which are conducted daily. However, it is also possible to see the mosque at night to enjoy the beautiful illumination of spotlights.
Keep these tips in mind, and you will have a positive and memorable experience.
Frequently Asked Questions
Q: Can you visit Jumeirah Mosque without a tour?
There are a variety of tours available that provide insight into Islamic culture and architecture. However, it is also possible to visit Jumeirah Mosque without taking a tour. Visitors are welcome to explore the mosque grounds at their own pace, and there is plenty of signage to help explain the different features of the building.
Q: How to get to Jumeirah Mosque from Dubai Mall?
Visiting the Jumeirah Mosque from Dubai Mall is easy. Take the Metro Red Line towards Burjuman and get off at the fifth stop, Burjuman. From there, it is just a short walk to the mosque. Once you arrive, dress respectfully – women should cover their hair and shoulders, and men should wear long trousers.
Photography is allowed inside the mosque, so don't forget your camera! And always remember to take your shoes off before entering.
Q: What is the best time to visit Jumeirah Mosque?
The best time to visit Jumeirah Mosque is early morning when the light is softer and the air is more relaxed. The mosque is open from 8:00 am to 4:00 pm, but it is worth arriving early to avoid the midday heat. Its beautiful white sandstone architecture is an iconic symbol of the city. 
The mosque is open to everyone, regardless of religion, and it's an excellent opportunity to learn about Islamic culture and architecture.
Final Words
The Jumeirah Mosque is indeed a fantastic place to visit for both Muslims and Non-Muslims. If you are in Dubai and looking to explore its true treasures, keep the Jumeirah Mosque on your list.
The mosque is easy to reach and is indeed heart-winning. So, plan your next trip to the Jumeirah Mosque and see what it is all about.