First thing that pops into mind whenever we contemplate on visiting the city of Dubai is the luxurious experiences. The place is full of grand structures starting with the world's tallest building, the largest shopping malls, luxurious hotels, beautiful beaches and indoor skiing.
The place is well-known as a destination for tourists. Also, a great place to go shopping and experience the splendid nightlife. A large number of people come here to taste Arabian hospitality. However, there is one experience that will sweep you off your feet by its magical appeal and it is going for the Dhow rides.
The traditional wooden dhow has all the modern facilities that impress you. It has two decks which offer ample space to feel the cool breeze and warm glow of the twilight hues. The lower deck is an air-conditioned one while the upper deck enables you to appreciate the picturesque beauty outside. This ultimate leisure boat decorated in bright lights will make your day.
As dhows offer delicious foods, they are popularly called floating restaurants. There are a huge variety of Arabic and Continental dishes to fill your tummy and hearts. While you savor the dishes, enjoy live Tanoura performance and listen to relaxing music.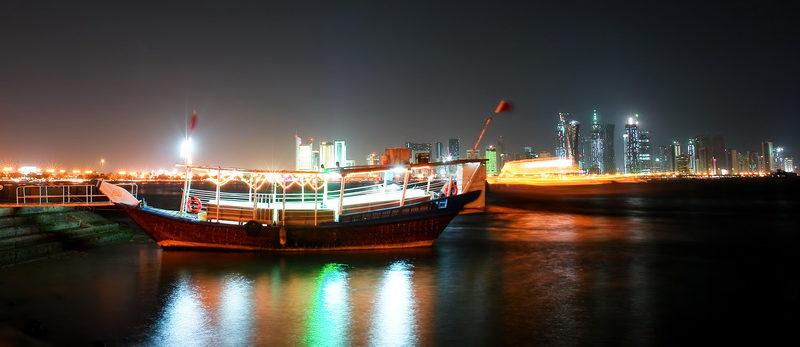 Dhow cruise Creek versus Marina
For a Dubai resident, Dhows are not something new. It is an experience they have already accustomed to over a decade ago. Funny enough, most tourists deal with the dilemma as to which option is better; a Dhow ride in Dubai Marina versus Creek.  
Despite the competitive promotional hype out there as to which is better, they both offer great value for money. Creek has its unmatched charm and qualifies as wonderful experience on its own. You can witness a promenade stretching half the sail length towards Bur-Dubai side.
Towards Deira side of the waterway is iconic buildings lined up spectacularly. Dubai Municipality building and the Sheraton can be seen in all their glory. Despite the buildings being old, they create an excellent viewing picture on the sunset skyline. As you approach the end of the promenade, Bastakiya area reveals Dubai's historical past.
As you proceed, you will see the Souq and finally the Heritage Village. This latter part of your dhow Dubai cruise is rich in history, and you might think you are sailing back in the old days.
Going in a dhow through Marina gives you the real picture as to why Dubai is regarded as a futuristic city with its architectural brilliance. Along Dubai's Marina, you will see a promenade on either side of the shoreline with several people walking or seated outdoors in restaurants and cafes.
At night Dubai skyline is magical and fascinating. The higher cost of the cruise in a Dhow at Marina when compare to Creek is on account of the difference in berthing fees. For that reason, the service at the Marina emphasizes a great deal on quality as the visitors will want the value for the extra cost.
There are no more than 10 Dhows in operation in Dubai Marina. On the other hand, at Creek, they are no fewer than 30 operators. Most prefer Marina as it gives them a glimpse into the new Dubai. It relives the old memories when they first rode on the Dhows. Generally, the Creek displays the hustle bustle and daily routine of everyday life. At the same time, Dubai Marina displays a euphoric enjoyable atmosphere full of luxurious private yachts, smaller fishing boats, and dhows in Dubai.
If you are trying to make a plan for a delightful evening, dhow cruise is something which you should never miss. Get into these floating restaurants to taste great food, enjoy some entertainment program with your loved ones or perceive the night-time glory of Dubai.