When you are searching for a place to spend your holiday, it is not easy to find a destination which gives delight to people of all ages. Even if you can find a place that can attract everyone, safety is another important concern, especially while going with your family.
Dubai is the best destination where everyone in your family will equally enjoy, and you can go anywhere in the city at any time without any safety concerns. Visit these places to try the best family activities in Dubai.
City Walk
City Walk is the new shopping, dining, and leisure destination in Dubai. It is an open-air shopping experience with 34 low-rise buildings, a tree-lined esplanade through which you can stroll for hours on end. This sprawling area at Al Safa is continuously undergoing development as new shops sprout up frequently.
It is the ideal destination for a family outing in Dubai. Walk along the avenue with your loved ones and grab a bite from the plenty of restaurants. You can find cafes and restaurants that offer fine dining, snacks. When it comes to the sundaes, the kids are spoilt for choice.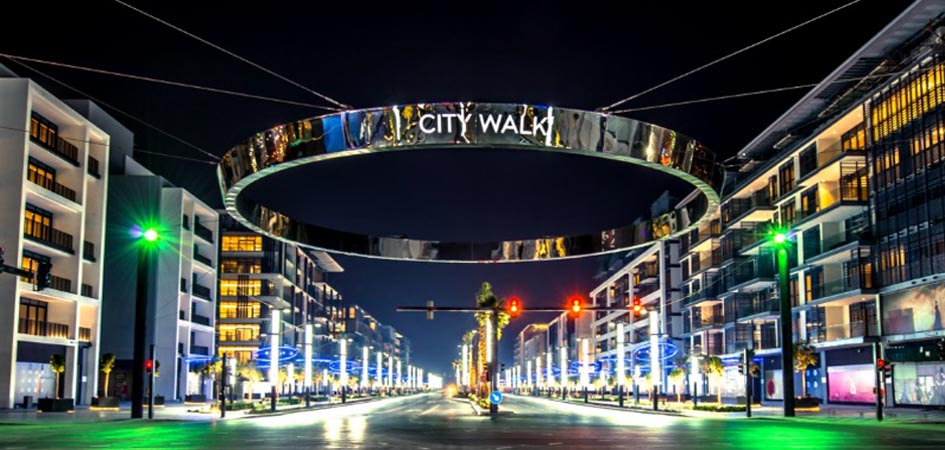 The walls of City Walk are adorned with street art by some famous urban artists. The murals and dozens of creative art ensure a visual treat for the visitors. Don't miss the rainbow, Banksy-style mural by renowned UK artist Eelus which grabs all eyes at City Walk. You can also gaze upon Downtown Dubai and the esteemed Burj Khalifa from here. Movie buffs can watch a blockbuster at Roxy cinemas. It has 20 screens giving you a lot of options to pick from.
Another entertainment destination at City Walk is the Coca-Cola arena. The stage hosts live entertainment shows, including concerts, tournaments, and family shows all year around. It has a cylindrical design and lights in various hues at night. Another exciting spot is the Green Planet, which takes you to an indoor tropical forest with around 3000 plants and animals.
Dubai Aquarium and Underwater Zoo
Dubai Aquarium and Underwater Zoo is the one-of-a-kind indoor aquarium at Dubai Mall, which can gift a delightful day to everyone in your family. The 10 million liter tank has more than 33000 aquatic animals of 140 species. The aquarium lies on the ground floor of Dubai Mall. You can view a part of it from outside, but you have to buy tickets and step inside for some thrilling activities.
As you enter Dubai Aquarium, you will walk through a 48-meter tunnel offering a fish-eye view of the jellyfish, stingrays, and sand tiger sharks. You can easily spend a day inside as there are a lot of activities to try in the mysterious marine world. Try the daring adventures like shark encounter, ray encounter or crocodile encounter.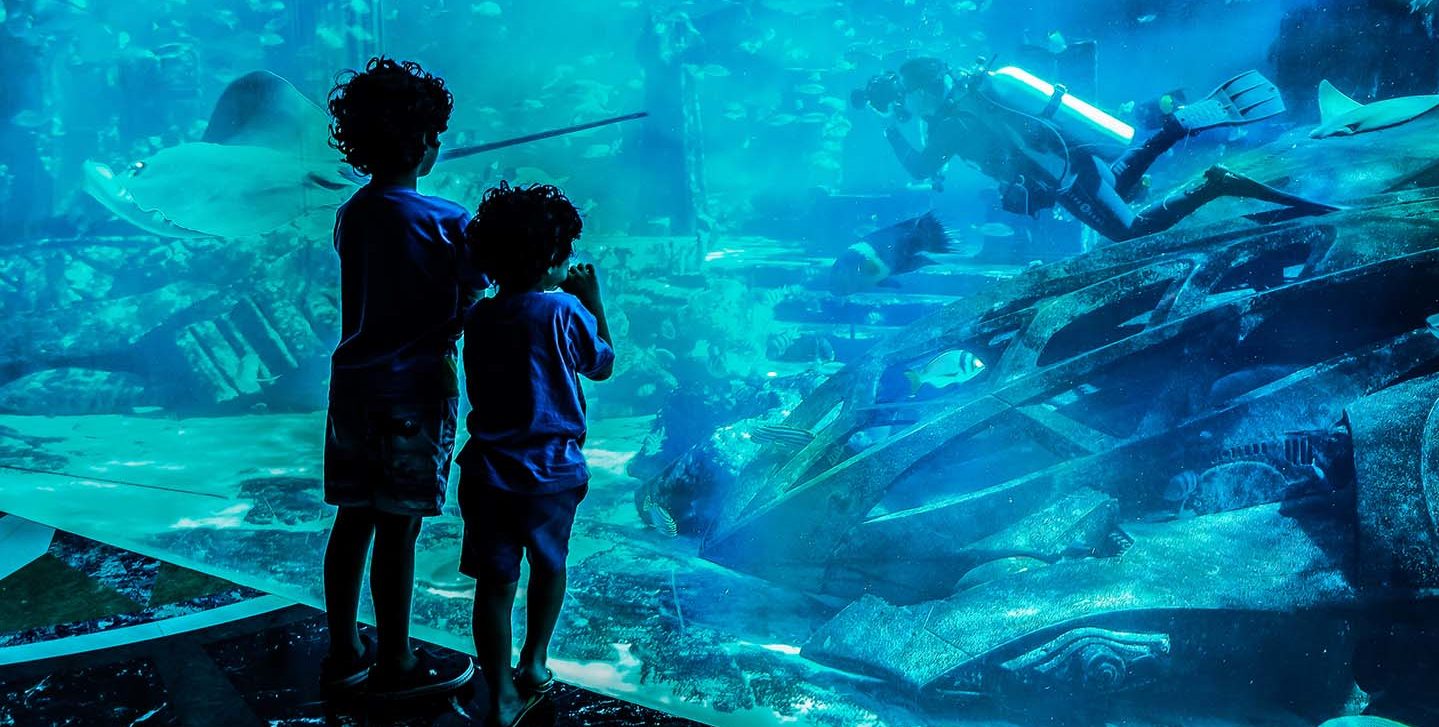 You can go inside a diving cage and see the Shark Feed Divers feeding the predators. The kids will be elated to see King Croc, one of the largest reptiles to live in a protective environment. The huge crocodile weighs around 750 kg.
Visit Miracle Garden
Take your family to a world made of flowers and is full of fragrance. Dubai Miracle Garden is the largest natural flower garden in the world, with more than 100 million flowers. You will be overwhelmed by the varied hues and fragrances once you are inside the floral arena. Miracle Garden is opened only in winter, that is, from Mid-November to Mid-May.
Considering the desert climate of Dubai, it is actually a miracle to see a huge natural garden that is like no other in the world. Different structures and patterns are made wholly with flowers. A floral clock, beautiful castles, and a whopping aircraft are the main attractions among the exhibits. Every year, it will have new surprises for the visitors.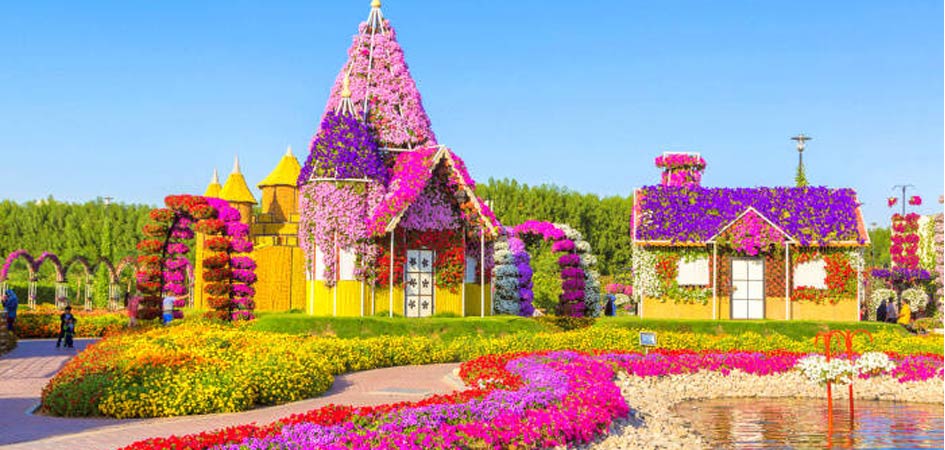 A floral structure of Burj Khalifa also adorns the garden, and it is undoubtedly the tallest structure here. Hearts Passage is the most featured attraction at Miracle Garden. Your visit is incomplete without taking a selfie in front of it. It is an enticing walking passage with dozens of heart shapes.
Lake Park is another spot where you can spend a lot of time capturing pictures. A small lake and a fountain gives a refreshing experience. Kids can see the floral versions of their favorite cartoon characters.
Go shopping at Global Village
Who doesn't love shopping? Buying things for your loved ones may lighten your wallet, but it is worth it when you can bring a smile on their face. Shopping in Dubai can be expensive if you are not careful enough. However, Global Village is a destination where you can find unique souvenirs at all prices.
You can pick your favorite thing from the extensive collection as per your budget. Global Village is not just about shopping; it is a melting pot of varied cultures. Walk along the promenade, see people from around the globe, the various attractions and rides. Pavilions are designed, and each of them is a door to a specific country.
Taj Mahal, Burj Khalifa, and the Leaning Tower of Pisa can be seen in one place. Each pavilion is designed so as to resemble the local iconic landmarks or architecture of the concerned country. Global Village is somewhere between a theme park and a market.
Enjoy a leisure journey on Dhow
Dhow cruise is a popular family activity in Dubai. When you plan to dine out in the city or wish to spend a great night at Marina, for a Dhow cruise. Dhows are wooden boats that offer leisure rides through Marina along with a delicious dinner. It is a blend of sightseeing, entertainment, and food.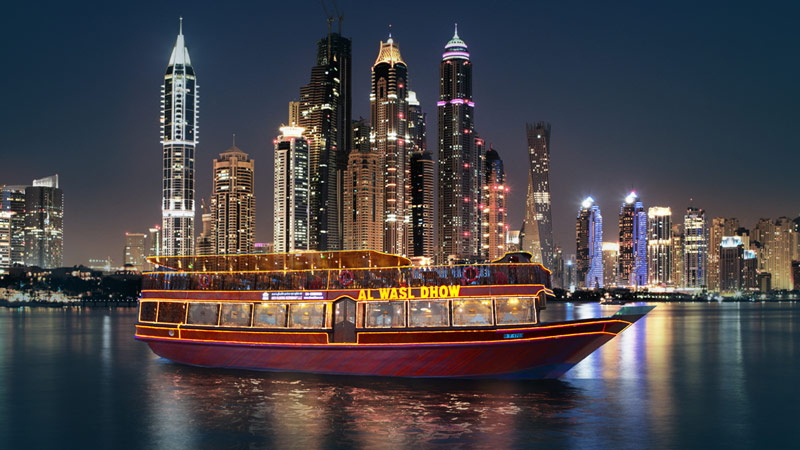 Dhow cruise Marina will start from Jumeirah Beach Residences (JBR) and pass by Marina Walk, Marina Mall, and Bluewaters Island. Don't miss Bluewaters Island, which homes Ain Dubai, which will be the world's tallest Ferris wheel once it starts working.
A professional artist will perform Tanoura dance, a spectacular treat to eyes. Tanoura is an Egyptian folk dance that uses a colorful skirt as the main prop. As you revel the sights and the live performance, a dinner buffet will be waiting for you. Dhows are the famous floating restaurants in Dubai, which offer Arabic, Asian, and Continental dishes.
Dubai Fountain show
This is one of the most popular free family activities in Dubai. Dubai Fountain, which lies near the Burj Khalifa and Dubai Mall, attracts tourists around the globe. During weekends, the place is always crowded, so be the early bird. The fountain jets water up in the air in different patterns and shapes. It will start dancing for the rocking music, thereby making you groove.
Dubai Fountain is at the fantastic location of Burj Khalifa Lake at Downtown Dubai. The show takes place every half an hour after nightfall. Once you have enjoyed a show, you will certainly wait for another half an hour to see the next.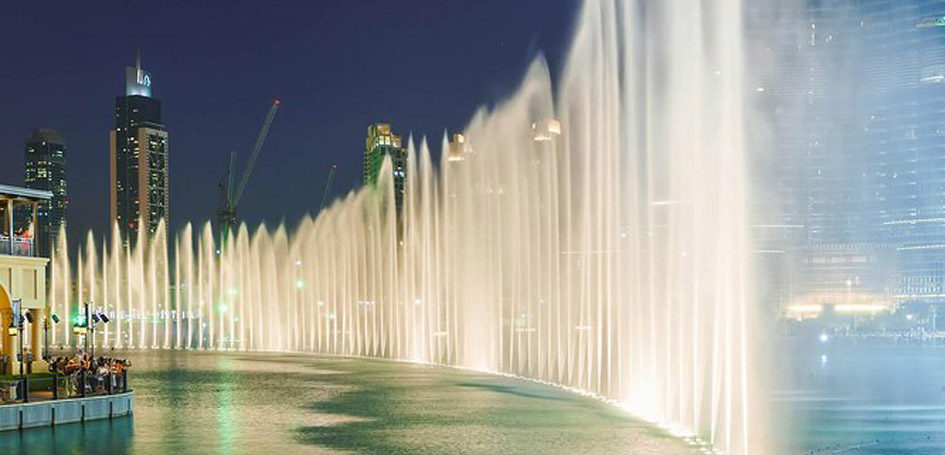 Another best option is to hire an abra and take a ride through Burj Khalifa and revel the fountain show at close quarters. Don't miss the chance to witness the world's largest performing fountain. A light show at Burj Khalifa accompanies the fountain show. You can have the best view of the show from the bridge leading to Souk Al Bahar.
Perks of going for a family trip to Dubai
You have chosen Dubai as the destination for your family holiday. Have a look at the perks of your decision:
The city is safe: Dubai is a safe city by every means. You can go out with your family at any time of the day. Crimes against tourists are rarely reported here.
The city never sleeps: There is no time limit for your trips. Plan your journey as per your preference. The city is seldom deserted at night as most of its attraction becomes livelier after nightfall.
Added facilities for women: Dubai gives priority to women. All the public transport gives priority seats to women, and many of the public parks and tourist attractions have specific days devoted to women or family.
Numerous activities for kids: The city has many activities to attract kids. All prominent places have play areas and theme parks exclusively for kids.
Strict rules ensure hygienic food: No worries to eat out when you are in Dubai. All cafes and hotels have hygienic food as per the strict health guidelines.