Souk Madinat Jumeirah is part of the sprawling Madinat Jumeirah resort, the largest 5-star resort in Dubai, located in the Jumeirah group's other properties, including the iconic Burj Al Arab. The resort consists of three 5-star hotels and an Arabic souk called Souk Madinat. The 'Souks Madinat' Jumeirah aptly describes what it is; a quaintly designed Arabic-themed collection of boutique shops where you will find little traditional things from Slippers-to-Spices, as they put it.
Why Souk Madinat Jumeirah a MUST
Most visitors are suckers to shopping in Dubai. There are big malls, there are huge malls, and there are massive malls in Dubai. Souk Madinat is none. However, it is still one of Dubai's most loved and visited places. The reason for this is straightforward; it is a unique Arabic bazaar-themed shopping place where you will find everything that fits into a "memoir" shopping. The Souk concept is unique and is on top of every tourist's itinerary of places to visit in Dubai.
The Shopping Fun At Souk Madinat
The traditional souks of the Arab world inspire the design of the Souk Madinat. Shops are placed in narrow alleyways where shopkeepers peddle their wares like spices, traditional cloths, Oudh (oil-based Arabic scents and fragrances), garments, souvenirs, carpets, gemstones, etc. This creates a unique ambiance where the buyer and seller have closer bonding. Business is done informally over cups of famous Arabic coffee or tea called Arabiyy. The Souk Madinat attempts to provide discerning tourists and visitors with this intimate Arabic heritage shopping experience.
The Souk Madinat is not only a shopping destination for seekers of high-quality spices, carpets, fragrances, etc. but also a complete destination. It is littered with cafes and restaurants. These serve anything from light sandwiches to complete meals.
The Ambiance and Convenience
A beautiful canal runs through the entire Madinat Jumeirah resort for visitors to enjoy water rides. One can visit the turtle conservation center, where the Jumeirah group rehabilitates turtles.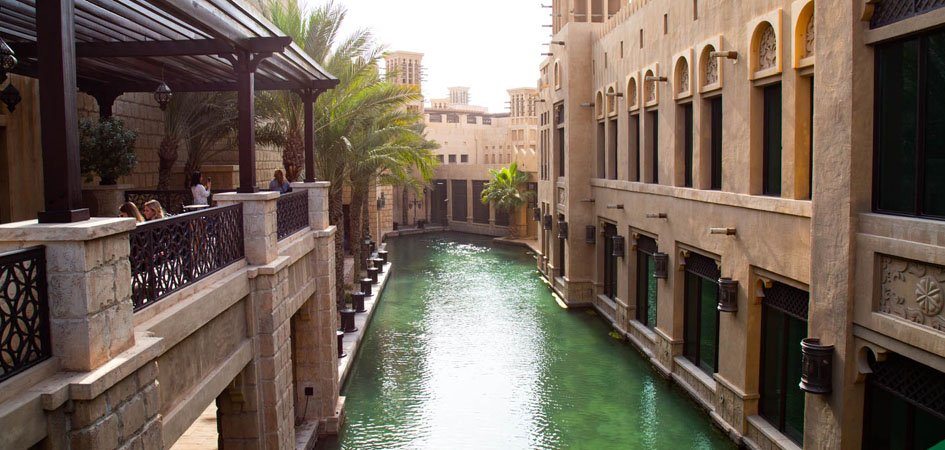 Souk Madinat is wheelchair friendly, and visitors to the Souk can request a wheelchair at the entrance of the Souk, next to the elevators leading to the Souk. At night, the bazaar comes alive thanks to the lighting draping palm trees, the Souk streets, and shops. It is transformed into an Aladdin-Esque souk if you must visit Souk Madinat at night to enjoy the bazaar shopping and the romantic ambiance and street cafes.
Souk Madinat is also a thriving arty place, and as you walk around, you will see various artworks embellishing the walls, from the underground garage space to the curving walkways in the Souk. These are crafted by seven UAE-based women artists commissioned to narrate the richness of the Middle East's heritage, turning the Madinat Jumeirah into a 'living canvas.
Outlets in Souk Madinat
The most important thing you can do here is soaked in the atmosphere. It is built around the water canal adorned with palm trees and is a good-for-walk bazaar. Many souk Madinat outlets sell exotic Arabic-centric Oudh, carpets, spices, and slippers of the highest quality and design. Some of the friendliest outlet owners will greet you.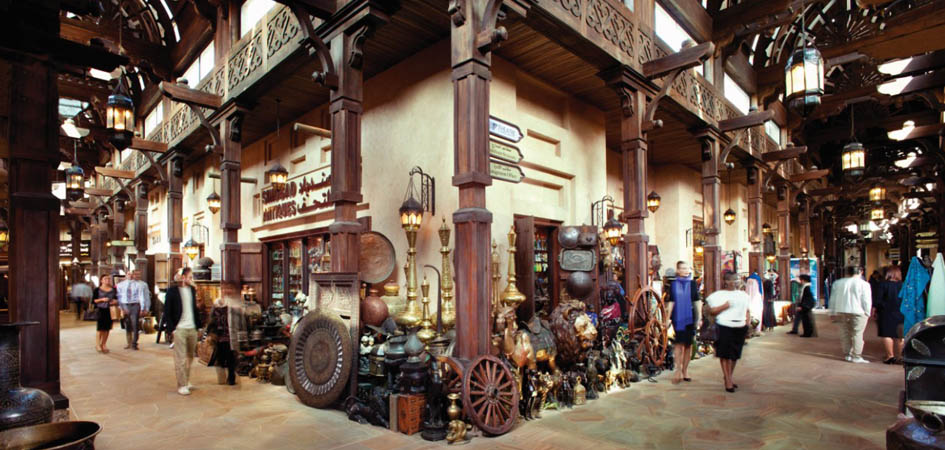 When you enter the shop, you will meet the friendliest shop owners and staff, who will engage you with their wares' history and cultural nuances. Buying is not essential here; conversation is! Test various Oudh, and the immersive experience is at a different level. You may especially buy the following;
Finely-woven pashmina shawl from Pride of Kashmir
Three Dimensional models of iconic Dubai landmarks treasured inside a crystal ware from the Crystal Gallery.
Exotic Jewelry and watches from the House of Rivoli
Unique home decorating things like carpets, statuettes by Miri, or Persian Carpet House.
You can make a quick stop-over at indoor stalls and pop-up shops for trinkets and other incredible finds.
Some premium shopping boutiques of fashion and lifestyle brands such as Braschi, Paris Moda, and Kiwi Saint Tropez.
Eva Gems and Le Paris Diamonds shops.
Abra ride in Souk Madinat Jumeirah
For water lovers, take an Abra tour of the Souk; the ride is enjoyable as you enjoy the ride to the "little Venice," as the Souk is endearingly called. The Abra ride is not very expensive, but you will enjoy every moment of the ride on the wooden Arabic boat.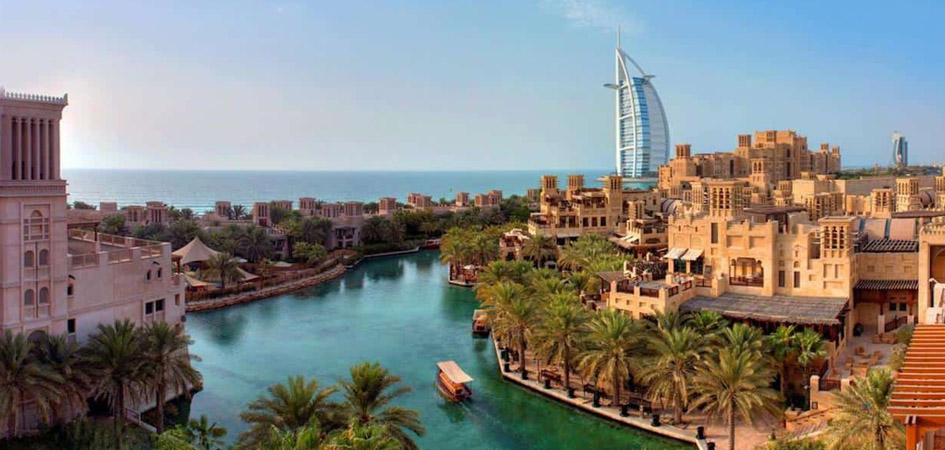 The abra tours are very frequent, almost once every twenty minutes, so there is always a second sail awaiting you, even if you miss one. The Abra's total distance is 5 kilometers, covering the entire meandering stretch. The exciting tales your Abra navigator narrates make the trip all the more exciting and memorable.
A theater is nestled among the shops with an exotic mix of international performances, from Russian ballet to Irish tap dances. Enjoy these performances with your family and friends over tasty nachos and bubbly drinks.
Restaurants in Madinat Jumeirah
Many restaurants serve gourmet delicacies from all over the world. The Restaurants have ambiance, music, and food to nourish your palette and soul so you can enjoy a relaxed evening watching the night go by.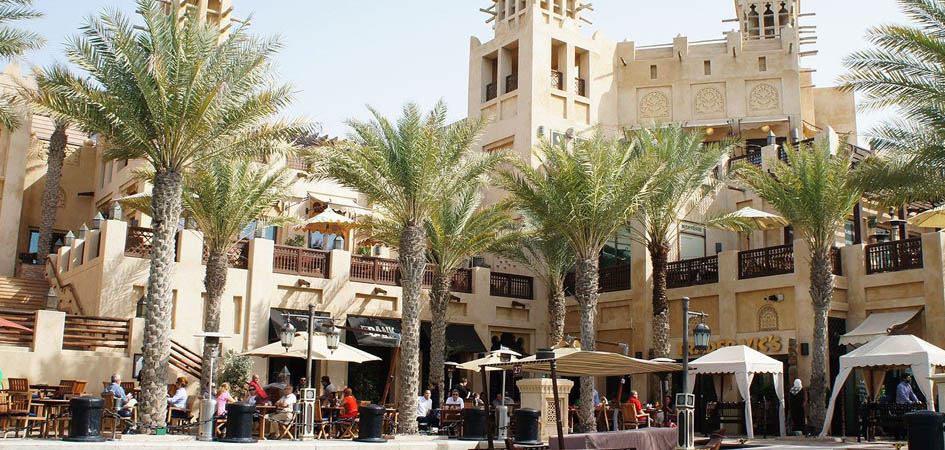 The restaurants of Souk Madinat include,
Times of Arabia – Middle Eastern varieties and shisha with exotic flavors
Pierchic – seafood
Trattoria Toscana – authentic Italian cuisine
Gelato Divino – Ice cream dessert
Pai Thai – Fragrant Thai curries
Trader Vic's – Authentic Polynesian-Chinese food
Belgian Beer Café – Extensive range of drinks
Publique – chalet-type restaurant
Souk Boardwalk in Madinat Jumeirah
The iconic Souk Madinat has done one by adding a restaurant deck called "Souk Boardwalk." Souk Boardwalk is made from teak wood as an elevated platform to seat more than 250 diners at a time. The deck is open; however, it has a cloth-covered pergola to shade you from sun and heat.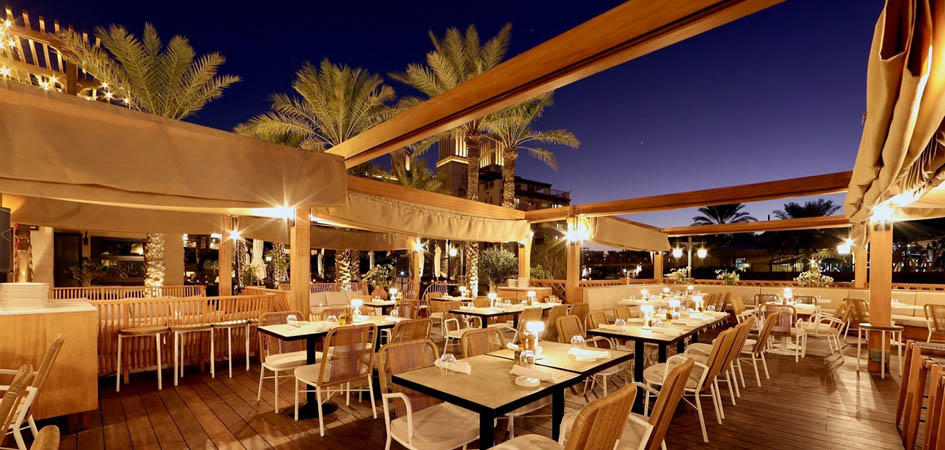 The boardwalk houses Italian-themed Trattoria Toscana, the Greek restaurant Taverna, and the avant-garde American-style bar and Americano restaurant. The Souk Boardwalk starts from the restaurant Travders Vic and has an area of 500 sq. meters. While dining, you may enjoy the scenic Bur Al Arab. The Alfresco experience of Souk Boardwalk is further enhanced due to the meandering water canal. If you wish to have a cruise dinner with your family, the best option would be Dhow Cruise Marina.
How to get to Souk Madinat Jumeirah?
Wherever you are in Dubai, Souk Madinat is never far away. As the name suggests, it is located in the Jumeirah district of Dubai. From downtown, a taxi driver would take less than 20 minutes to get there, and if you have a car, it becomes much easier as it is next to the iconic 7-star hotel property, The Burj Al Arab, which towers the skyline where the Souk Madinat is located.
You will never miss the traditional Arabic-style design of the mall from afar. If you are a pro-environmentalist, hop onto bus 8, 81, F55A, and X28 lines that stop at one of the nearest stations, a 10-minute walk away. Now, you may take the metro, get down at the Mall of Emirates and take a connecting bus to the Souk.
Souk Timing
Souk Jumeirah opens at 10 am and closes at 11 pm. However, the restaurants open early, at 8 am, and close at 2 am, giving plenty of time for fulfilling your gastronomical temptations.
Parking in Madinat Jumeirah
For parking, you need not worry. There is plenty of parking available in the basement, and for more comfort-loving visitors, ubiquitous valet parking services are available throughout the day. It is on the itinerary of major Dubai city tour activities such as the Big Bus tours.
The important note is that some Souk Madinat shops do not mind bargaining, adding extra "Arabic shopping" touch to your overall experience.