Hatta is synonymous with mountains, a dam, and kayaking. Hatta has located almost 135 Km from Dubai. It is a part of Dubai rather than an exclave of Dubai. Oman surrounds it on one side, and Ajman, Ras Al Khaimah, and Al Ain on the other. No part of Hatta directly touches Dubai; hence it is called an exclave. It is a mountainous region of Dubai. It has been part of the getaway location during summer for Dubai residents for a very long time. Dubai locals would leave for Hatta, live in their summer homes, and enjoy outdoor activities.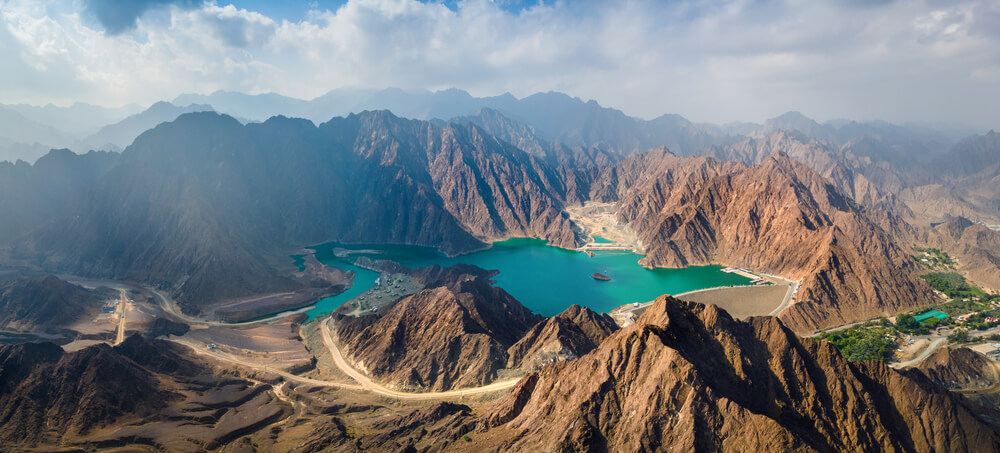 As a dam is close, Hatta is also naturally the greenest part of Dubai. In 2018, His Highness Sheikh Muhammed Bin Rashid, the ruler of Dubai, announced a mega package of Aed i.2 billion to turn Hatta into a world-class tourism center, focusing on its beautiful dam, its heritage, the wadis, and its mountainous terrain. Rainwater from Apart from all this, it also has the oldest fort, built in 1790, with several watchtowers over the mountains. This fort was built to keep away the attackers from the Buraimi tribes of Oman. This fort has become a heritage fort and a tourist attraction.
Hatta Dam
Hatta dam was built in the year 1980. It was a unique water harvesting effort at that time. The idea was to gather the rainwater that flows from the mountains to the plains and just get wasted. Of course, rains helped to replenish the water table in the Hatta area, but almost 80% of the rainwater used gets wasted. The dam was built to get surface water captured and use this water for multipurpose activities like: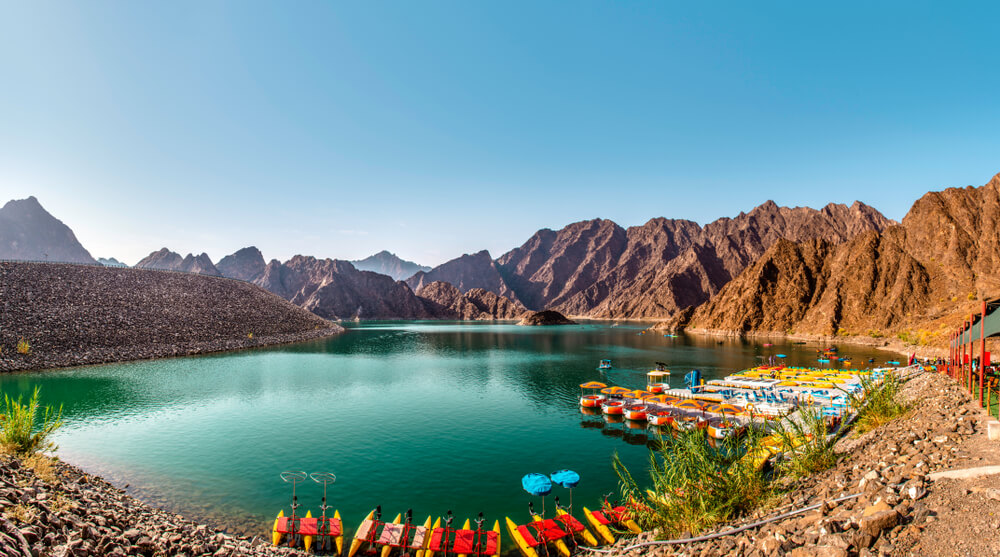 Building up the water table of the plains.
Using it for hydroelectricity.
Supplying water for farming and plantation, and most importantly.
Use the captured water for leisure activities.
Today, this is one of the most popular dames in the Middle East.
Hatta Dam was built in 1939 by British engineer F.W.A. Miller and the original was built by German engineers. The first concrete was poured in 1941, and it took almost 8 years to complete the project. The dam holds nearly 6 million gallons of water.
Hatta dam is now used for various leisure activities, the most popular kayaking. The dam can be reached by road from Dubai, and some would park their vehicles in the parking lot of Activity Hub and walk it up if you want to step up to the dam; mind walking on the track, not on the main road, to avoid accidents.
When you reach the dam, you will first notice the crystal-clear water, almost turquoise green in color, and hundreds of boats/ kayaks on it. The kayaks and boats are of different sizes to suit individuals, couples, and families. The kayaks are for single or two people only. There are big boats to accommodate up to 25 people. Once you have done your kayaking, you can visit the Hatta Marina to savor excellent food.
Beyond kayaking or boating, you can also do some more activities at Hatta dam. You can drive around the dam's edge, watch a beautiful sunset, do birdwatching, and hike between photo stops.
Hatta Dubai Kayak
Kayaking in Hatta Dam is one of the best outdoor activities in the UAE. It means enjoying a long and leisurely time sailing on the water. Moving the kayak requires a bit more effort when you go for single kayaking. It takes around 40 minutes to finish one round and costs AED 40/= per person. If you want to go as a team, it will set your wallet back by AED 65/=. There is a small artificial island in the dam around which kayaking and boating take place. Kayaking is a great sport and good physical activity. Never miss an opportunity to kayak when you are in Hatta.
Hatta Wadi Hub
Wadi Hab in Hatta is one place you should not miss if you are adventuring out to Hatta. It is located only 3 Km from the main Hatta roundabout. It is a considerable development undertaken by Meras to bring adventure tourism. It also has a prominent parking place and a free campsite if you want overnight camping. You can do the following activities in Hatta Wadi Hub;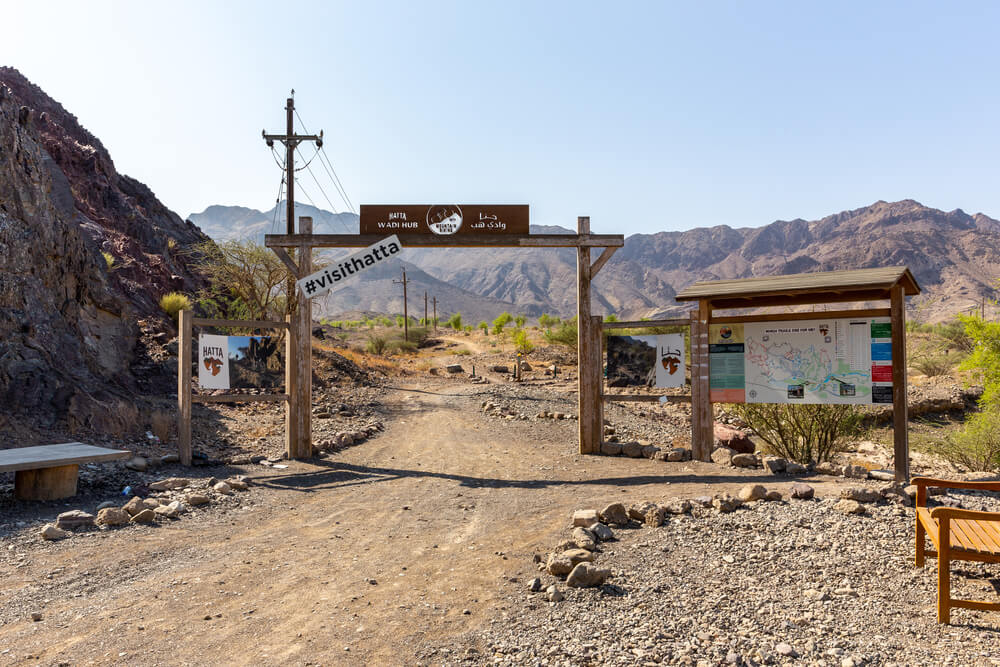 Horse Riding
You can explore Hatta on a horse. At AED 70, you will have the real excitement of Hatta, its water bodies, and the foothills. You will be accompanied by an experienced rider who can explain the place.
Fees: AED 50/=
Kayaking
You can kayak in the lakes formed by the Hatta dam. The experience is similar to Hatta Dam kayaking.
Price: AED 40/=
Mountain Biking
Mountain biking is the best way to do mountain bashing in Hatta. For this, you need to have good stamina. But it is a fantastic physical activity that takes you around the mountains, little bridges, and water bodies.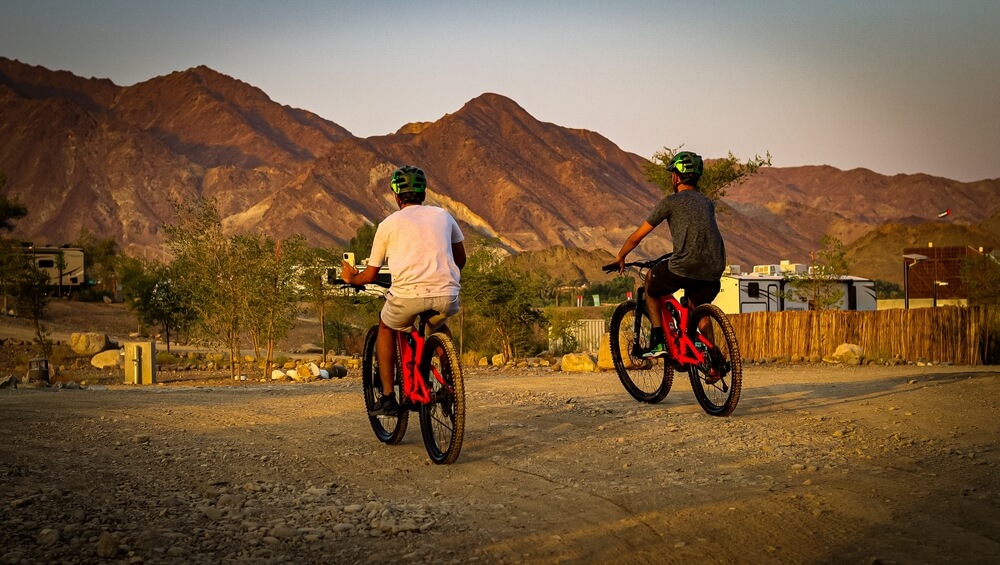 Price: AED 70/=
Zipline
There is a mini Zipline here too. Of course, the length and height are not comparable with JaisFlight. But for kids, this zipline is a great way to start their adventure.
Price: Aed 30/=
The Drop-in
The Drop is your best thrilling activity, undoubtedly. It is where there are a series of slides, some facing down and others up. You bodyboard down the slide with a speed of more than 40 km/hour and drop into a pool. Alternately, you can bodyboard on the up-slide and fall into the pool from a height of almost 15 meters.
Price: AED 30 for kids between 6 to 12 and AED 75 for all adults.
Axe Throwing
Throw an axe with all your strength and might and see it hitting a board. It is a trendy sport in Europe. Before you throw the 650 gm axe, the on-hand experts will brief you on the safety protocol.
Price: AED 50 for kids and AED 75 for adults
Net Walkaway
At AED 10/=, you can take a trip around the Wadi Activity Hub on a net walkway. It is fun and energetic, and it is suitable for your body.
Wall Climbing
There is a wall climbing activity for kids in this activity hub. The height is almost 10 meters in height. The wall has both recessed, and project holds for climbing.
Price: AED 35/=
Mountain Carts
Mountain carting is again very unique to Hatta. It is a tri-wheel cart that does not have any motor. You go up the mountain, sit in your cart, listen to the instruction, and boom, and you go hurtling down. You need to maneuver the cart and use the brakes appropriately. The ride ends when you reach the foothill. Only one person can ride this cart at a time.
Hatta Lake
Hatta lake, or Hatta Swan Lake, is close to the Hatta Heritage Village. It is 90 minutes away from Dubai by car. The Lake is known for its pristine beauty and birds. In the Al Dhafra area of Hatta, residents come here to escape from the maddening crowd and be with nature. It is one place that will take you away from even the Hatta crowd. Very few people visit this place because the activities here are not adventure oriented. However, this is the perfect place if you love nature, lakes, and birds.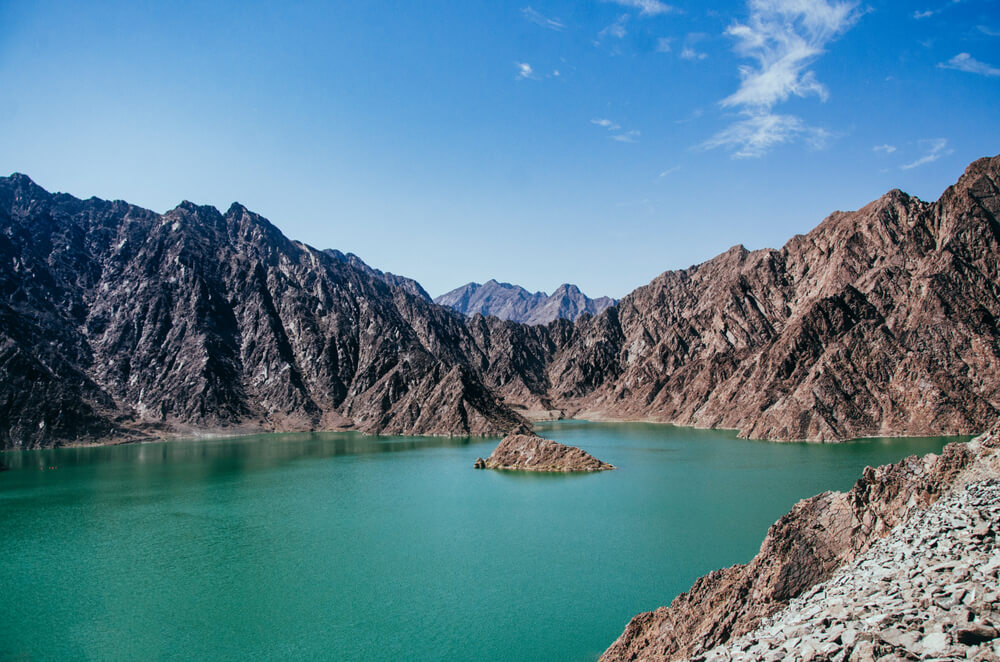 You may do the following activities in Hatta Dubai Lake;
Go for picnic
It would help if you came here with your family and friends for a weekend picnic. You can set up a tent/ camp, do barbeque, or even do little cooking. Watch the sunset, sunrise, or both, feed the ducks, and have a good time with nature in serene surroundings.
Watch Waterfall
There is a small waterfall which is again a natural one. The lake water cascades down a few feet into a pond below. This forms a natural waterfall. The water is neat but freezing. You may go and stand underneath the waterfall and let it drench you entirely, or you may wet your feet. It is an excellent activity that you won't be able to do anywhere else.
Duck Feeding
There are plenty of ducks here with their nests. You can teach your kids lessons of love and care by teaching them how to feed them. Make sure that you supervise the feeding. Overfeeding is terrible for the ducks. Also, ensure that their nests are not harmed.
Hatta Hill Park
Built over 64,000 sqm, Hatta Hill Park is a green zone created in the residential zone of Hatta. Dubai Municipality is known to create all-facility parks, evident from such legendary parks as Zabeel Park, Al Mushrif Park, and Deira Creek Park. This park, too, has a vast parking lot. You buy the ticket and will find yourself near a lush green hill. All around the mountain, there is a jogging and walking track. You have steps to climb up the mountain and explore further. The Municipality has made particular areas for barbeque. This park is a blessing for the residents of Hatta and visitors.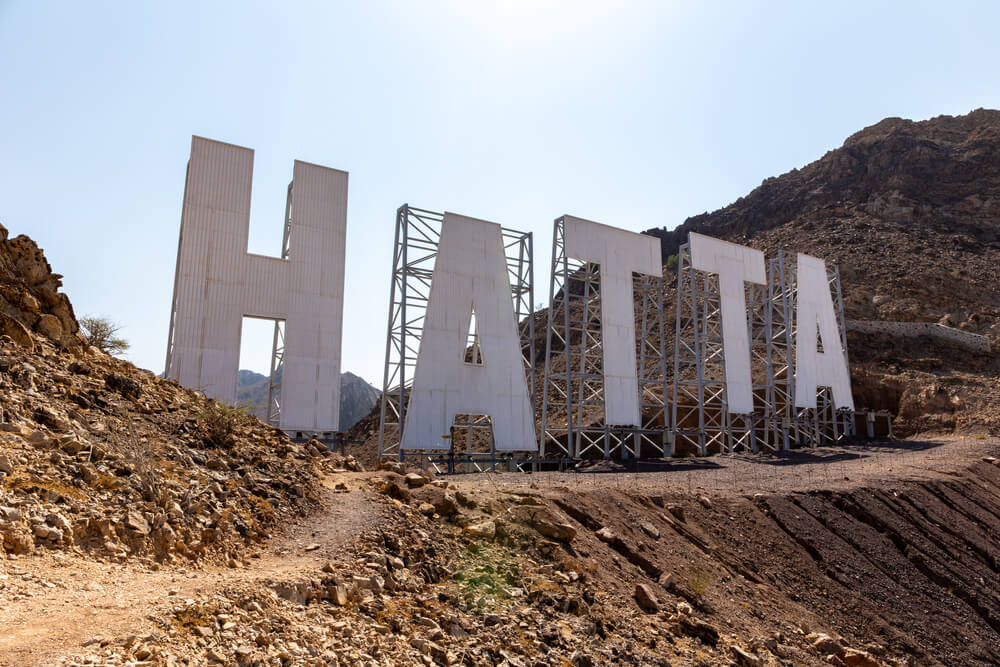 The park also has 2 courts, one for basketball and the other for football, to encourage physical activities. There are naturally shaded benches for adults to relax and watch over their kids. The park has a sandy island that serves as a play area and a play park for kids. This park has rope-based activities for the kids. When you visit Hatta, this is one place your kids will enjoy a lot. It is ideal for a family picnic too.
Hatta Heritage Village
Hatta has been a part of history for a very long time. It has a rich heritage in warfare, farming, and craft. It was part of Oman, but due to persistent attacks from Buraimi tribes, the Sultan of Oman handed this area to Dubai rulers around 1850. However, the area surrounding Hatta belonged to some other rulers. So, it had to be an exclave of Dubai. Some excavations revealed that Hatta had a thriving civilization since the Bronze age. It has had an active farming technology for a very long time to bring water from far-off wells called the falaj system.
All these were recreated again by the Dubai Culture and Art Authority. This included constructing 30 different structures using the same material, i.e., mud, fronds, etc. These structures include a ruler's house, watch towers, and available cottages. In these mud houses, pottery and carpentry work of the past has been shown. There is a resting place for visitors called Al Barza, where you can have local Arabic coffee and dates. There is also a tiny gift shop where you can buy locally crafted items. There is a date palm tree close to the village that showcases the Falaj system of farming.
Hatta Mountains
Hatta Mountains are part of the Hajjar mountain range. A majority of the Hajjar mountain range falls in Oman. These ancient mountains have silently witnessed time since they were submerged in the sea for millions of years and still carry the fossils on the rocks. These mountains are eroded now and hence have lost their heights. But they still have a lot to offer to various rodents, insects, bats, and snakes that form the essential biodiversity.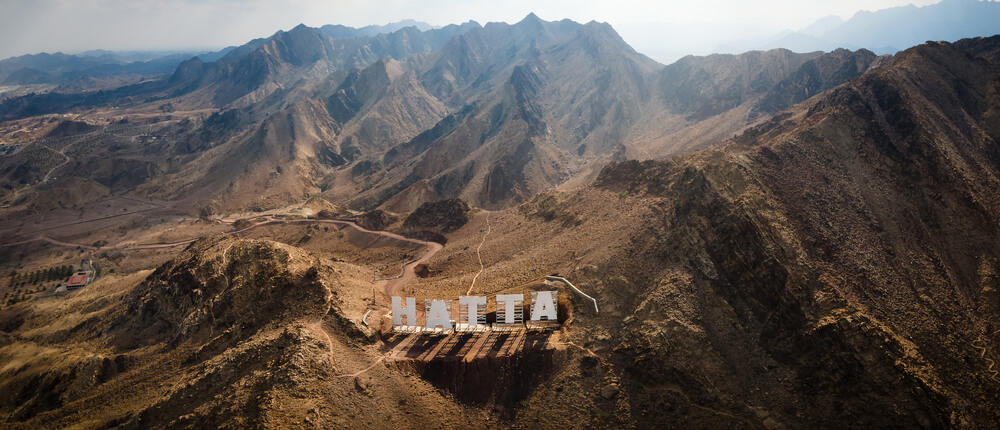 These mountains have a lot to offer us. Thrill seekers go to Hatta mountains to enjoy cycling, trekking, rock climbing, and even doing yoga in an exotic place. Nowadays, the chances of losing your tracks are minimal as you have:
GPS to support you.
There are registration centers when you go trekking so that authorities know your whereabouts of yours.
The rocks have directions and color codes to ensure you find your way through them.
You can hire a cycle from the Hub and bike in the Hatta mountains. Follow the trail, and you will pass through some bridges and edges of the vast Hatta dam to complete your wadi bashing on your bike.
These mountains also hide some silent spots where you can meditate and do your yoga to find yourself within yourself.
Hatta Hotels
There are few hotels in the surrounding Hatta mountains, as it has been a tourist destination for a long time. It was also considered a summer getaway for local Dubai Emiratis. There are guest houses as well as 5-star hotels here. One of the most iconic hotels is the Hatta Fort hotel. This hotel which started operations in 1981, is 4 Star hotel designed by Ajai Saran for its owners, DUTCO. The hotel is very popular with tourists as most tourist agents have contracts with JA Hatta Forth Hotel for buffet lunches and activities. When you buy the Hatta tour voucher, one of the activities is to visit this hotel, enjoy its swimming pool in the garden, and get down for a round of golf in its Crazy Golf Course. Hatta Fort Hotel is a heritage hotel built and inaugurated in 1981, and since then, it has welcomed tourists from all over the world to come and enjoy its famed hospitality.
There are some more hotels in Hatta. The Hatta Guest House deserves mention due to its architecture and hospitality. Hatta Sedr Trailer Resort is almost camping in a 5 Star trailer that includes all modern facilities in a trailer.
Hatta Dubai Activities
You can do all the outdoor activities here. However, the following are the most popular
· Hiking the Mountains
· Kayaking in Hatta Dam
· Doing activities in the Activity Hub
· Overnight Camping
· Chilling out and barbequing in Hatta Park
· Heritage village tour
· The Swan Lake and waterfall trip
Hatta Hiking
The rising Hajjar Mountains present an ideal opportunity for hikers. Professional hikers know the trail and frequently visit to enjoy this healthy physical activity. The undulating peaks, jagged rocks, and miles of nothingness on the horizon are good enough reasons to invite you to set your hiking soul to awaken. However, before you set your course on the trail, do remember to;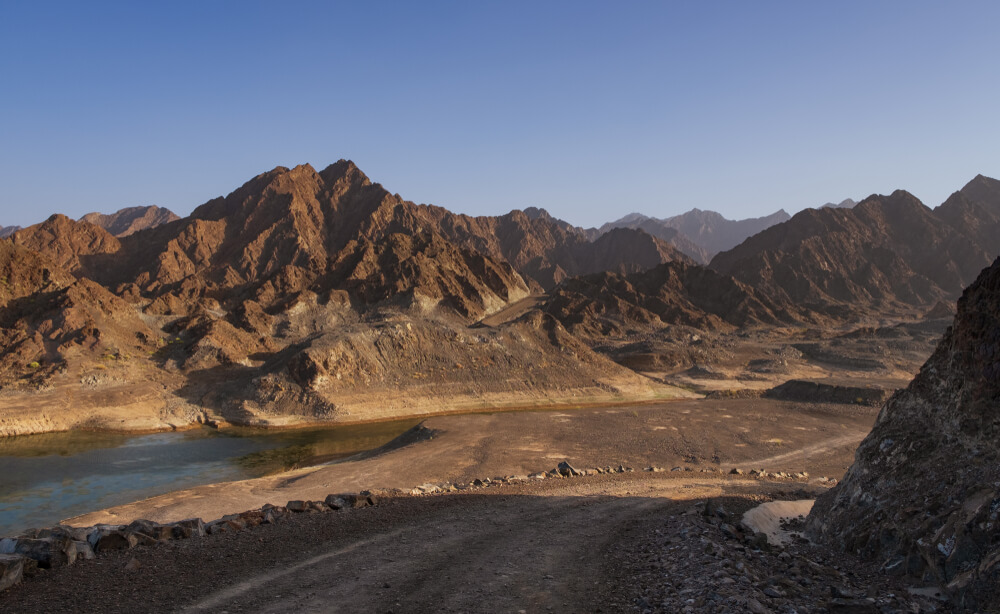 · Carry the right hiking gear (Hiking shoes, Anti-Glare sunglasses, plenty of water, and a hiking pole)
· Charge your mobile fully
· Carry a hiking trail map
· Inform your at the registration counter and your family about your trial course
· Carry essential first-aid items
· Listen to the guidance and advises
· Be respectful to other hikers
· Wear suitable clothing
When you are on the trail, please make sure to;
· Not to leave your trash in the pristine mountains
· Use washrooms provided on the trail
· Keep everything clean for others to use
· Not to kill any insect/ rodent/ snake/ animal as they are all part of the biodiversity, hence protected
· Help where possible
· Don't push yourself too much or compete with others
Hatta Dubai Attractions
Hatta outing is generally a long weekend outing due to the possibility of doing so many outdoor activities. Investment in the tourism sector has become much more than only kayaking in the dam. The place is teaming with visitors who may like to enjoy a day hiking the 32 km mountain trail or simply sitting near the languid Swan Lake. It is natural and artificial, complementing each other to create an ideal short holiday destination.
A perfect weekend ride from Dubai, Hatta is home to a vibrant background with breathtaking mountain ranges. Off-beat visitors also flock to Hatta Dubai, apart from the majestic mountains, to get a fun climate change. Take an unforeseen bike ride or battle waves on a fun kayak. There's so much to be explored for adventure-seekers who want an adrenaline boost. Walk down its legacy path and explore the lively community of Hatta for a slice of the history of the Emirate. A journey to Hatta Dubai is an escape from the hustle and bustle of city life, so here is what you need to know before you decide to move to Hatta, Dubai.
Hatta Dubai FAQs
What to do in Hatta
It is an activity paradise. The question is, what is something that can not be done in Hatta? It has water games in the Drop in, a zipline, horse riding, a heritage village walk, kayaking, and great picnic spots. For seekers of thrills, the mountains of Hatta provide adventures through hiking, cycling, and rock climbing. Your imagination is the only limiting factor.
Where is Hatta?
It is 130 Km is the Eats of Dubai. However, as an exclave of Dubai, it does not have borders with Dubai. It shares its borders with Ajman, Ras Al Khaimah, and Oman. Mostly mountainous, it is one of the most popular holiday destinations in Dubai for a short getaway.
Where is Hatta dam?
This dam is an engineering foot undertaken by Sheik Rashid Al Maktoum to collect water from the Hatta mountains that would flow and get wasted. To manage this water and use it for various purposes, this dam was constructed with the help of German and English Engineers. Today, it is an adventure hot spot also.
What to eat in Hatta?
There are many eateries here, from fine dining experiences in Tuk Tuk Thai Cuisine, Seabass, Alberi café, Café Gazebo, etc. The list is endless. Due to its high tourist footfall, the restaurants serve every palette. You may also savor in one of the roadside cafés/ restaurants that serve mandi, seafood, or simple sandwiches.
If you plan to barbeque in the park, your eating options are sorted automatically.
where to stay in Hatta
Some excellent hotels include JA Hatta Fort Hote, Hatta Guest House, and Hatta Sadr Trailer Park. However, you have one more popular staying option, i.e., your camp!
Brief Conclusion
Located away from the borders of Dubai and surrounded by the Hajjar Mountains, Hatta is the greenest and most mountainous region of Dubai. It has a beautiful dam with crystal blue water for kayaking and boating. To encourage, Meras has developed the Hatta Wadi Hub, where you can do a lot of activities like Net walking, Drop in, horse riding, axe throwing, etc. There is a beautiful lake called Swan Lake in Hatta, where you dip your feet in cold water and feed ducks. Hatta weather is less warm than Dubai during summer but much more relaxed in winter. Staying here in JA Hatta Fort Hotel, or Hatta Hotel as it is called, is your ideal boarding and dining option. A walk in the heritage village is a MUST when you are in Hatta.