Dubai Dolphinarium is a world-class attraction that offers visitors the unique opportunity to interact with dolphins in an up-close and personal setting. Whether you are a tourist visiting Dubai for the first time or a resident of Dubai, this attraction is what you will not want to miss at any cost.
With its beautiful architecture and acres of lush green parkland, the Dolphinarium is one of Dubai's most popular family attractions.
This blog will share a complete travel guide to visiting Dubai Dolphinarium. So, let's dive into it!
Dubai Dolphinarium Overview
Dubai Dolphinarium is one of the most popular tourist attractions in Dubai, and it is easy to see why. Located in the city's heart, it offers visitors a chance to get up close and personal with some of the world's most adored animals.
The Dolphinarium is home to a wide variety of dolphins, ranging from acrobatic performers to playful babies. In addition, there are sea lions, penguins, and an assortment of other marine life.
Its educational shows and interactive encounters make it the perfect place for families and animal lovers.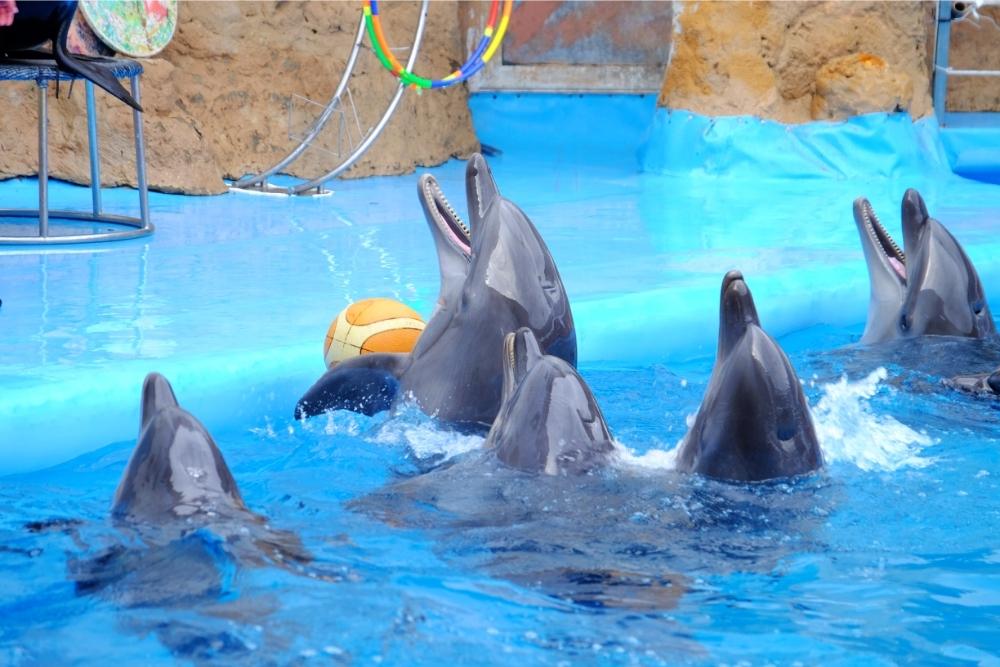 Dubai Dolphinarium Location
Dubai Dolphinarium is conveniently located in the heart of Dubai's bustling city center, making it easy to get to no matter where you come from.
The facility is just a short walk from the Dubai Mall, one of the largest shopping centers in the world, and close to other famous attractions like the Burj Khalifa and the Dubai Fountain.
Whether you are looking for a fun day out with the family or a unique activity for your next group trip, Dubai Dolphinarium is worth a visit!
How To Reach Dubai Dolphinarium?
Once you arrive at Dubai Airport, you can take a taxi or the Metro to reach Dubai Dolphinarium. The journey by Metro will take around 45 minutes, and the fare is quite reasonable. You can also take a bus from the airport, but it will take longer to reach your destination.
If you are driving to Dubai Dolphinarium, it is located on Jumeirah Beach Road. There is plenty of parking available, and the rates are reasonable.
It doesn't matter which route or transportation you choose. You will find it hassle-free to reach your destination.
Dubai Dolphinarium Tickets and Opening Hours
Dubai Dolphinarium is open daily from 10 am to 6 pm. The shows start at regular intervals throughout the day, and the ticket prices start from AED 75 for adults and AED 50 for children.
Now that you understand how to reach Dubai Dolphinarium, the opening hours, and estimated ticket prices, let's jump on and see some of the top attractions here.
Top Attractions At Dolphinarium Dubai
There is no shortage of things to do at Dubai Dolphinarium. But here are a few things you should engage in whenever you visit the Dubai Dolphinarium.
The Dolphin and Seal Show
It is one of the most popular attractions at Dubai Dolphinarium. The Dolphin Show Dubai features a talented team of dolphins and seals who perform a variety of tricks and stunts. The dolphins are especially well-loved for their acrobatic leaps and playful behavior.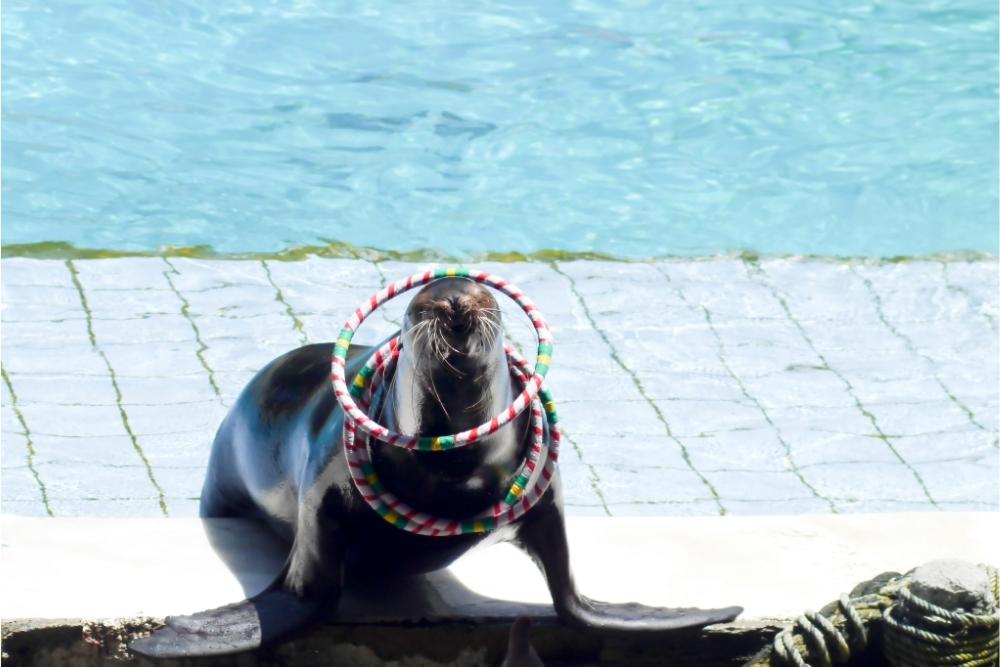 One of the highlights of the dolphin show is Dubai, where the dolphins demonstrate their speed by racing through hoops. The Seal Show is also very entertaining, featuring playful antics and comical tricks. The seals are very intelligent animals and seem to enjoy showing off their clever side.
The show lasts for around 45 minutes, and during that time, you will also learn about the different species of dolphin and seal and how they are adapted to live in the water. It is a great way to spend an afternoon and will surely leave you with a new appreciation for these fascinating animals.
The Creek Park Exotic Bird Show
The Creek Park Exotic Bird Show at Dubai Dolphinarium is a must-see for bird enthusiasts. Visitors can marvel at the variety of birds on display, including parrots, macaws, and cockatiels.
The show features trained birds performing tricks and flying through the air and is an excellent opportunity to learn more about these fantastic creatures. The park also offers a variety of other shows and attractions, making it the perfect place to spend a day out with the family.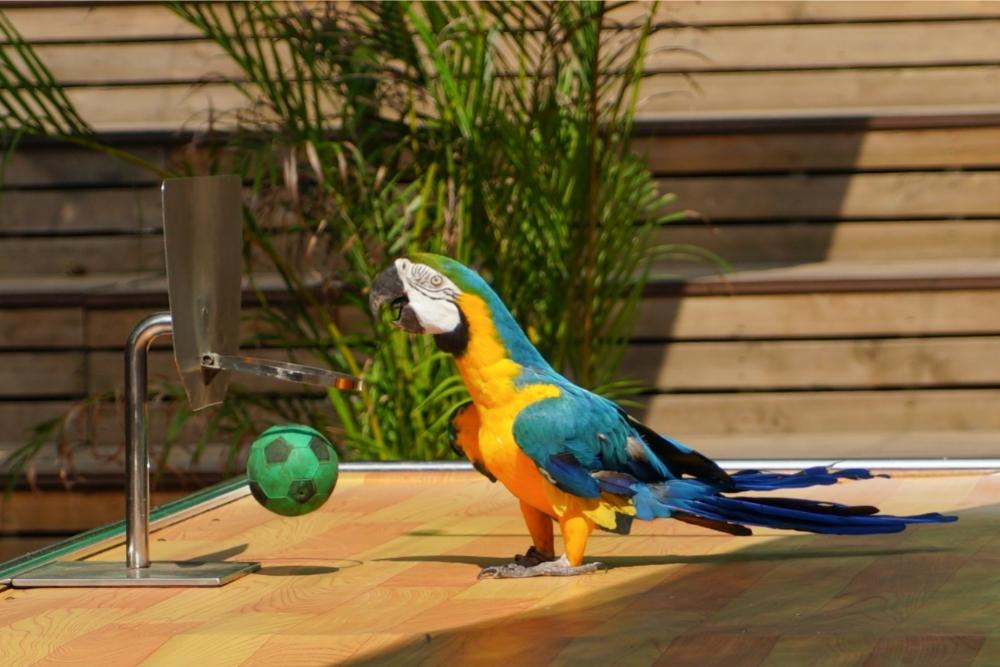 The birds are put on display in a natural setting, and visitors can get up close to see them in action. The show is also interactive, and guests are encouraged to participate in activities such as feeding the birds.
The show is offered daily, and tickets can be purchased online or at the door. However, if you don't like to spend time in a crowd, be sure not to buy tickets in cooler months from October to March.
The Trampoline Park
The Trampoline Park at Dubai Dolphinarium is yet another great place to get your adrenaline pumping. With over 10,000 square feet of space, it is the perfect place to have fun. There are multiple trampolines of different sizes, a foam pit, a basketball hoop, and even a zip line.
And if you are feeling adventurous, you can even try your hand at dodgeball. Whether you're looking to enhance your skills or have some fun, Trampoline Park is the perfect place for you.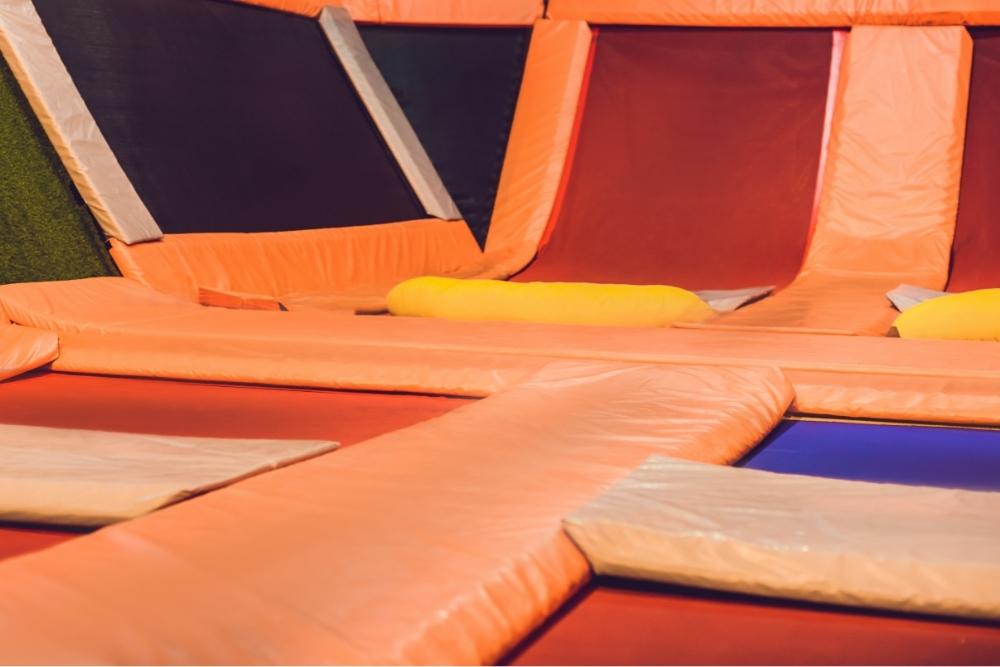 Situated in the heart of Dubai, it is easily accessible by public transport and has ample parking for those driving. So why not come on down and experience the thrill for yourself?
Best Restaurants Near Dubai Dolphinarium
Of course, you must know about the best restaurants near Dubai Dolphinarium to have the most fantastic experience.
To make sure you get the most out of your trip, here are two of the best restaurants near Dubai Dolphinarium that we highly recommend:
Sufra
Sufra, located near Dubai Dolphinarium, is a restaurant that serves a variety of Arabian dishes. The most popular dish here is the lamb machboos, a rice dish cooked with spiced lamb and vegetables.
Other popular dishes include chicken shawarma, grilled chicken served with rice and salad, and the Luqaimat fried dough dumplings served with date syrup.
In addition to its regular menu, Sufra also offers a variety of vegetarian and vegan options. The restaurant has a relaxed and friendly atmosphere, and the staff is always happy to help guests select the perfect dish.
Whether you are looking for a hearty meal or a light snack, Sufra is sure to have something to suit your taste.
La Tablita
La Tablita is a Mexican restaurant located near the Dubai Dolphinarium. The restaurant is famous for its authentic Mexican cuisine, and its menu features a variety of dishes such as tacos, enchiladas, and quesadillas. The most popular dish at La Tablita is the carne asada, and a grilled steak served with rice, beans, and salsa.
Other popular dishes include the Pollo al Pastor, a marinated chicken dish, and the Chiles Rellenos, which are stuffed peppers.
La Tablita also offers a variety of desserts, such as cinnamon-flavored churros and tres leches cake.
Frequently Asked Questions
Q: What is the best time to visit the Dubai Dolphinarium?
The Dubai Dolphinarium is open all year round, but the best time to visit depends on what you're looking for. If you want to enjoy the warm weather, the months of April to October are the best times to go.
However, this is also the busiest time of year, so expect large crowds. November to March is a great time to visit if you don't mind cooler temperatures. The temperatures are still pleasant, and you'll have the Dolphinarium mostly to yourself.
Q: Where can I see dolphins in Dubai?
Dubai is home to a variety of marine life, including dolphins. These playful creatures can be spotted in many places around the city, including the Dubai Marina, Jumeirah Beach Park, Dubai Dolphinarium, and the Palm Jumeirah.
Dolphin-watching shows and tours are also available, which provide a close-up view of these amazing animals.
Dubai is an excellent destination for those hoping to catch a glimpse of dolphins in the wild.
Q: How long is the Dubai Dolphinarium show?
The show lasts approximately 45 minutes, during which you will have the opportunity to get up close and personal with some of the most amazing creatures on earth. From playful tricks to impressive feats of athleticism, the Dubai Dolphinarium show is an unforgettable experience that you won't want to miss.
Final Words
Dubai Dolphinarium is truly a unique and fantastic place, and we hope this guide has helped you plan the perfect trip.
Whether you are looking to take some memorable photographs, enjoy a relaxing spa experience, or sample the best food the city has to offer, Dubai Dolphinarium is sure to have something for you.
So what are you waiting for? Head towards Dubai and enjoy some of the most exciting moments of your life at the Dubai Dolphinarium.