The first ice lounge and ice hotels started appearing long before in Sweden. These hotels are entirely made with ice blocks and snow. When one such hotel was first opened, everyone laughed it off, but very soon, it caught the attention of "different" seeking tourists, and now there are five such hotels that appear in Sweden during winter when ice is plentiful. Chillout Ice Lounge is one of the best places in Dubai for tourists from the Middle East.
So, when we first heard of the Chill Out lounge in Dubai, we were all surprised. It was nothing but wishful thinking. How can a lounge be made entirely from ice when the outside temperature during peak summer hovers around 50 degrees? Thus we asked. However, Dubai has done very many feats previously unheard of. It has made gigantic malls, sky-high towers, a garden full of actual flowers, and domes full of butterflies. There is an obsession here to do what is considered "impossible." This is the motto of its ruler High Highness Sheikh Mohammed Bin Rashid Al Maktoum.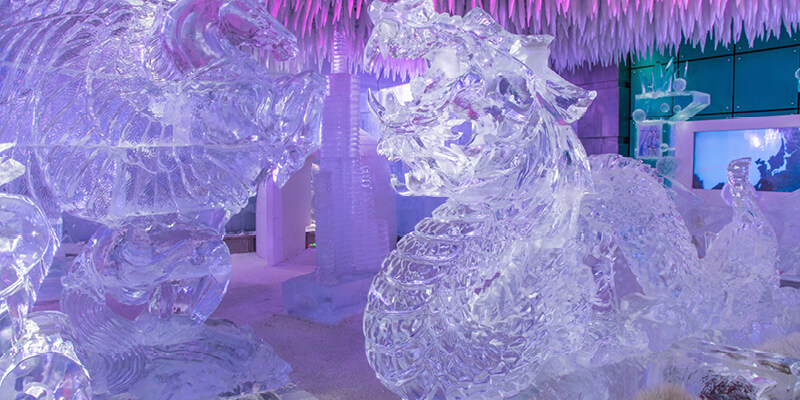 Well, we somehow went to see this audacious feat. We took a cab from the Crown Plaza Hotel, Sheikh Zayed Road, and asked the driver to take us to Chillout Lounge. The friendly driver said you wanted to go to Times Square Mall. We were told to take us to the Chill Out lounge. It was summer, and the outside temperature was already 40 degrees at 11 AM. We were sure it would be a simple restaurant with some ice sculptures or figurines. It was a drive of 15 kilometers, and we reached the Times Square Mall. It was an imposing structure. After paying off the taxi, we asked the reception desk at the entrance to point us to the Chill Out lounge.
When we reached there, we saw a massive board in blue and grey, "Chill Out Lounge." We also saw some tourists coming out with a thick fur coats, albeit artificial fur! Surprised and excited, we headed out to the reception. A friendly hostess explained the Chill Out concept and what we would find there. We were given the full winter gear after purchasing the entry ticket (Aed 80 per person). The hostess explained that the internal temperature would be below -6C. Our doubts were laid to rest when we went inside. It was an icy blast. Everything inside it was made from ice. Ice chandeliers, ice tables, chairs, and even ice glasses serve complimentary juices.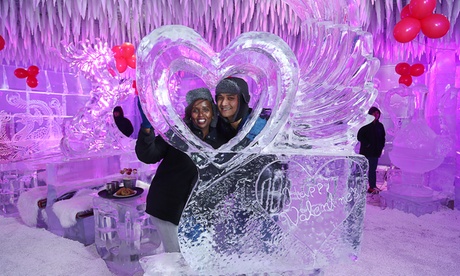 What we liked there were very intricately carved ice statues. The lighting inside of deep shades like deep blue, deep purple, and deep red added a mystic glow to the whole place. We shivered even inside our thick winter gear. We could touch everything there, and we did to assure ourselves that they were made from ice and not from some glass. Thankfully, the waitress there offered us a seat covered with some artificial fur. This made us reassured to sit and have our juice.
We asked many questions to the hostess, and they gladly replied. She said that this Lounge is very popular with tourists from all countries. Most come here with disbelief and go with a smile. She told us that the whole lounge interiors were pre-fabricated and shipped to Dubai flat packs and reassembled here. The ice glasses that the tourists use are "waste" and are thrown as liquid waste, never reused. She said more than 1000 ice glasses could be consumed daily during peak time.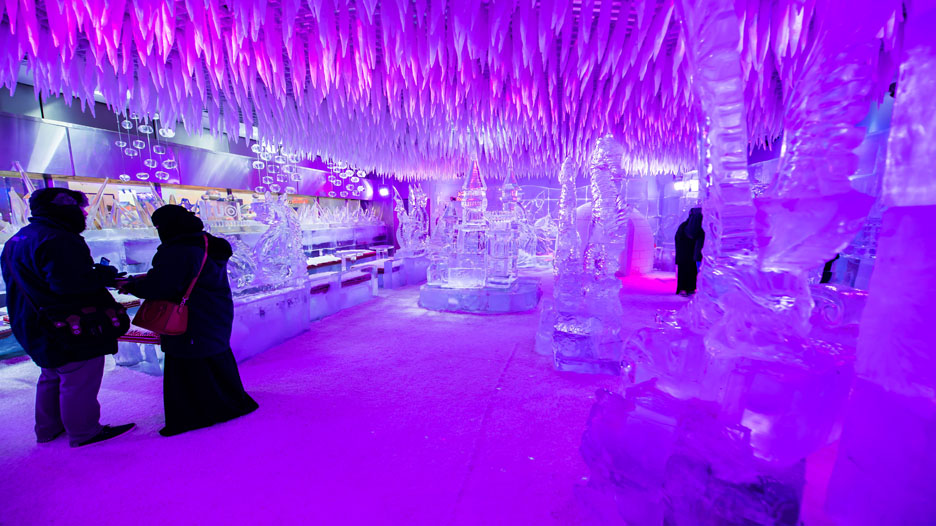 Inside, we were also offered a menu if we wanted to eat something. We ordered hot chocolate and one cheese platter. Thankfully, the hot chocolate came in typical aluminum mugs. The cheese platter was delicious and could serve the two of us well. We must say that some guests even ordered cold salads. We sat on the fur-covered seats and had our drinks. There were quite a few visitors during our visit. Most of them were busy taking selfies. The waitress happily obliged everyone, whoever wanted her, to take their pictures or videos.
There was a small shop in the corner, too, selling memorabilia of the Chill Out lounge. These included mugs, cups, fur caps, and other items. We had a limited budget, so we happily waved the opportunity off. Within 45 minutes, we felt it was more than enough time. The cold was already biting our bones. When we wanted to go out, they collected our winter gear and requested we write something in the guest book. That was an excellent gesture, and we wrote our own experience.
Here is what you would like there;
a) The whole icy ambiance
b) The smiling and jovial hostess who was well-trained to serve and be of help
c) The ice sculptures
d) The ice serving glasses and bowls
If you ever doubted this, then believe us, it is happening in Dubai, and as one tourist from Oman exclaimed, "Unbelievable." That was our summing up too.
Ultimately, Chill Out Lounge is a nice escape from oppressive heat and enjoys a few moments inside subarctic temperatures. It hints at how humans survive in places like Siberia, where the winter nose drives lower than -6C. Visit once to get your chills and thrills.
Location and Visiting Chill Out lounge
Chill Out Lounge is located on the ground floor of Time Square Center, Al Quoz District of Dubai. It is very close to Sheikh Zayed Road. This subzero Lounge offers Sharaf Group, the owner of Time Square Center, and other iconic ventures such as Sharaf DG, their flagship Electronics superstore.
It is open from 10 AM to 10 PM every day, all days of the week.
You may take Red Line Metro, get down at Noor Bank Metro station, and then walk to this Palm Tree-lined Mall. You may also take a feeder bus from there to come to the mall. All buses from Noor Bank Metro would get you to this place.